What is a PCB?
In common we can define PCB as the flat sheet of material that supports mechanically and electrically connects electronic components using conductive tracks, pads, and other features that are etched from a series of copper sheets that have been laminated onto a non-conductive substrate.
This substrate varies from a cellulose-based material, fiberglass, or even flexible thermoplastics. Components such as capacitors, resistors, inductors, diodes, as well as more complex active devices such as transistors, and integrated circuits are generally soldered on the PCB.
PCBs are generally designed in two different layouts. Single sided (one copper layer) layout which means that components and copper traces are only located on one side of the PCB. Single sided boards are quite easy for the home hobbyist to etch themselves but lack the space needed for more complex designs. The second hobbyist-friendly design is the double-sided (two copper layers) PCB. This board features a copper coating on both the top and bottom layers, and its main advantage is the ability to utilize double the surface area of a single sided PCB.
Cheap and Quick-turn PCB Manufacturing – JLCPCB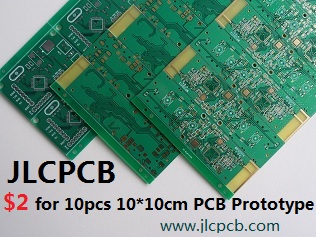 $2 for 10 PCBs
Most Popular Company JLCPCB is offering to make 10 PCBs maximum size of 10cmx10cm for only 2 dollars. This is the cheapest price you have ever seen because the shipping charges are also low as compared to the companies.
If you are working on your project and you want to complete your project as early as possible then in this article, I will tell you about the best and cheapest PCB manufacturing company. They can make your PCB board quickly. Cheapest ever company name is  JLCPCB. Now I will tell you to step by step that how you can prototype your PCB in the shortest time and guide how to make an order from JLCPCB.
Now, we just need PCB board for our project so I designed a PCB using Proteus and started searching for a PCB boards manufacturing company. While searching on the internet and comparing the prices and shipping cost of various companies. I found  JLCPCB is the cheapest company in the present. So, I decided to make an order form JLCPCB because I found JLCPCB their price very low from other companies and their shipping method also very cheap.
Now, I will tell you to step by step to make an order form JLCPCB, follow these steps to make an order.
First of all, make your PCB design by using any PCB designing software, and you can also do this design free online application easyeda.com
When you have created your design, create Gerber file of your design layout. Because you will need to upload the Gerber file on the JLCPCB
Now go the website https://jlcpcb.com/ and click on a quote now as shown below here;

After clicking on a quote now it will go to the project section menu where you find the following options;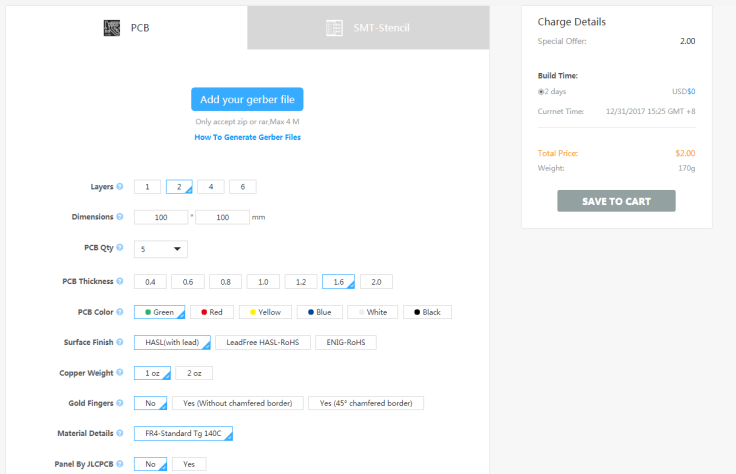 When you select layers number option price of the entire order will immediately be on the right.
PCB quantity is the number of boards.
PCB Thickness is 1.6. So, You can choose thickness according to your requirement.
PCB Color – the color of the protective mask.  You can choose from 6 possible colors as available in options.
You can similarly choose several options as your requirement.
When you upload Gerber files, it will show you how your PCB will look like.
Once you have been set all your desired parameters, then click on save to cart.
You will get this window where you can check out your order and make payment securely;
After securely check your order, where you will add your delivery address and make payment through credit card or PayPal.
There is two shipping method one is DHL and Registered air mail. Both work fine. But for quick delivery, you should select DHL.
That's all about the guide to make an order from JLCPCB.com.
Now I will show the quality of the PCB board which I received.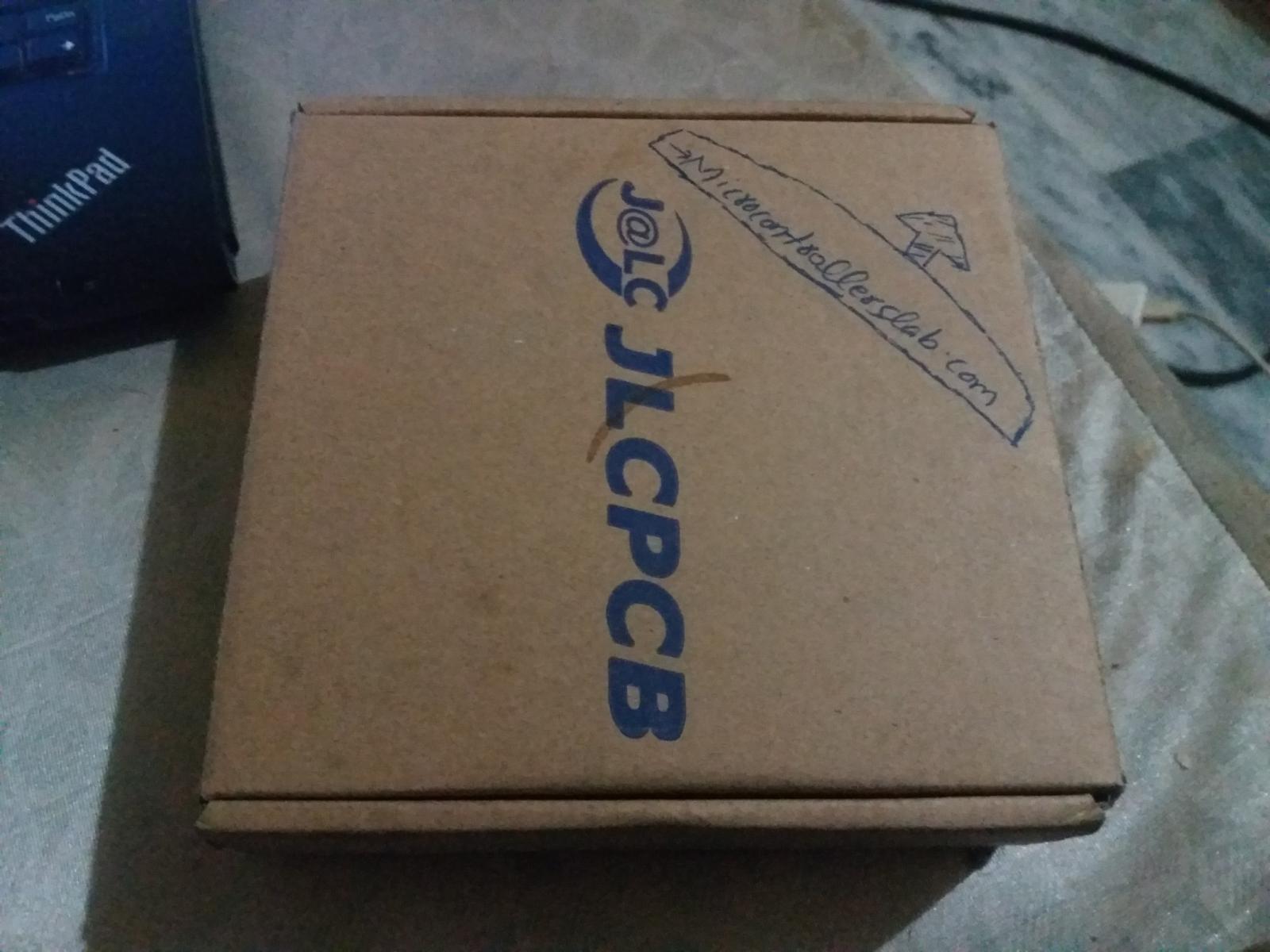 PCB board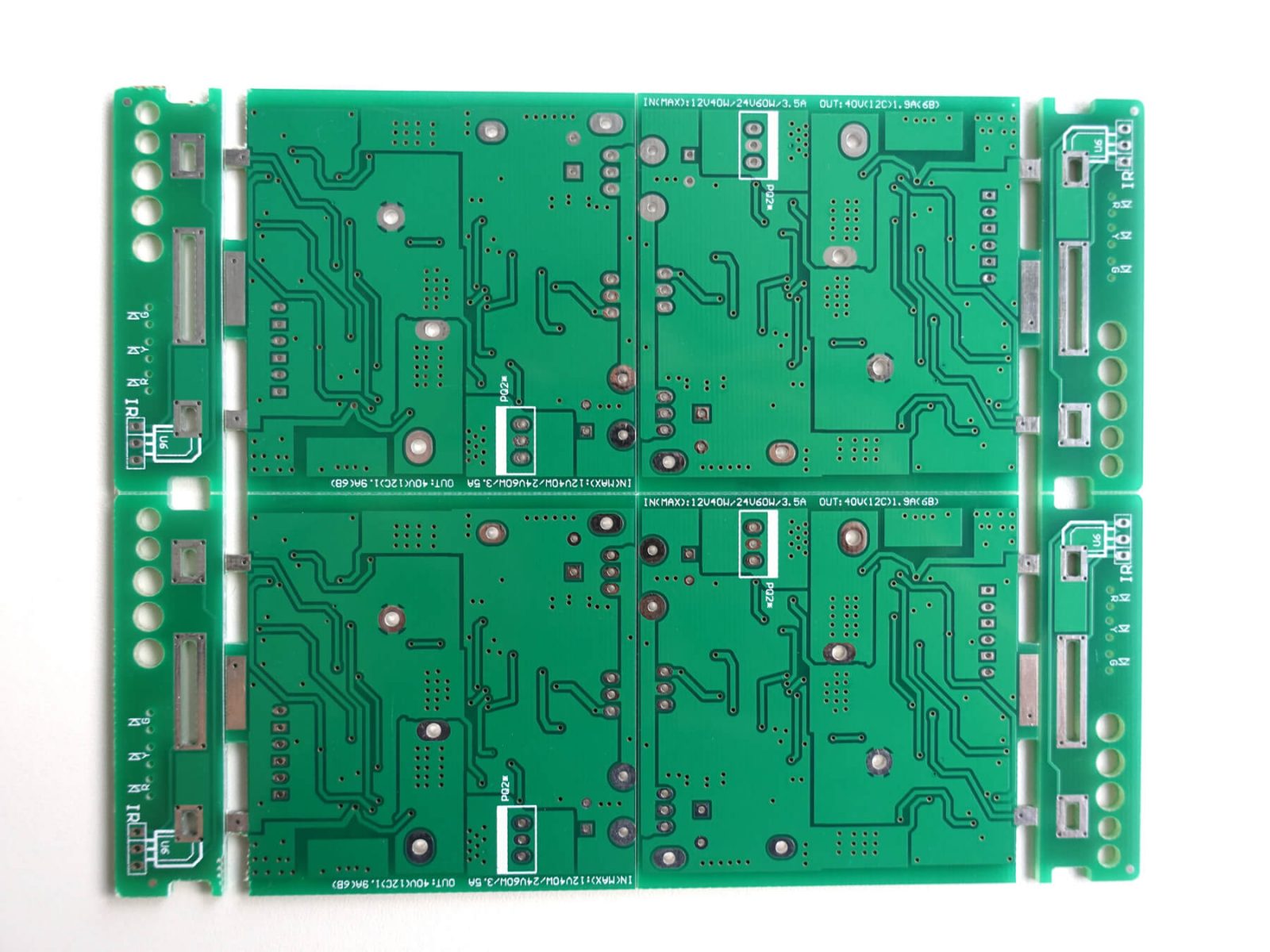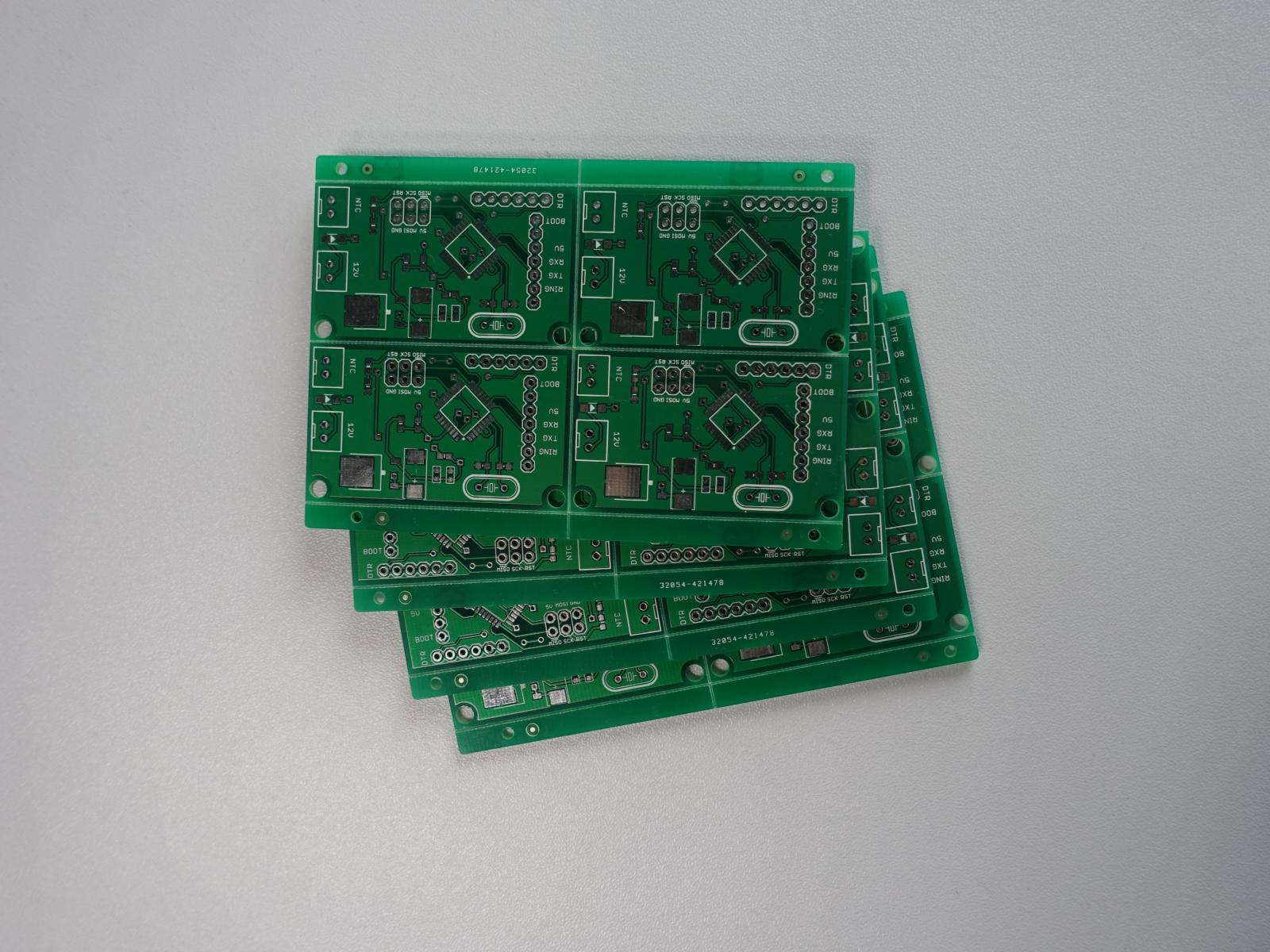 Here are some other pictures of PCB Boards: