Arduino CNC
Hi, this is my first instructable and I hope to do more.
This project was for 'Creative Electronics', a Beng Electronics Engineering 4th year module at the University of Málaga, School of Telecommunications.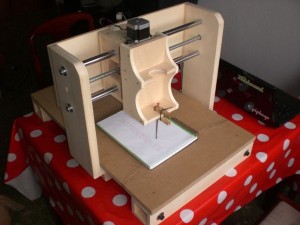 http://www.etsit.uma.es/
It's a cnc using Arduino UNO R3 , GCode Sender and GRBL. The cnc is made of wood thanks to the help of my father. It has taken us many hours to do the mechanical part however the electronic part is faster to do, but is very gratifying. I based my project on these videos and I have received much support from the author of the first video.
[Reproducir video]
[Reproducir video]
The total cost of the project is about 450€.
From experience I recommend buying all the necessary materials before starting the realization of any project.
Materials and components:
Laminated Wood
Screwed Steel rods
Steel bars
Ball bearings
Nuts
Screws
Stepper motors (in my case Nema 23)
Stepper motors drivers TB6560
Switching power supply 24V 15A
Arduino UNO R3
Some wires
Nylon and metal bearings
For more Details: Arduino CNC
This Post / Project can also be found using search terms:
Project Ratings:
Related posts