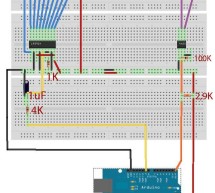 Hello everybody, I've been working on a midi controller for some time now, Midi OUT hasn't been a problem, but for Midi IN i had to take some more time. i've used this circuit for midi input but i've used a 4n25: original thread @ http://www.arduino.cc/cgi-bin/yabb2/YaBB.pl?num=1187962258/ it works great! but for my project i need VU meters, i thought this wouldn't be a problem, because i could easily say t ...
Read more

›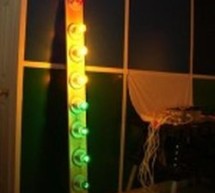 O'K, after having some fun with stereo version of the VU meter I described in my previous blog-post, now it's time to do a serious stuff. Studio grade VU meter !!! 24 steps, equally spaced every 3 dB, covering Extra wide Dynamic Range from -63  up to  +6 dB.  Single (mono) channel this time, no messing around, absolute precision at the stake. Plus, it keeps absolutely Top-Flat linear frequency response from ...
Read more

›
This project brings back the old time Analog VU Meter, with the added functionality of a neat looking clock! When you turn off your music the meters automatically swing into to clock mode. Behind it all is the popular and easy to use Arduino. This is my submission for the Make-to-Learn Youth Contest: What did you make? I made an old style analog VU meter and Clock using 2 analog panel meters, an Arduino, a ...
Read more

›
Biasing AC input using resistor divider and scaling up / down if necessary; Sampling fast and accurately using direct access to Control Registers of ADC and Timer1; Subtract whatever was added at step #1 from result of Analog / Digital conversion and Square; Average / accumulate, filtering following VU specification; Sqrt – take square root, Log10 – transform to dB scale; Display. 1.   Hope, you follow my a ...
Read more

›