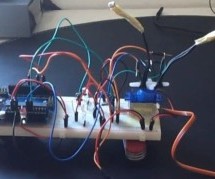 First of all, I'm from Switzerland so please excuse my english mistakes. Here is one of my first little project I did with my Arduino Uno. It's is just a little light seeker. The servo turns towards the light. Step 1: The wiring Here is the exact wiring I used. The only difference is that I fixed the photoresistors on the servo (but I couldn't do it with the program) Also I used a 9V battery in the video, i ...
Read more

›
Hi everyone! I'd like to share the project I have been working on here. I got inspired to experiment with capacitive touch sensing through a project in my university. I found out about this technology through instructables and used the things I learned here and from other places on the internet to build my own touch-less controller, which I use to blend different RGB values to create interesting light color ...
Read more

›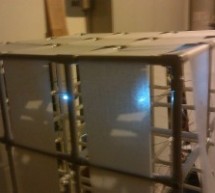 This 3X3X3 ft. LED PVC cube is the ultimate in mood light fun!   An LED (light emitting diode) will burn longer than traditional bulbs so that you can enjoy your giant light for a LONG LONG time. Build it and see! Step 1: WARNING!!! THIS PROJECT WILL COST ABOUT $150 Also.... make sure that your dimensions are planned ahead so that you can fit it through your door after you build it!  (Uh... not that it's fr ...
Read more

›
The goal of this instructable is to explain how I made a wifi-connected light switch (also called remotes further). The goal of these remotes is to turn on and off several wifi-connected relays. The relays are not explained in this instructable. They are explained in a separate instructable that I made in the past: ESP8266 Wifi Switch. These remotes will contain up to 3 small buttons. Each button turns on/o ...
Read more

›
This project is a small, battery-powered LED ring that fits perfectly inside of your Rav Vast drum. It uses color-changing RGB LEDs and a microphone that allows you to change the color or pattern with changes in volume. You don't need any special skills for the construction (though you may pick some up along the way) https://youtu.be/PL_I-Sc242w Step 1: Tools and Materials Ingredients: Arduino Gemma v216 LE ...
Read more

›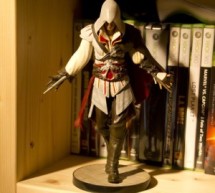 I've bought recently some cheap dual axis magnetic sensors at SureElectronics (http://www.sureelectronics.net/goods.php?id=944), I've tried first to use them as straight compass. Annoying problem : it's impossible to accurately compensate the tilt of the sensor without using a gyro sensor. On the other end, if you stay on the same horizontal plan, the measures are pretty accurate even if you consider their ...
Read more

›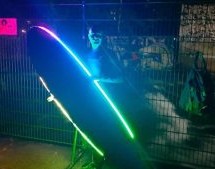 Surfing is an activity predominantly enjoyed during the day, primarily for reasons of warmth and water safety. Of course, if you prefer to carve the waves at night, you might enjoy the latest project from [Moritz Sivers] – a surfboard kitted out with motion-reactive LEDs. The build consists of a regular surfboard, with a channel cut around the perimeter into which WS2812B LED strips are glued. Powered by a ...
Read more

›
During my high-school sophomore year, the 3rd floor of our house lighted on fire due to a short circuit. Fortunately, my family was away on vacation for Christmas. But if we were home, wouldn't it be crucial to tell the direction of fire quickly so that we know the direction to evacuate? Consider another situation. You really hope to learn Arduino programming, which enables you to build both functional and ...
Read more

›
For my daughters second birthday, we decided to get her a kitchen set. But I really wanted to make what we got her special and after being inspired by what some awesome makers had done with the Ikea Duktig Kitchen, we decided to get one and to make some modifications to it to make in unique. The two new features we added to the kitchen are Oven Mod: Adding lights to the oven section that could be set to dif ...
Read more

›
https://youtu.be/mzeA3yxu_lg https://youtu.be/jH2gEoB5x1w I recently had my kitchen updated and knew that lighting would 'lift' the look of the cupboards. I went for 'True Handless' so I have a gap under the work surface, as well as a kickboard, under cupboard and on the top of the cupboards available and wanted to light them up. After looking around I couldn't find exactly what I wanted, and decided to giv ...
Read more

›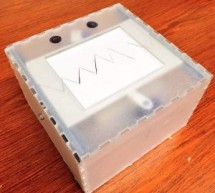 https://youtu.be/iJaVeIyJZwk This nightlight doubles as a trap to catch monsters under the bed! Before you go to sleep at night, place it under your bed and it will catch any monster under there. It even keeps a light on all night to make sure new monsters stay away. This Instructable makes a great project for parents of a kid who's afraid of monsters under the bed. The trap can help them sleep easy knowing ...
Read more

›
[beshur]'s 2-year-old is obsessed with transportation, so he lifted a few DUPLO blocks from the bin and made this toy traffic light as a birthday present. Hey, might as well get him used to the realities of traffic, right? It also makes for a good early hacker lesson: why buy something when you can make it yourself? The traffic pattern is determined by an Arduino Nano V3 situated inside the carved-out rear ...
Read more

›