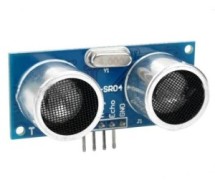 Arduino HC-SR04 The Arduino HC-SR04 is different from most of those commonly seen on the market, which have 4 pins compared to 3 pins. But the operation principle is the same, transmit signal, and depends on when the signal is received to estimate the distance. Arduino HC-SR04 not only inexpensive but also practical, use a sample AVR development boar –Arduino , with a LCD screen , you can make a easy ...
Read more

›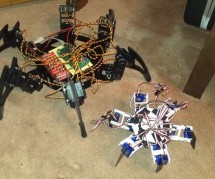 Arduino Hexapod Robot Design I will show you how to build an arduino hexapod robot, from building the body, to how to implement the algorithm. To learn about the implementation of the algorithm, read this first, if you are not sure what is IK, read this. China_icon 中文翻译:http://blog.oscarliang.net/arduino-liu-zhua-kun-chong-liu-zhua-shou-ji-yuan-dai-ma/ I ordered parts from a robot frame manufacturer, but th ...
Read more

›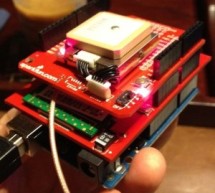 [INTRO] This past semester, I decided to build a GPS receiver with an iPhone app that tracks it for my semester project. Here is a step-by-step tutorial to show you how you can build your own. [OVERVIEW] Architecture of my Real-Time GPS Tracker project. I'll be using the diagram above to explain how the project is put together. Starting from the satellite at the top of the diagram, the GPS module receives G ...
Read more

›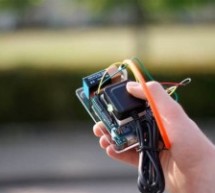 This was easily the most time I've spent producing an Arduino Tutorial. I've been sporadically walking around NYC with this GPS for weeks as I've tweaked the code and gotten it just right. [box type="note" color=" #202020 " bg="#ffbb00 " font="verdana" fontsize="14" radius="20 " border="#000" float="right" head="Attributes"]Thanks to Jeremy , for this articles[/box] If it wasn't obvious from the title, this ...
Read more

›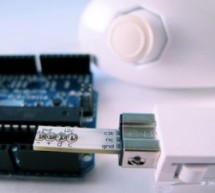 Why Wii Nunchuck Arduino? You can create and build endless electronics design and project with the powerful Arduino, for example a robot. By attaching Wii Nunchuck Arduino, you create the opportunity to control Arduino using the way we most familiar with, the way we play games! Not to mention, Wii Nunchuck is cheap (~5 US dollars), and it also has three-axis accelerometer for motion sensing, which is very u ...
Read more

›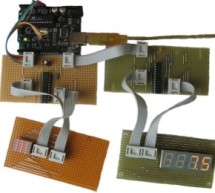 These two chips provide an easy way to control either an array of 64 Led's or up to eight digits made of 7-segment displays with a minimum of electronic components. Besides the chip itself you will need only a single resistor and one or two capacitors. Data is send to the chip using a SPI-compatible protocol using 3 of the digital pins on the arduino. If you want control more than eight 7-segment displays ( ...
Read more

›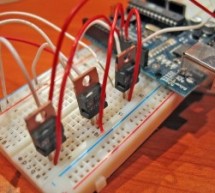 For my project, the Arduino output is not enough so digging on the net and asking to a friend some help, I managed to build an amplifier to feed my 3 computer fans. This circuit can be used as an amplifier to switch on and off a DC motor and to regulate its spinning speed with a PWM source generator. In my case the PWM generator would be the PIN 9, 10 and 11 from the Arduino board. Given that the adapter th ...
Read more

›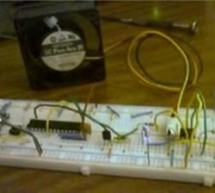 Oscar Gonzalez gives us a simple tutorial for speed controlling a PC FAN and reading a LM35 temperature sensor with an Arduino microcontroller. He covers the use of an optocoupler, PWM (Pulse Width Modulation) and reading analog voltages with the Arduino. He even has a video showing the fan speed control in action. This article was submitted by Oscar Gonzalez as part of the "Hobby parts for articles" progra ...
Read more

›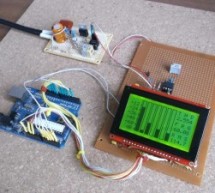 Part 1.  Analog Front-End. Opto-Isolator. Looking at the Power Quality Analyzer display, I was wandering, if there is any error in the measurement results, introduced by transformer. Overall THD picture doesn't change much, suspiciously drawing same chart in the morning and in the evening, when electrical grid load significantly differs. Obviously, to estimate effect of the transformer, I have to repeat mea ...
Read more

›
Biasing AC input using resistor divider and scaling up / down if necessary; Sampling fast and accurately using direct access to Control Registers of ADC and Timer1; Subtract whatever was added at step #1 from result of Analog / Digital conversion and Square; Average / accumulate, filtering following VU specification; Sqrt – take square root, Log10 – transform to dB scale; Display. 1.   Hope, you follow my a ...
Read more

›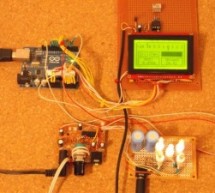 ow my Arduino can precisely measure audio input (VU meter),   and obviously, next thing that comes to mind right after measurements, is regulation or control. There are many different ways how to electronically adjust audio volume or level of AC signal.  I'll name a few: Specifically design IC, Digital potentiometers. Mechanical potentiometers, driven by servo / motors. Vacuum tubes amplifiers in "variable- ...
Read more

›
Well, it's elementary simple in theory, how to do sound localization based on phase difference of signals, that received by two spatially distant microphones. The Devil, as always, in details. I've not seen any such project created for arduino, and get curious if it's possible at all. Long story short, here I'd like to present my project, which answer this question  - YES! Let me stress, project based on ph ...
Read more

›