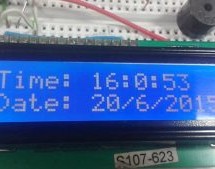 This Arduino based Real time clock is a digital clock to display real time using a RTC IC DS1307 which works on I2C protocol. Real time clock means it runs even after power failure. When power is reconnected, it displays the real time irespective to the time and duration it was in off state. In this project we have used a 16x2 LCD module to display the time in - (hour, minute, seconds, d ...
Read more

›
Security has always been a major concern for all of us and there are many Hi tech and IoT based security and surveillance system are available in the market. Intruder or Burglar Alarm is one of the classic and popular project among the Electronics students and hobbyists. We have also built many Burglar Alarms based on various technologies: Laser Security Alarm Circuit IR Based Security Alarm Burglar Alarm u ...
Read more

›
Have you ever wanted to build a project that had could detect the presence of a person in a room? If so, then you can do this very easily using the PIR (Passive Infra Red) Motion sensor. This Arduino motion sensor can detect the presence of a person in a room. Therefore, you can build projects such as burglar alarms and automated appliances. Attach this motion sensor along with an Arduino and place it in yo ...
Read more

›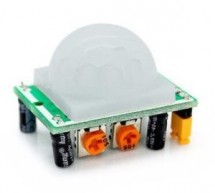 I have done several designs of digital clocks for Arduino using LEDs and LCD displays, but this one is more special because I added other features like alarm and motion sensor (PIR). Main features PIR (Presence Infrared Sensor) RTC (real-time clock) Alarm Temperature Humidity Water dew point Encoder to set the time and alarm Permanent memory for time and alarm data even when the power supply is off Main fun ...
Read more

›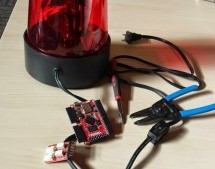 If your website goes down, you want to be the first to know. Make it obvious when there's a problem by hooking up a big alarm light to a Tessel, which will ping your website every few seconds to check for trouble. Continuously off: all is well Continuously on: website being monitored is down Two-second bursts (on or off): system error; monitoring isn't working (reset the Tessel) For more detail: Webs ...
Read more

›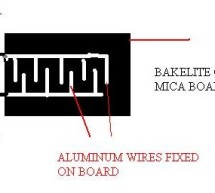 Water is basic need in every one's life. Saving and proper usage of water is very important. Here is an easy project which will give the alarm when there is rain, so that we can make some actions and save the rain water. As a result, we can increase the water levels of underground water by using underwater recharge technique. Rain water detector will detect the rain and make an alert; rain water detector is ...
Read more

›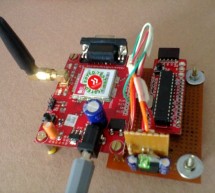 This project deals with the design & development of a theft control system for home, which is being used to prevent/control any theft attempt. The developed system makes use of an embedded system (comprises an open hardware microcontroller and a gsm modem) based on Global System for Mobile communication (GSM) technology. The designed & developed system can be installed in the home. An interfacing in ...
Read more

›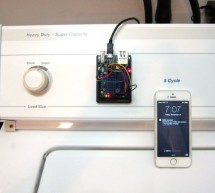 Have you ever wished there was a better way to be notified when your laundry was done? Have you ever forgotten a load in the washer because you couldn't hear the buzzer and your clothes became smelly and moldy from sitting there for too long? Well, I have and decided to solve this problem by building this simple notification system using an Arudino microcontroller. It uses a dual-axis accelerometer to detec ...
Read more

›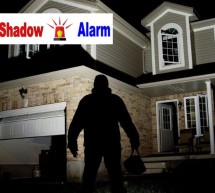 Shadow alarms are usually used for protection against theft. A shadow alarm is a device that sounds an alarm when a shadow falls on it.Described here is a simple circuit of an arduino based shadow alarm.This compact shadow alarm unit is capable of sensing a moving shadow in a restricted area, and can be easily installed on wall, window or door to protect your valuables from theft.Constant lighting is requir ...
Read more

›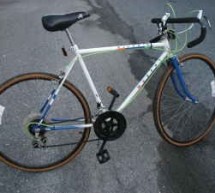 This alarm is a good way to alert you if somebody messes with your bike. I had a bicycle stolen a while back and decided there had to be a better way to keep my bike secure. When I searched for bicycle alarms, all I could find were alarms that responded to sudden movement or when a lock was cut. Also, the reviews of these products rated them mediocre at best and said they often did not work or gave a lot of ...
Read more

›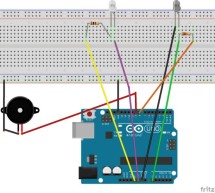 In this tutorial i will show you , how to make a simple Inexpensive Intrusion Detection(Burglar alarm) using an Arduino Uno board . This project uses the Infrared Emitter-Detector pair to detect intrusion and triggers an alarm as soon as the object crosses the infrared field . ** To see a Similar Project Made with an LDR click here **To see more simple arduino projects check out my blog http://learnthroughe ...
Read more

›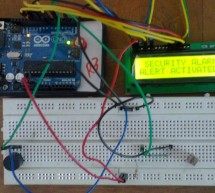 How does the security alarm circuit works? When power is turned on, the circuit goes into standby mode, and this condition is indicated by "SECURITY ALARM" in the LCD screen.Note that here a N/O reedswitch + bar magnet combination is used to detect any mishaps, and hence the reed switch should be in "closed"state at standby mode. When reed switch is opened, pin 2 of Arduino goes high with the help of the pu ...
Read more

›