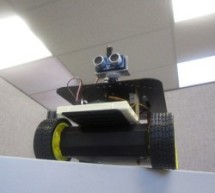 Experience Level: Intermediate (requires soldering) Time Required: 3-5 hours depending on experience J-BOT Kit Jameco P/N 2140285 Someone mentioned that Jameco needed a robotic mascot. I have always been a tinkerer, especially with radio-controlled electronics and so I volunteered for the chance to design and create the J-Bot. While this was my first autonomous robot build, I'm confident it won't be my la ...
Read more

›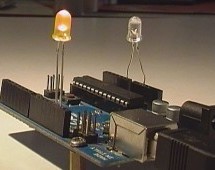 I was recently reserching on LEDs and I stumbled upon this page as I read it I found that LEDs are not just used to emit light but the also have the ability to sense light.At first using LED as light sensor sounds complicated but it quiet quickly becomes clear. This is a fun project in which we will be experimenting with LEDs requires minimal parts. This instructable will explain you how to use a LED as sen ...
Read more

›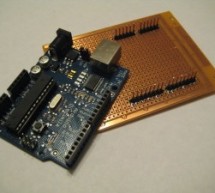 I love my Arduino. It got me into, and hooked on, microcontroller programming. I also like the expandability that shields provide. My Arduino can be a GPS Locator one minute, and be connected to the web the next. There's also a kit that lets you make your own shields. That last option always bothered me. If you're making a bunch of different shields, the cost of ProtoShields starts to add up. Wouldn't it ma ...
Read more

›
There comes a time in life to put childish things behind and give up nasty habits. Some, like smoking, can be damn hard without constant encouragement. It was time for me to combine my favorite hobby with my driving goal and make this: The Quit Success Meter! For my other Arduino contraptions, take a look at thoughtfix.com Step 1: Parts, Tools, and Component Preparation The links all go to the components I ...
Read more

›
Where the honeybee's division of labor has stayed on a steady progression for 25 million years... our human superorganism has grown more complex and in all directions... hence the bee counter... By:  thomashudson.org Live data from - June 25, 2012 I've moved away from live data... my version 2 has an SD card and I'm partnering with a university to do some research... feel free to make your own WIFI enabled ...
Read more

›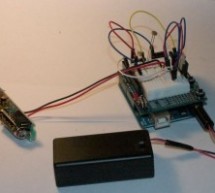 My mailbox is across the street from my house because our mailmen don't walk door-to-door, so I never know when the mail is delivered. Sometimes, I'm waiting for something and I'd really like to know when it arrives. I got my first Arduino last week, and thought it might be a neat toy project to build a notifier that would tell me when the mail is delivered. It's designed to live inside the mailbox (I have ...
Read more

›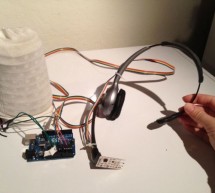 The yoga breathalyzer is a breath visualization tool to help you understand and get in touch with your breathing. Breath is the basis of yoga and meditation, and this biofeedback tool is one way to develop a deeper understanding of your own breath. Using Arduino, a headset-mounted wind sensor, and an LED strip, it's simple to translate your breathing into visual output. This project was created at the Silic ...
Read more

›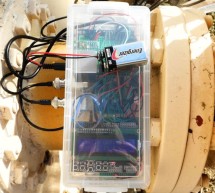 As a Water Quality professional working in the drinking water field, I know how important it is to accurately monitor the disinfectant levels in the drinking water that gets served to the public.  Usually, that means taking weekly grab samples in the distribution system and measuring free chlorine or total chlorine residual via a DPD colorimetric test.  Sometimes, however, it would be nice to know what's go ...
Read more

›
I made the original Instructible that this is based on over a year ago (You can see it here to see some of the theory around how this works:http://www.instructables.com/id/How-to-access-5-buttons-through-1-Arduino-input ). To make a long story short, I moved to a different country a few weeks after that and have not played with any electronics since. I'm starting a project to build a clock that will display ...
Read more

›
This instructable shows you how to build a Web-enabled tri-color LED based on an Arduino and the WIZnet Ethernet shield, controllable from any Web browser . Check the live demo at http://try.yaler.net/~arduino/led Because the LED is exposed through a simple RESTful web service running on the Arduino color changes can also be triggered by Pachube or other platforms offering Web hooks. Welcome to the Web of T ...
Read more

›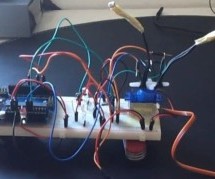 First of all, I'm from Switzerland so please excuse my english mistakes. Here is one of my first little project I did with my Arduino Uno. It's is just a little light seeker. The servo turns towards the light. Step 1: The wiring Here is the exact wiring I used. The only difference is that I fixed the photoresistors on the servo (but I couldn't do it with the program) Also I used a 9V battery in the video, i ...
Read more

›
This project emulates a trumpet by playing notes using the three buttons (valves). This is easy to make and fun to play with, though it can only play one octave and no sharps/flats. Step 1: Code Load this into your Arduino: int speaker = 9; // Hook up speaker to digital pin 9 int sw1 = 15; // Switch hooked to analog pin 1 int sw2 = 16; // Switch hooked to analog pin 2 int sw3 = 17; // Switch hooked to analo ...
Read more

›