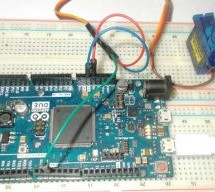 As discussed earlier, Arduino Due is an ARM controller based board designed for electronic engineers and hobbyists. This DUE board can be used for making CNC machines, 3D printers, robotic arms etc. All these projects have a common feature that is Position Control. Any of these projects needs accuracy towards their position. Accurate positions in these machines can be achieved by Servo Motors. In this sessi ...
Read more

›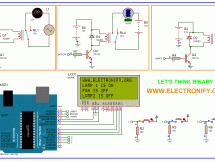 Hello every one welcome back . In this project tutorial I will show you how to make arduino based home automation , this means you can control all of your home appliences  and devices using a single microcontroller . This Tutorial is divided into two part . In second part of this tutorial I will use RF communication module for  wireless home automation . Let us first upload this program to the circuit above ...
Read more

›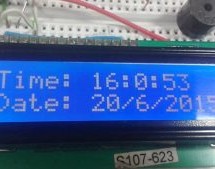 This Arduino based Real time clock is a digital clock to display real time using a RTC IC DS1307 which works on I2C protocol. Real time clock means it runs even after power failure. When power is reconnected, it displays the real time irespective to the time and duration it was in off state. In this project we have used a 16x2 LCD module to display the time in - (hour, minute, seconds, date, month and year) ...
Read more

›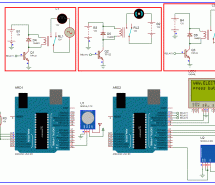 Hello welcome back . This is second part of the wireless home automation . In previous part we have connected home applience with relay and controlled with arduino . In this part we are going to add wireless feature of that device . One arduino is acts as remote controller ie transmitter which transmit input signal from buttons and another arduino receives those signal and switch on home appiliences accordi ...
Read more

›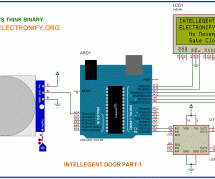 Hello every body welcome back . In today's arduino blog I am going to show you how you can make a automatic door opening system when some one wants to enter your room the PIR motion sensor detects the motion of moving body and sends signal to arduino and motor just move in anticlockwise direction to open the door and after man enter the room the door will automatically closed  . This concept is used to open ...
Read more

›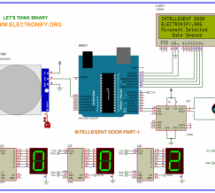 Hello welcome back . In previous part  we have made a visitor detector by using PIR sensor . This application can be used on night because PIR sensor gives output based on thermal object movement . In this tutorial we are going to extend that project with  visitor counter part . First of all i want to apologize that I am unable to  add seven segment without adding extra IC  as promished, it's because we are ...
Read more

›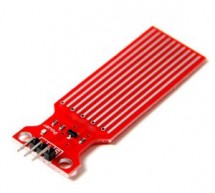 Hello , Welcome back , In this tutorial we are going to show you how to make a water level indicator using arduino uno and some water sensors . There are so many tutorial on water level sensors on internet , but this method is some thing different than other . First of all let us discuss about component we need to make water level indicator and controller. Component required to make water level indicator . ...
Read more

›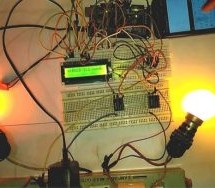 Automation is the essence of today's world. Automation can make our life easy and secure. There are many ways to obtain automation. Automation can be achieved by Wi-Fi, IR, GSM, Bluetooth and many other technologies. Previously we have covered many types of Home automations using different technologies like: DTMF Based Home Automation GSM Based Home Automation using Arduino PC Controlled Home Automation usi ...
Read more

›
This is an interesting project in which we explore the power of an Arduino and Android to create a Surveillance device which uses Arduino and Ultra Sonic Sensor to broadcast the information to a mobile application (Android) using Bluetooth. Safety and Security has been our primary concern since ages. Installing a security camera that has night mode with tilt and pan option will burn a big hole on our pocket ...
Read more

›
In our previous tutorials, we have learned about How to interface GPS module with Computer, how to build a Arduino GPS Clock and how to Track vehicle using GSM and GPS.  Here in this project, we are going to build a Arduino based vehicle accident alert system using GPS, GSM and accelerometer. Accelerometer detects the sudden change in the axes of vehicle and GSM module sends the alert message on your Mobile ...
Read more

›
Welcome to another project in which we will build a small Robot which can walk and dance. The project aims in teaching you how to make small hobby robots using Arduino and how to program your Servo motors for such applications. At the end of the project you will be able to make this walking and dancing robot that takes command from an Android Mobile Phone to perform some pre-defined actions. You can also us ...
Read more

›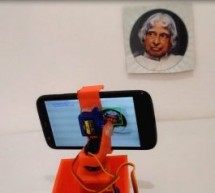 Ever wanted to build a Face Tracking Robotic Arm or Robot by simply using Arduino and not any other programming like OpenCV, visual basics C# etc? Then read along, in this project we are going to implement face detection by blending in the power of Arduino and Android. In this project, the mobile camera will move along with your face with the help of servos. The advantage of using the Android Mobile Phone h ...
Read more

›