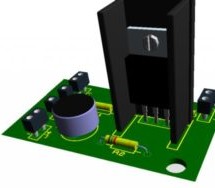 Introduction This is an Arduino controlled light sensing switching unit. Its main use is to control solar lights to turn on when it is dark outside, but it can work in many more applications. This guide will walk you through every aspect of the building process. Prior knowledge of the Arduino unit is not necessary since the code and schematic have been supplied for you. This project would be fairly complex ...
Read more

›
Smoke Detectors are very useful in detecting smoke or fire in buildings, and so are the important safety parameters. In this DIY session, we are going to build a Smoke Detector Circuit which not only sense the smoke in the air but also reads and displays the level of Smoke in the Air in PPM (parts per million). This circuit triggers the Buzzer when Smoke level becomes higher than 1000 ppm, this threshold va ...
Read more

›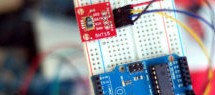 The SHT15 is a digital humidity sensor that outputs a fully calibrated humidity reading. And… because what we are measuring is actually relative humidity, and relative humidity being relative to temperature, the SHT15 has a builtin digital thermometer. This makes things much easier to work with than sensors without a thermometer onboard. You can pick one up from sparkFun here. Hooking it up The SHT15 uses a ...
Read more

›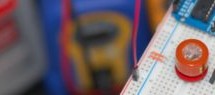 lot has happened since our last article was published and to celebrate the continuance of bildr we'll be playing with the MQ-3 Alcohol Gas Sensor. Coupled with the SparkFun Gas Sensor Breakout Board, connecting the MQ-3 to your Arduino is a breeze. The MQ-3 is a heater-driven alcohol sensor that outputs an analog signal (usually interpreted somewhere between 150 and 1023 depending on how long you let the se ...
Read more

›
So about a year ago I decided that I wanted to get into AVR microcontrollers. After ordering an AVR pocket programmer from Sparkfun , I soon realized that it was too delicate to be sitting on a workbench full of wire clippings. I knew I needed a small enclosure to put it in, but couldn't find anything I really liked. My final decision was to make my own. This instructable will explain the steps necessary to ...
Read more

›
I came across a bunch of stepper motors and I have since been looking for a project to do with the kids. An old Telecran (French for Etch-a-Sketch) later, we are in business ! Optional parts: - a sensor shield + 2 push buttons - a Nintendo Wii Nunchuck - a WiiChuck adapter And also: - hot glue gun Step 1: Mechanics The mechanical part has been done with some Fishertechniks parts. I had to drill into the ste ...
Read more

›
Thanks to everyone who supported this project and voted for it in the Arduino Challenge! I was awarded second prize and hope to participate in more Arduino contests in the near future. This tutorial will explain a simple way to make a password protected bluetooth door lock using your Arduino, which can be unlocked by sending a four digit pin from your Android phone!  The hardware setup is quite simple,  and ...
Read more

›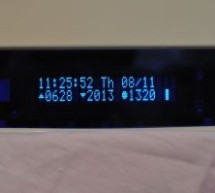 This is a clock designed to keep accurate time (independent of atomic or GPS), display local sunrise, sunset and solar noon, and also adjust itself for daylight savings time. I wanted the clock to be easy to use and be flexible. The setting functions are menu-driven, you set each parameter one digit at a time (with live data validation) and you can abandon changes if you want. You can have 12 or 24-hour tim ...
Read more

›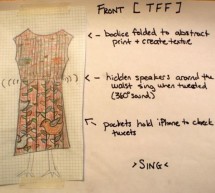 The idea of this dress comes from a series of tweets with online friends @shineslike and @arduinogirl. [email protected] and I had taken a half day Arduino workshop given by @arduinogirl at the MCN 2011 conference. I was immediately inspired creatively by the sensory and interactive opportunities. Over the next few months I struggled with the electronics learning curve, but my ever supportive online friends real ...
Read more

›
In this Instructable, I will show you how to make an Arduino powered lamp that detects the colour under it and then attempts to emulate that colour. All using easy to find parts (most can be found in the Dollar store with the exception of the Arduino of course). It turns out that a colour detection module can be built for next to nothing, and the results are astoundingly good for the investment. The biggest ...
Read more

›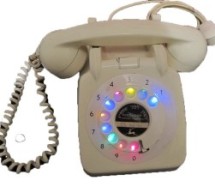 Introduction The Rotary Emotiphone is a vintage rotary phone that tweets mood emoticons. It has a predefined list of 10 emoticons, each assigned to a digit, so that when you are happy / sad / drunk / etc., you pick up the handset and dial a mood. Could've gone for more complex messages using 2-digit code convention, but eventually decided to keep it simple. The idea was conceived while I was preparing portf ...
Read more

›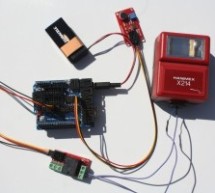 Today is High Speed Photography day ! The concept is to take a 'long' exposure photograph, 4 seconds say, in a (very) dark room (a bathroom in our case). You end up with a completely black picture, right ? If you burst a flash (about a millisecond for a standard flash) then you get a picture made of 4 seconds of 'dark' and one millisecond of 'light'. Are you still with me ? The trick is to burst the flash a ...
Read more

›