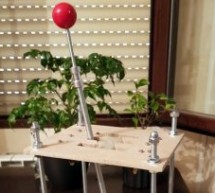 There was a time when building realistic simulations of vehicles was the stuff of NASA and big corporations. Today, many people have sophisticated virtual cockpits or race cars that they use with high-resolution screens or even virtual reality gear. If you think about it, a virtual car isn't that hard to pull off. All you really need is a steering wheel, a few pedals, and a gear shifter. Sure, you can build ...
Read more

›
Cablecams are a lot of fun, but they're not inexpensive, even if you need just something small for your action camera. There are commercial solutions out there, like the Wiral Lite, but they're pretty expensive for what they are. Perhaps even more so than the camera you're mounting to it. When Kasper at MAKESOME was asked by his friend Mick if he could help design and build one for his Insta360 ONE R, ...
Read more

›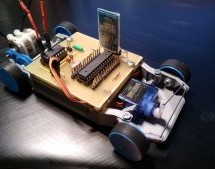 This car was made as a creative activity for students from Erazmus project. The Small Car celebrated big succes. So I've decided to share this small, unassuming and yet very educative project with community. It's ideal to entertain students, for instance during public open day at schools. This project will help students master their 3D printing skills, PCB making skills, constructing skills and programming ...
Read more

›
Nowadays smartphones can be used to control a host of electrical and electronic devices including motors, music systems and lights. Here we present an Arduino based robot car, which can be controlled using an Android smartphone having ArduinoRC application installed in it. This bot receives commands from your smartphone with the help of a Bluetooth module. The authors' prototype is shown in Fig. 1. Authors' ...
Read more

›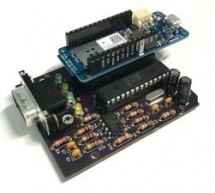 ObdiiUartMkrShield is a socket board for Arduino MKR board to talk with vehicles through ODB-II interface. Things used in this project Hardware components Arduino MKR1000 × 1 OSH Park Custom fabricated PCB × 1 Sparkfun - OBDII to DB9 cable × 1 Software apps and online services KiCad Arduino IDE Story Background Previously, I published a blog of "IoT4Car" demonstrating how to collect the vehicle data using a ...
Read more

›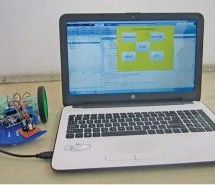 This project presents the implementation of a MATLAB based graphical user interface (GUI) to control the movement of a robotic car. The commands to move the car in forward, reverse, right and left directions are sent from the GUI and processed by Arduino Uno board mounted on top of the car. Authors' prototype is shown in Fig. 1. MATLAB GUI based robotic car Circuit and working In this project, ...
Read more

›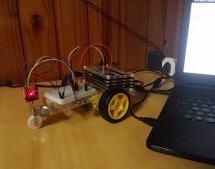 In the world of Internet of Things, it's easy enough to get something connected to the Internet. But what should you use to communicate with and control it? There are many standards and tools available, but the best choice is always to use the tools you have on hand. [Victor] found himself in this situation, and found that the best way to control an Internet-connected car was to use the Flask server he alre ...
Read more

›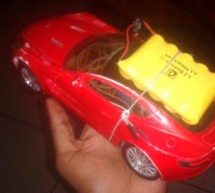 After developing few popular robotic projects like line follower robot, edge avoiding robot, DTMF robot, gesture controlled robot, etc. in this project we are going to develop a bluetooth controlled robo car. Here we used a Bluetooth module to control the car, and it is also an android based application. Components Arduino UNO DC Motors Bluetooth module HC-05 Motor Driver L293D 9 Volt Battery and 6 volt bat ...
Read more

›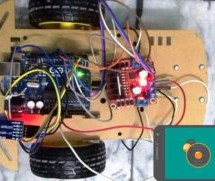 In this article, we are going to Control the Robot Car through the G sensor of our mobile phone and you will be able to move the Robot just by tilting the Phone. We will also use Arduino and RemoteXY app for this G-Sensor Controlled Robot. RemoteXY app is used to create the interface in the Smart Phone for controlling the Robot. We will add the joystick in the interface so that Robot can also be controlled ...
Read more

›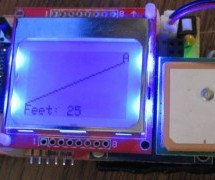 Have you come out of a store and said to yourself, where did I park my car? Well, I have. Now, there are a lot of smartphone applications that can help you locate your car but smartphones are expensive. So this Lazy Old Geek (L.O.G.) decided to make my own. HowItWorks: When you park your car, you press the button, car tracker calculates the car location GPS coordinates and stores them in EEPROM so the car t ...
Read more

›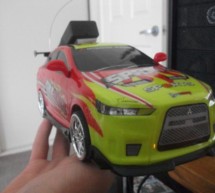 Required Parts: This project requires two Arduino boards which can be bought from http://www.adafruit.com/category/17 This project uses two Arduino Uno compatible boards. An L293D or other Dual H-Bridge Motor Driver chip will be needed to drive the motors of the RC car. This can be found here: http://www.adafruit.com/products/807 Finally, this project requires the RF transmitter (https://www.sparkfun.com/pr ...
Read more

›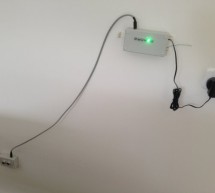 "M-my lord, it-it's impossible to locate the ship. It's out of our range." – Nute Gunray We recently moved into a new house and as always the first problem to address was finding the optimal place to park cars in the garage. Ideally, we wanted to park the cars as close to the garage door as possible, leaving the maximum free space between the front of the car and the back wall of the garage. I was discussin ...
Read more

›