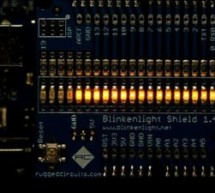 Every once in a while there is a question in the Arduino forum on how fast you can toggle an IO pin. The answer to this question depends on your line of thinking / what you will allow as an answer. So here is my take on performance optimization for its own sake. First of all there are pins PB6 and PB7 which are connected to the crystal. Since these pins can be used as IO pins (but only if running without cr ...
Read more

›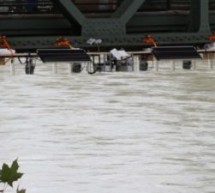 About this project Reasoning about time by printing onto the surface of a river Maybe you know situations when time's running up. In German there is a metaphor for that and translated it would be something like "time trickles away". Having this saying in mind and thinking of how to 'imagine' time the following idea turned up: I would like to generate a situation, where people are able to let time pass by wi ...
Read more

›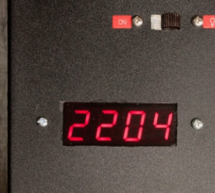 This product allows you to set separate turn-on and turn-off times and those repeat every day. The disadvantage of this product is that, as the seasons change, you need to constantly adjust the turn-on and turn-off times. As illustrated in Figure 1, the variation over the year (in sunset time in this example) is very significant even at my Northern California latitude, with almost three hours difference bet ...
Read more

›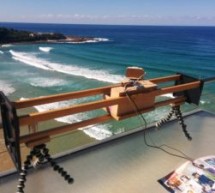 Story This project was inspired by someone else who made an Arduino time-lapse dolly (suprise surprise). However that project was published some years back and I have lost the link to it. Of course time-lapse is not that exciting anymore but 5 years ago it was. The thing about this specific project that really got my attention was the fact that the camera not only could slide horizontally but could rotate a ...
Read more

›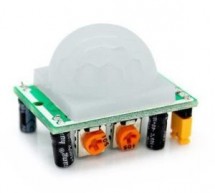 I have done several designs of digital clocks for Arduino using LEDs and LCD displays, but this one is more special because I added other features like alarm and motion sensor (PIR). Main features PIR (Presence Infrared Sensor) RTC (real-time clock) Alarm Temperature Humidity Water dew point Encoder to set the time and alarm Permanent memory for time and alarm data even when the power supply is off Main fun ...
Read more

›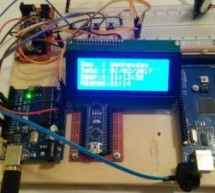 Story After designing the "Clock Set Date Time" and hearing the suggestion of ArduPic , I thought it would be a good idea and also useful, add a "wake-up alarm." A small change to the code and adding a few components: Here's "the Alarm Clock". Compared to the previous project, I added a buzzer Piezzo, a diode LED, a resistor of 220 ohms, a button and as said before, I listened to the suggestion of "ArduPic" ...
Read more

›
There are many GPS satellites around the Earth which are used to provide the exact location of any place. Along with the location coordinates (Latitude and Longitude), it also provide other data like time, date, altitude, direction tracking angle etc. We have already learned to read this GPS data from Satellite using Arduino. So we are going to make a GPS clock using the 'Time and Date' data from the GPS sa ...
Read more

›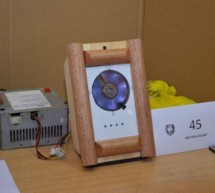 This is a fun project that can be done easily and also cheaply. In this instructable we will explain step by step how to make this beautiful POV clock. Used material: Arduino Uno, RTC modul, ULN 2003, IR diode and IR transistor (used like a sensor, more details in next steps) 4 pushbuttons (for controling the clock) TSOP4838 (allows us to control the clock with remote controler) Temperature sensor (DS18B20) ...
Read more

›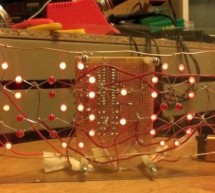 This is a fun speaker timer I made for some upcoming conferences.  It uses a 4-digit charlieplexed LED (pseudo 7-segment) display and is driven by a AVR ATMega328 or an Arduino.  It allows a default time to be set, can be paused, and will put out 5 Volts on several IO lines when 10, 5, 1, and 1 minutes are remaining.  This allows for some fun (say firing up a NERF rocket launcher as you get closer to quitti ...
Read more

›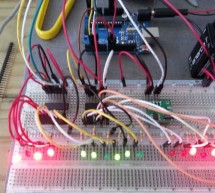 Hello everyone; I was looking for this project for a long time.  Finally I it it together with a lot of effort.  For this project you will need: [box color="#985D00" bg="#FFF8CB" font="verdana" fontsize="14 " radius="20 " border="#985D12" float="right" head="Major Components in Project" headbg="#FFEB70" headcolor="#985D00"] 1-   Arduino Uno ($30 from Radio Shack) 2-   RTC DS1307 (like $2 from EBay) 3-   2 S ...
Read more

›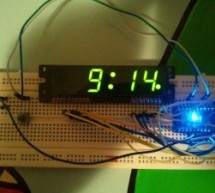 This is a relatively simple clock to build, in terms of the hardware required and in terms of hooking up all the wires. The complexity lies in the software, which I've conveniently included as part of this instructable :) This instructable illustrates a few things: * Keeping relatively accurate time on an Arduino without using a real time clock (RTC) * Using a basic clock display - the type you see on most ...
Read more

›
One day while exploring the bric-a-brac at the markets, I stumbled across an old, Bakelite slave dial from the 1950's. Slave Dials are clock movements without the actual time keeping circuit. All they contain is the mechanism to drive the hour and minute hands, which can be advanced by an electric pulse. This pulse is sent by a centralised master time-keeping mechanism. They were often used railway stations ...
Read more

›