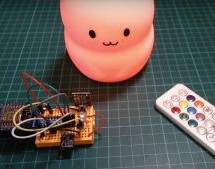 Sometimes a clever hack of an off-the-shelf product can come courtesy of its dismantling and hardware modification, but at other times the most elegant of hacks can be made without ever turning a screwdriver. [Brian Lough] was given the request by a friend to replicate a commercial child's night light that changed colour with temperature, and his response was to use an off-the-shelf colour changing kids lig ...
Read more

›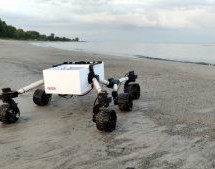 More than a few hackers have put in the considerable time and effort required to build a rover inspired by NASA's robotic Martian explorers, but unfortunately even the most well funded home tinkerer can't afford the ticket to send their creation offworld. So most of these builds don't journey through anything more exciting than a backyard sandbox. Not that we can blame their creators, we think a homebrew ro ...
Read more

›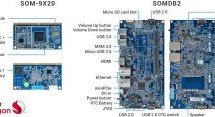 VIA Technologies, a global leader in the development of embedded platform and system solutions have announced its VIA Smart Recognition Platform powered by the Qualcomm Snapdragon 820 embedded platform. The VIA Recognition platform offers a robust development suite for Vision-based applications with the possibility of developing applications that can be used for detecting facial expression, faces, age and e ...
Read more

›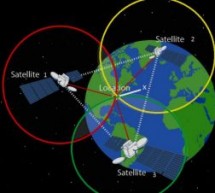 You're in a crowded street with many high buildings around you and you find your car position on Google maps is wrong. That's usual, right? This is caused from (fake/distorted) GPS signals reflected from the high buildings around you which make your GPS receiver do some wrong calculations. So be careful don't always listen to what GPS assistant says! Even with no wrong calculations, the current GPS accuracy ...
Read more

›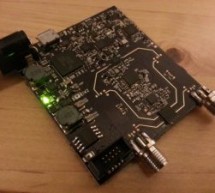 Introduction Vector network analyzer (VNA) are used to measure scattering parameters of high frequency circuits. When frequency is high enough the reflections of the waves start to matter and distributed effects need to be taken into account. VNA can be used to analyze reflection and transmission coefficients of circuits at high frequencies. For example ideally antenna would radiate all the energy it gets, ...
Read more

›
4 Channel RF remote built using PT2262 and PT2272-M4 IC from Princeton technology. PT2262 used as Encoder (Transmitter) and PT2272-M4 Decoder (Receiver) ICs are heart of the project. The receiver provides 4 channel Momentary outputs. All outputs are TTL level can be interface with other circuits or relay board. Transmitter works with 5V to 12V DC. Receiver works with 5V DC. When any of SW1-SW4 (S1-S4) tact ...
Read more

›
Combine the Si4844-A10 analog-tuned radio receiver with an Arduino to make a full-featured multiband radio. The idea of a single chip radio is intriguing. The prospect is especially interesting to me because, frankly, I envy the analog skills I associate with building a radio receiver. When I browsed the circuit literature in the area, I came across the Silicon Labs collection. One of their chips, the Si484 ...
Read more

›
I wanted to try my hand at a true "DIY" project, designing and building my own micro quadcotper frame and writing my own firmware in C++.  In this post I will describe the frame and build; in my next post I will talk about the firmware. Excluding stuff I had lying around the shop, (heat-shrink tubing, EC-3 connectors, velcro, cable ties, etc.) the cost came to just under $170: 3D-printed frame "free"! Fligh ...
Read more

›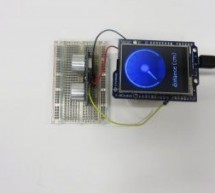 In this project we will measure the distance of the nearby object using TS601-01 Ultrasonic sensor and 4Duino. An ultrasonic sensor has a transmitter (sends ultrasonic signals) and a receiver (receives the ultrasonic signal after it bounced off nearby object). The sensor estimates the distance of the object by transmitting a signal and determining how long the signal took to come back.  Ultrasonic Sensor ha ...
Read more

›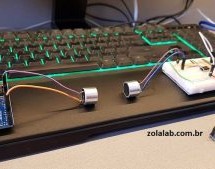 Some of the best hacks are the ones which seem perfectly obvious in hindsight; a solution to the problem that's so elegant, you wonder how it never occurred to you before. Of course we also love the hacks that are so complex your eyes start to water, but it's nice to have a balance. This one, sent in by [Eduardo Zola] is definitely in the former group. In the video after the break, [Eduardo] demonstrates hi ...
Read more

›
By using arduino and IR Receiver TSOP 1738 (in our project, you can use any ir receiver available) we can decode any infrared remote code into hex or some other format. Before constructing the circuit check datasheet of IR receiver having in your hand, hence you can connect proper bias pins and output pin. Step 1: Wiring Components To read the IR rays from remote control by arduino board we need external li ...
Read more

›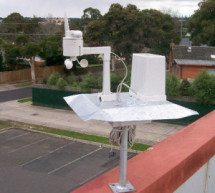 The incredible popularity of home weather stations shows that it's not just farmers who are interested in the weather. Many people want to be able to track and record weather events within their local environment rather than relying on a state or national weather service that may not have adequate local details. Home weather stations typically consist of two major parts: the sensors that sit outside and mea ...
Read more

›