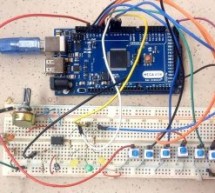 Hi guys, during the last few weeks, I've been working on reconnecting with my love for the guitar. Playing the box guitar was how I relax few years back before the saxophone took over. Going back to the guitar, after 3 years of rarely strumming a chord, I discovered amongst other things that I no longer knew how each of the string should sound, to put it in my friend's words, "My hearing was no longer tuned ...
Read more

›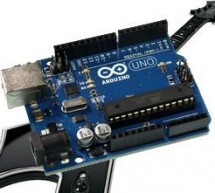 Arduino Uno kit on the Board at the entrance of the TL082 opamp used Guitar Tuning circuit audio audio input and frequency to detect the "Arduino-Frequency-Detection" software used. According to the LEDs light at... Electronics Projects, Guitar Tuning Project with Arduino Uno "arduino projects, avr project, microcontroller projects, " Arduino Uno kit on the Board at the entrance of the TL082 opamp used Guit ...
Read more

›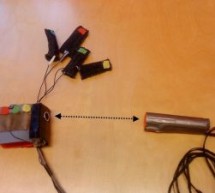 The idea here is to build a wearable virtual guitar that is to be controlled with two hands much like playing Air Guitar. It has been created and prototyped during a two weeks project at ChalmersUniversity (Sweden) for a Physical Computing class. The aim is to get the feeling of playing a real guitar. The AIRduino Guitar is made of one glove and one stick. The glove is used to set the tone and the stick to ...
Read more

›
This DIY Guitar Pedal project is for guitarists, hackers, and programmers that want to learn about digital signal processing, effects, synthesizers, and experiment without deep knowledge of DSP, electronics, or hardcore programming. pedalSHIELD UNO is a lo-fi, programmable guitar pedal that works with the Arduino UNO/Genuino UNO boards and is Open Source & Open Hardware. Learn to create your own program ...
Read more

›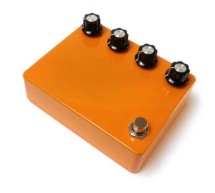 The Arduino Guitar Pedal is a digital multi-effect pedal based upon the Lo-Fi Arduino Guitar Pedal originally posted by Kyle McDonald. I made a few modifications to his original design. The most noticeable changes are the built-in preamp, and the active mixer stage which lets you combine the clean signal with the effects signal. I also added a sturdier case, foot switch, and rotary switch to have 6 discreet ...
Read more

›
the idea of anything can be an instrumental music has been always in my mind so i made a wooden tissue box that i installed inside it a guitar of light strings Step 1: Building Box i made this wooden tissue box Step 2: Wiring we make the LDR wiring on a the top shelf of the box ... while the Led's are on the buttom shelf we place them under the LDR's directly to make the light effective on the LDR. Ultrason ...
Read more

›