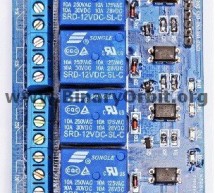 I've reached the point where I need to think how I'm going to control the motor & linear actuator for my solar tracker. Things to consider - Must be able to go forwards and backwards - so that makes 4 channels, 2 for each motor. Must be able to provide enough power to drive the motors. Originally I looked at an H-Bridge Circuit, and I did buy one, but I had lots of problems with getting it to reverse th ...
Read more

›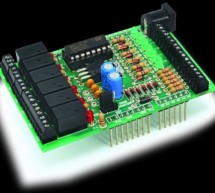 In order to "visually" highlight the behavior of Arduino programs you must connect a device to the I/O pins, which gives you tangible signals. Normally, if you want to check if a program changes a level of an output pin, answering a command or executing a check routine, or event, you must check it by measuring the voltage level on the pin with a voltmeter. But if we connect this pin to a LED with the correc ...
Read more

›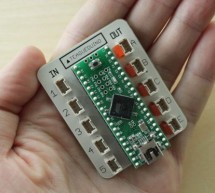 What is Teagueduino? Teagueduino is an open source electronic board and interface that allows you to realize creative ideas without soldering or knowing how to code, while teaching you the ropes of programming and embedded development (like arduino). Teagueduino is designed to help you discover your inner techno-geek and embrace the awesomeness of making things in realtime — even if you've only ever program ...
Read more

›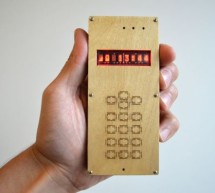 The DIY Cellphone is a working (albeit basic) cellphone that you can make yourself. It can make and receive phone calls and text messages, store names and phone numbers, display the time, and serve as an alarm clock. It connects to GSM networks (like AT&T and T-Mobile in the U.S.) using a regular (full-size) SIM card. It builds on the hardware and software in the Arduino GSM Shield but extends it with a ...
Read more

›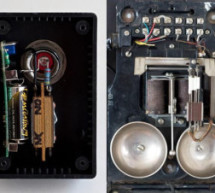 Bryan Zimmer emailed us this fantastic retro-themed DIY hack, a most timely submission as we just revisited the noir art deco-science fiction classic Dark City and we think this would have perfectly fit in the world (or in Adama's quarters on BSG). Bryan gives step-by-step instructions of how he converted a 1940's Swedish-made Ericsson bakelite original into a wireless doorbell... This project combines a ba ...
Read more

›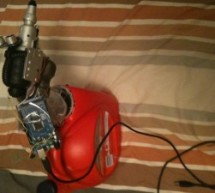 Hey guys, Today I would like to show you how to make a simple sentry turret out of household Items! You would only need to get an Arduino UNO or Mega, a Ping))) Ultrasonic Range finder, two servos, and an electronic water squinter! The rest of the project is things that you may find around your house and recycle! Contest Age Group 13 - 17 Submitted by Newton Labs for the Instructables Sponsorship Program St ...
Read more

›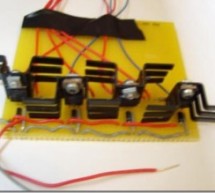 This page will show you how to put together a simple stepper motor driver board that can be controlled with an Arduino. I built mine to use with my heliostat projects, but it could be used for other things too. Update: I no longer use this driver board with my sun tracking / heliostat system. Commercial driver boards have become so cheap that it is hardly even worth bothering to build it. Additionally, this ...
Read more

›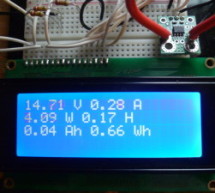 Major corrections and additions made 9/9/2014 For my off-grid Ham Radio and Solar projects, I needed a way to measure volts, amps, watts, amp hours and watt hours. There's a couple of commercial products that can do this, but not with the flexibility I wanted. I designed a Arduino micro-controller based solution that is very extensible. Right now it monitors the above values of attached gear, and I'm thinki ...
Read more

›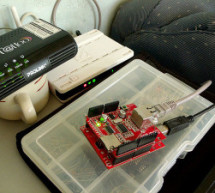 Been seeing few DIYs on how to establish a communication between MATLAB application and Arduino that is hardwired to PC. However, I haven't encountered anything that control Arduino via MATLAB wirelessly using the ENC28J60 compatible Ethernet shield. In this ible', I'm going to show the simplest way to control Arduino using MATLAB wirelessly. WHAT YOU NEED? 1) Arduino - You need a controller. I used Arduino ...
Read more

›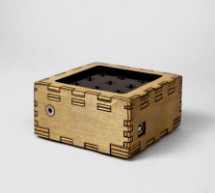 This electronic instrument allows you to sequence and loop audio and MIDI data.  Most of the time I use it to sequence drum samples so I can play around with different beats and rhythms.  The really great thing about this instrument is that it is very portable, it fits in your hands easily, runs off a single 9 volt battery, and has a headphone jack that you can plug into.  If you connect it to your computer ...
Read more

›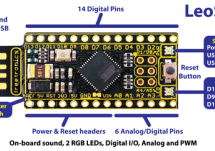 The Freetronics LeoStick is a handy break-out board for the ATmega32U4 microcontroller. The board has a convenient USB stick format, and is based on the pinout and connections of the Arduino Leonardo reference design for compatibility with the Arduino IDE. Before you plug in your LeoStick for the first time please read this section of the forum for any updates on installation and use. The LeoStick uses the ...
Read more

›
This how-to takes you through all the steps of making your own arduino on a perfboard or perfduino! Arduino microcontrollers are great for learning about physical computing and are very useful for rapid prototyping. Arduino's simple programming language makes it a favorite of hobbyists and diy-ers around the world. Because arduino boards range in price from 30 to 70 dollars, it can be very cost effective to ...
Read more

›