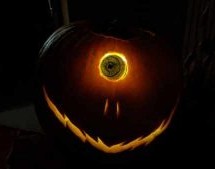 These days, a classic Jack O' Lantern just doesn't cut the mustard. Kids are expecting to be scared by high-quality animatronics at a minimum. This haunting work by [Zero To Infinity] might just do the trick. A real pumpkin is pressed into service in this build, with the usual threatening grin and candlelit interior. However, where it differs is in its single, animated eye. The eye itself is constructed of ...
Read more

›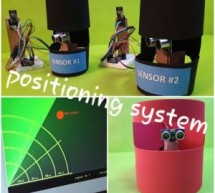 All the versions of ultrasonic radars I have found for arduino devices (Arduino - Radar/Ultrasonic Detector, Arduino Ultrasonic Radar Project) are very nice radars but all of them are "blind". I mean, the radar detects something but what is it detecting? So I propose myself to develope a system able to detects objets and identyfy them. In other words a positioning system without using GPS devices but u ...
Read more

›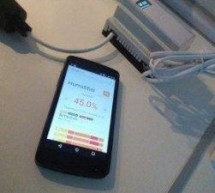 I worked on creating a Internet connected worked on creating a Internet connected last week using my open source WiFi relay project as platform. We observe quite dry air at our house, I suspect this is due to the fact that we use fan coils for heating/cooling. Humidity levels at home are usually below the 30% mark, which poses a health risk along with uncomfortably dry air. I've found these interesting char ...
Read more

›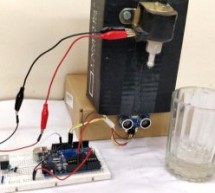 Automatic Water Dispenser using Arduino About 71% of earth is covered with water, but sadly only 2.5% of it is drinking water. With rise in population, pollution and climate change, it is expected that by as soon as 2025 we will experience perennial water shortages. At one hand there are already minor disputes among nations and states for sharing river water on the other hand we as humans waste a lot of dri ...
Read more

›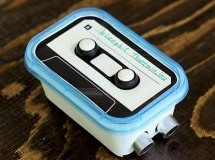 We don't think [bleepbit] will take offense when we say the "poor man's theremin" looks cheesy — after all, it was built in a cheese container. Actually, it isn't a bad case for a simple device, as you can see in the picture and the video below. Unlike a traditional theremin, the device uses ultrasonics to detect how far away your hand is and modifies the sound based on that. There are also two buttons — on ...
Read more

›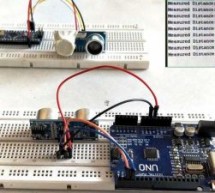 Ultrasonic sensor (HC-SR04) is commonly used to find the distance of an object from one particular point. It has been fairly easy to do this with the Arduino and the code is also pretty simple. But in this article we are going to try something different with these popular HC-SR04 sensors. We will try calculating the distance between two Ultrasonic sensors that is, we will make one sensor to act as transmitt ...
Read more

›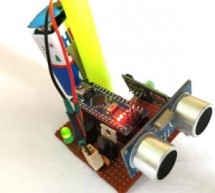 Ever heard of Hugh Herr? He is a famous American rock climber who has shattered the limitations of his disabilities; he is a strong believer that technology could help disabled persons to live a normal life. In one of his TED talk Herr said "Humans are not disabled. A person can never be broken. Our built environment, our technologies, is broken and disabled. We the people need not accept our limitations, b ...
Read more

›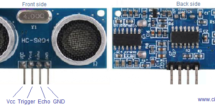 Ultrasonic range finder using 8051 mictrocontroller has been already published by me in this website. This time it is an ultrasonic range finder using arduino. HC-SR04 ultrasonic range finder module is used as the sensor here. The display consists of a three digit multiplexed seven segment display. This range finder can measure up to 200 cm and has an accuracy of 1cm. There is an option for displaying the d ...
Read more

›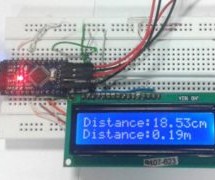 Ultrasonic sensors are great tools to measure distance without actual contact and used at several places like water level measurement, distance measurement etc. This is an efficient way to measure small distances precisely. In this project we have used an Ultrasonic Sensor to determine the distance of an obstacle from the sensor. Basic principal of ultrasonic distance measurement is based on ECHO. When soun ...
Read more

›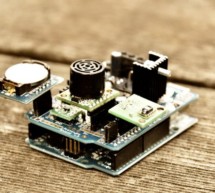 I have been working on this project for a while and whilst it is still under development I decided to write a short guide after several requests to do so. The dimmer uses an interrupt driven XL-Maxsonar EZ1 ultrasound range finder to measure the distance between the sensor and your hand. By moving your hand up and down over the sensor you can increase or decrease the amount of light emitted by the connected ...
Read more

›
For my first instructable, I'd like to present The Parking Spotter. This is not a new concept, I know. However, this build was done specifically to suit my needs/wants/materials already in my possession. Typically, a project begins with an idea, parts are then gathered, and the building commences. In my case I looked around at the parts and material that I had on-hand, browsed Instructables (a daily occurre ...
Read more

›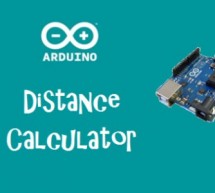 Arduino Project – The distance calculator I have been playing with Arduino (micro-controller) for about 2 years now and I am becoming more and more passionate about circuits. For those who are not aware of Arduino, check out my article "Arduino – A Guide for Beginners". Recently, I was testing some new components that I ordered, which included an ultrasonic sensor and an LCD. I found an article online that ...
Read more

›