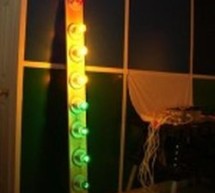 O'K, after having some fun with stereo version of the VU meter I described in my previous blog-post, now it's time to do a serious stuff. Studio grade VU meter !!! 24 steps, equally spaced every 3 dB, covering Extra wide Dynamic Range from -63  up to  +6 dB.  Single (mono) channel this time, no messing around, absolute precision at the stake. Plus, it keeps absolutely Top-Flat linear frequency response from ...
Read more

›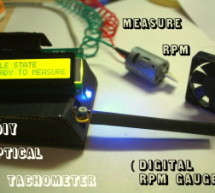 This Instructable will show you how to make a Portable Digital Optical Tachometer using an Arduino Uno. This project is inspired from This instructable and is an enhanced version of it with an LCD display and a modified code. Instead of a slotted sensor , it has a reflection based sensor. So : 1. You don't have to worry about the thickness of the rotor 2. The number of blades won't change your readings 3. I ...
Read more

›
GoFly is a project based on PNA (car navigation devices with Windows CE), LK8000 tactical fligh computer software and variometer (altimeter) external input based on Arduino board and pressure sensor. Why? -You can build this for about 150$, -Your ordinary PNA (Personal Navigation Assistant) changes to really nice, high end flying computer, with lot of features and Arduino based altimeter and variometer let ...
Read more

›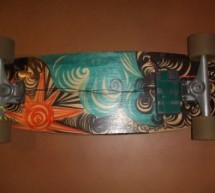 Using an Arduino, it is easy to make a speedometer/tachometer for virtually any man-powered vehicle. I made one for my skateboard that used a small magnet to count revolutions and utilized an LCD display screen.  This Instructable will show you how you can do the same step by step. You will need a few things before we get started. 1) A man-powered vehicle (I will be using a skateboard) 2) An Arduino 3) A pl ...
Read more

›
Sure you can use LDR's, potentiometers and buttons to generate sounds, but what about strings? When I began thinking about an Arduino string instrument, I realized what I wanted to create was a soft potentiometer.  I found my inspiration from Hannah Perner-Wilson's Fabric Potentiometer http://www.kobakant.at/DIY/?p=543. Step 1: Parts [box color="#985D00" bg="#FFF8CB" font="verdana" fontsize="14 " radius="20 ...
Read more

›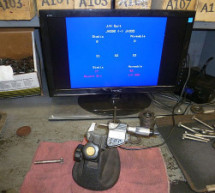 We had a project that required connection to a digital micrometer with a data output jack. The idea was to connect a microcontroller to the micrometer, to read the measurements and make decisions based on the readings. The micrometers that we used are made by Mitutoyo, and have a funky 52 character data stream in reverse bit order. The microcontroller we chose is the Arduino, and we used a 4D systems uVGA-I ...
Read more

›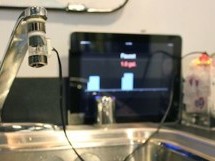 Working with the interaction design team, a bunch of us at Teague have been tinkering with measuring water, analyzing usage data in realtime to affect behaviors, and storing it to see patterns over time. At the heart of the exploration was a need to cheaply measure water from the tap.  Water meters vary quite drastically in price (from $250+ for industrial grade sensors to $6 for garden hose attachments tha ...
Read more

›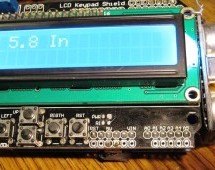 Have you ever wanted an ultrasonic tape measure, like this Stanley? (See picture). Well, I have but then I am a Lazy Old Geek. I don't really need one but I thought I'd try to make one. And naturally, I thought of an Arduino. August 2012 update: I just found out the software used in this Instructable does not work in the latest Arduino environment, 1.0. I think it is the LCDKeypad library but haven't found ...
Read more

›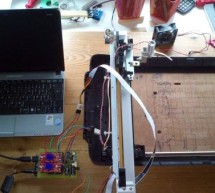 This Frankenstein Laser Cutter was built out of an old scanner and printer. The whole thing evolved around the instructable of Groover and his 'Pocket Laser Engraver'. This is a Making-Of. Although a lot, if not everything, of the mechnical construction requires ingenuity I tried to document the complete build process as much as I could. Every scanner and printer mechanics are different so this could not be ...
Read more

›
Heating things up is one of the most performed tasks in a lab. Quite a lot of times it is not enough to simply hold something at a certain temperature, but the rate at which something is heated and for how long is just as important. Especially when you try to develop catalysts for chemical processes, the temperature program and exact temperature control is crucial and you probably do not want to stay in the ...
Read more

›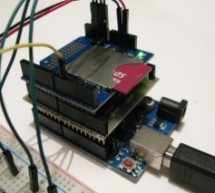 This is my first in a series of more advanced Arduino tutorials. [box type="note" color=" #202020 " bg="#ffbb00 " font="verdana" fontsize="14" radius="20 " border="#000" float="right" head="Attributes"]Thanks to Jeremy , for this articles[/box] Now that we've covered the basics in tutorials 1-10 (you have watched them all right!?), it's time to start pursuing some more complex projects! In this episode, we' ...
Read more

›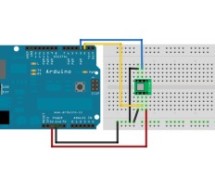 The Memsic 2125 (datasheet) is a two-axis accelerometer capable of measuring acceleration up to plus or minus 2g. It has a simple digital interface: two pins (one for each axis) emit pulses whose duration corresponds to the acceleration of that axis. By measuring the length of that pulse, in microseconds, using the Arduino's pulseIn() function, it is possible to determine the rate of acceleration and to use ...
Read more

›