The Twittering office chair "tweets" (posts a Twitter update) upon the detection of natural gas such as that produced by human flatulence. This is part of my commitment to accurately document and share my life as it happens. For more in depth theory, please see the next step entitled Theory. See the results of the toots of your on labor on Twitter. Step 1: Theory According to my coworker, Twitter is suppose ...
Read more

›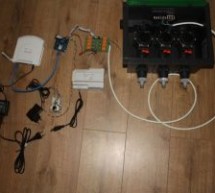 This is my first post so... be brutal ! I have a small yard with a very odd shape, well... L-shaped really and not enough pressure at the tap to be able to water it in one go. So I had to create 3 sprinkler sub systems that can only be turned on one at a time. I sourced 3 Gardena valves but refused to cough up the extra cash for their dull 'computer' (not sure why they call it a computer btw). Besides, cont ...
Read more

›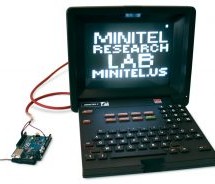 One of us (Mailland) grew up in Paris in the 1980s, surrounded by advertisements for racy "pink" chat rooms, accessible through terminals connected to France's Minitel network. They were a lucrative part of the wider Minitel economy, which also let you send messages, check bank balances, and read news. By 2000, as the Internet displaced the Minitel network, the billboards started being replaced by piles of ...
Read more

›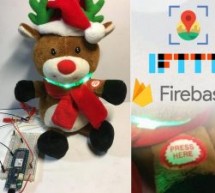 Send information to Santa Claus about the status of the gift request. Things used in this project Hardware components Arduino MKR1000 × 1 SparkFun Pushbutton switch 12mm × 1 Jumper wires (generic) × 1 Resistor 10k ohm × 1 NeoPixel strip × 1 Software apps and online services Arduino IDE IFTTT Maker service Google Firebase Google Maps Story Introduction How many times have you asked Santa to bring you an Ardu ...
Read more

›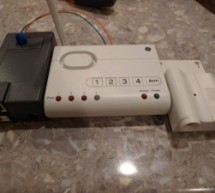 You know that feeling of driving away from your house almost getting to work and saying "Now Did close the garage door?" .  I hate that feeling and seeked out to resolve it in the smiplest/cheapest way I could.  The starting point was of course Arduino.  This project ended up being simpler than I could of imagined but it was not my best effort (as it was my first real project making something useful with th ...
Read more

›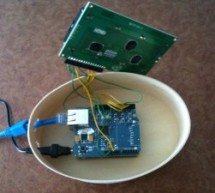 There are a lot of Twitter feed readers around the Web that use Arduino AND a PC to display twits on LCD displays or whatsoever. Then, I decide it was the time to design a solution for performing the same job WITHOUT A PC, and here's the project. In a simple equation: Arduino + Ethernet Shield + LCD Display + Twitter = automatic Twitter feed reader with LCD! The items you need are the following: - Arduino ( ...
Read more

›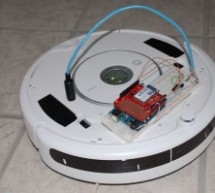 I wanted to see if I could operate my Roomba remotely and get it to report its status via Twitter while I was away from home. I also wanted to make the device independent of a computer. This is the solution I came up with and it works very well. Follow @TheRoomba on Twitter to see what mine is doing! Step 1: Needed Parts and Tools Parts: 1x - Small signal, low power PNP transistor (I used a 2N2907A (may als ...
Read more

›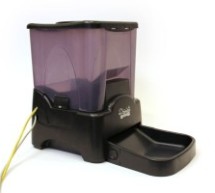 A great project for busy pet owners.  This Twitter-Controlled pet feeder automatically dispenses food in response to activity on your Twitter account.  The project is controlled by an Arduino and uses the Arduino Ethernet shield to receive data from Twitter.  I hacked this automatic Pet Feeder from Amazon to build this project, but you could easily modify your own motorized feeder to work. Parts List: (1x) ...
Read more

›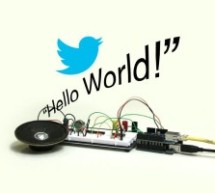 Let the world know what you're eating for breakfast with an 80's style vocal synthesizer!  This project uses an Arduino to send your Twitter stream to a voice generator chip called the SpeakJet.  The setup that I use here can also be extended to other applications where you'd want to translate text into speech, some ideas: -a robot which announces things or responds to its environment by speaking -some kind ...
Read more

›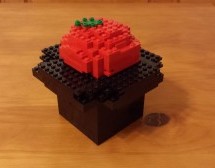 Whenever I go to Citi Field with my kids to see the Mets, they go crazy for the Home Run Apple.To me, the Apple is part of what makes baseball exciting for kids. Even though my kids may not watch most of the games, I still enjoy bringing them along. The Home Run Apple started popping out of a top hat at Shea Stadium in 1980 and now Citi Field has an updated version of the Apple. The apple pops up when a Met ...
Read more

›
In this project I'm building a physical Twitter client using Arduino and a flag, basically an arduino powered retweet indicator, whenever any of my tweets is retweeted some physical action will happen to notify me of that. You'll need: 1. Flag. 2. Arduino. 3. Laptop with a java IDE installed on it. 4. Yellow Led 5. 330 Ohm resistor 6. Servo motor (even a weak one would do, you don't need a lot of torque) 7. ...
Read more

›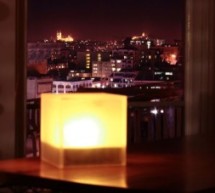 How's the world feeling right now? This box tells you. Powered by: an Arduino, a WiFly wireless module, an RGB LED, Twitter.com and a 9v battery. I'm a news junkie. I want to know everything that is going on in the world as soon as it happens. I want to wake up and know immediately if something big has happened overnight. However, I'm an extraordinarily busy man; I don't have time to read news feeds; readin ...
Read more

›