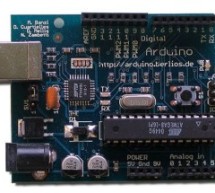 This is a relatively simple controller for controlling equipment in your home. At the moment I control my central heating, security and lighting. By sending commands from my home computer. My homeeasy central heating controller hack. http://www.instructables.com/id/BampQ_homeeasy_home_automation_central_heating_c/ I am also able to login remotely from the internet to control the equipment at home connected ...
Read more

›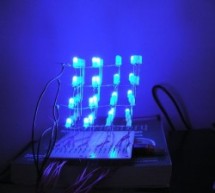 Overview: This instructable will cover the building process of an 4x4x4 LED Cube. I will be using an Arduino to control the LEDs.  Since the Arduino (Freeduino) has a total of 20 pins (including the analog pins) we will not need to have any multiplexing or shift registers.  I will take you though what i did in order to build the cube and create some designs of your own. Step 1: Bill of Materials Bill of Mat ...
Read more

›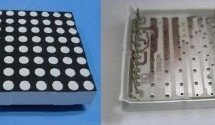 In this project, you shall again use two sets of shift registers. These will be connected to the rows and columns of the dot matrix display. You will then show a simple object, or sprite, on the display and animate it. The main aim of this project is to show you how a dot matrix display works and introduce the concept of multiplexing because this is an invaluable skill to have. Step 1: Things Required for t ...
Read more

›
This instructable will show you how to make an electronic dice with minimal experience using 7 LEDs, resistors, jumper wires, and of course the arduino (or arduino clone). I wrote this instructable for anyone to easily follow along and learn more about the arduino. Questions are welcome and will be answered as soon as possible. For less experienced users the code for the arduino is in "longhand" and several ...
Read more

›
A while ago, as my first microcontroller project, I made a Pong game on a 5x7 LED display, but then nothing became of it. Recently I was given a hard hat as part of a uniform (for an engineering competition) and told to customize it, and remembered pong. In this instructable I will show you how to make a scrolling LED display and how to install it in a hard hat. It also plays pong! LED_Diaplay_Code.zip91 KB ...
Read more

›
The initial project, and certainly the one to which many were inspired is that of Doug Jackson. http://www.instructables.com/id/The-Word-Clock-Arduino-version/ also inspired by http://www.highonsolder.com/blog/2011/1/8/arduino-word-clock.html  http://www.instructables.com/id/Sleek-word-clock/ Step 1: The Materials The list of materials for the board depends on how you plan to make the electronics, if you wa ...
Read more

›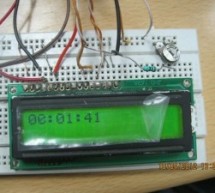 The Need: Last week around at work I had another usual un-usual  problem to face with.  Having to make lots of mechanisms n components to work with-in seconds or fracs at times I kind-of knew this was always coming. And invariably so my poor mind couldn't think of anything but Arduino for a handy solution that should be compact, flexible, highly customizable, rugged and most importantly easier to work aroun ...
Read more

›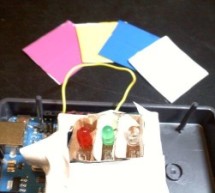 Here we will be learning how to make a color sensor. my model consists of three cardboard compartments containing an LED - one red, one blue, and one green - and an OP550B phototransistor. The LED's shine simultaneously on a solid colored card. The phototransistors are connected to an Arduino Uno, which converts the relative amounts of measured reflected light of each color into RGB components which are use ...
Read more

›
This project was built for my introductory electronics class at the University of Waterloo in Canada.  This was my first introduction to electronics and therefore, my first project. Follow these steps to build a 16 x 16 LED array with a wall (different colored LED on the border), powered by an Arduino Mega 2560.  I have also included the construction details of a game controller. This project is ideal for a ...
Read more

›