Arduino Keyboard and Mouse Control Code
This example illustrates the use of the Mouse and keyboard libraries together. Five momentary switches act as directional buttons for your cursor. When a button is pressed, the cursor on your screen will move, and a keypress will be sent to the computer. Once you have the Leonardo programmed and wired up, open up your favorite text editor to see the results.
NB: When you use these libraries, the Arduino takes over your computer's keyboard and mouse!
Circuit
image developed using Fritzing. For more circuit examples, see the Fritzing project page
Schematic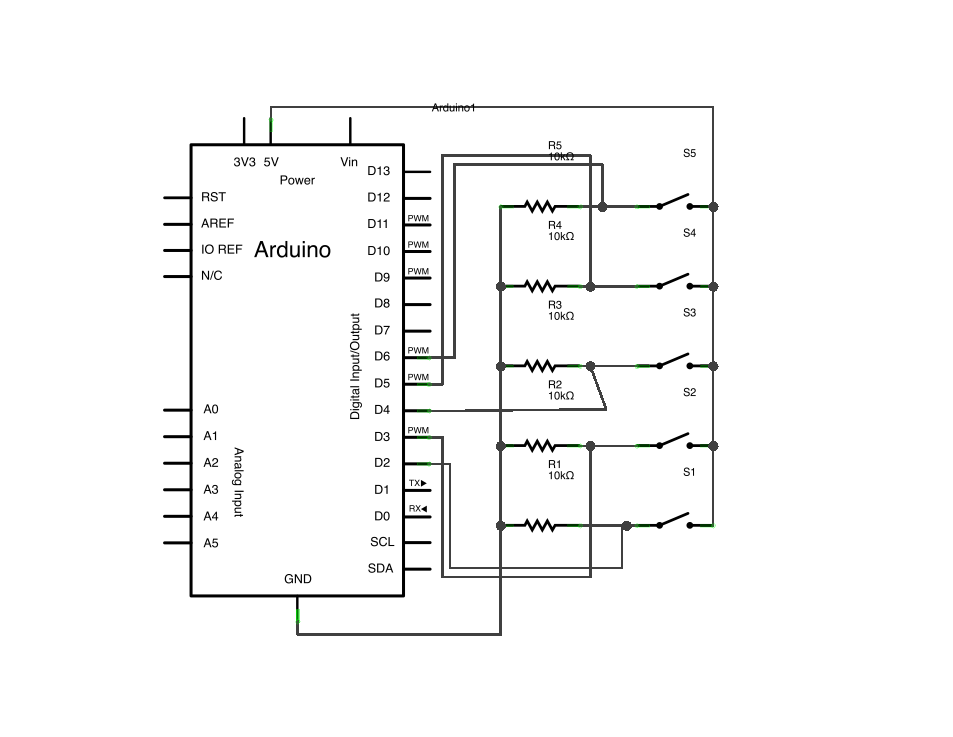 Code
/*
KeyboardAndMouseControl

Controls the mouse from five pushbuttons on an Arduino Leonardo or Micro.

Hardware:
* 5 pushbuttons attached to D2, D3, D4, D5, D6

The mouse movement is always relative. This sketch reads
four pushbuttons, and uses them to set the movement of the mouse.

WARNING:  When you use the Mouse.move() command, the Arduino takes
over your mouse!  Make sure you have control before you use the mouse commands.

created 15 Mar 2012
modified 27 Mar 2012
by Tom Igoe

this code is in the public domain

*/
Major Components in Project
Hardware Required
Arduino Leonardo or Arduino Due board
breadboard
Five pushbuttons
Five 10-kiloohm resistors
For more detail: Arduino Keyboard and Mouse Control Code
This Post / Project can also be found using search terms:
arduino keyboard and mouse code
control arduino with keyboard code
how to use a wireless mouse to control an arduino robot
Project Ratings:
Related posts
Leave a Comment