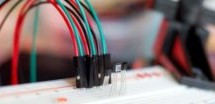 I came pretty close to calling this one "Magnets, How do they work?" But I thought that might confuse more than it would amuse. All jokes aside, hall effect sensors are pretty cool, and also pretty simple to use, but there are a few types you may not know about and I figured it would be a good time to introduce them incase your next project was In need of sensing some magnetic forces. If you don't know, a h ...
Read more

›
In past tutorials, we have covered temperature, color, time, direction, but never distance or proximity. I think I strayed away from this because most of the lower cost proximity sensors are pretty drop-dead-simple to use and thought it might not be that useful. But the time has come, I'm writing about some distance/proximity sensors. While using them is technically simple, I have 3 pretty different sensors ...
Read more

›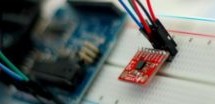 Before we begin, just note, that while this all works, I believe the output is scaled wrong. The noise floor is very high. But from everything I have found it looks like this is how it is. We have covered, accelerometers, GPSs, compasses… But no gyros. Why? Not sure, but I figured today I would put an end to that, so I grabbed a L3G4200D 3-axis gyro from sparkfun. The L3G4200D is a 3-axis angular rate senso ...
Read more

›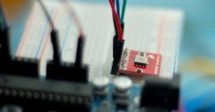 Light, location, temperature… What's next? Well, how about Barometric pressure? You know.. that thing that determines so much of our weather. Well the BMP085 Barometric Pressure sensor, available at SparkFun is a great little sensor capable of sensing such small changes in barometric pressure it can be used as a pretty precise altimeter as well. And, because no Barometric pressure sensor would be complete w ...
Read more

›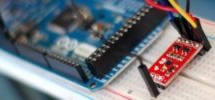 A year ago we had an article called Sensing color with the ADJD-S371. Well the ADJD-S371 is long gone, and its replacement is the ADJD-S311 (breakout board available from sparkfun). It is basically the same all around, so without shame, I will be copying a lot of that article, because… Why reinvent the wheel? A few things you should know about the ADJD-S311 before we dive in too deep: I have never been able ...
Read more

›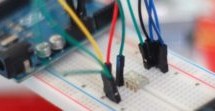 A while back we covered the TEMT6000, a great little analog sensor for getting ambient light readings when you need something a bit more sensitive than a simple Photoresistor. Well in the spirit of documenting everything we can get our hands on, this week we will be taking the sensitivity to the next level with the TSL230R Light Intensity Sensor. I actually bought this a long time ago simply because it look ...
Read more

›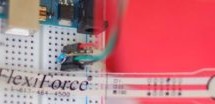 Felxiforce is a force sensor that is very similar to FSRs we just wrote about in principal. They change their resistance when you apply force to them. (The flexi part of the name is because they are flexible) Felxiforces are about twice as expensive as their FSR cousins, but these are much more stable, and are calibrated to a specific weight. You can buy them in 1, 25, or 100lb ratings. This article was wri ...
Read more

›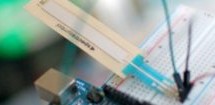 You all know the potentiometer, you turn it, and you can read on your arduino where it was turned to. Well 3M makes a product called the softpot that is a linear touch potentiometer. So instead of turning a knob, you touch it. The really nice thing about these is that they are great for prototypes because you can tell where someone touched it. So if you place a piece of paper with some printed buttons over ...
Read more

›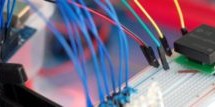 A few weeks ago we showed you how to control your arduino over serial. Well this week are going to do the same thing. Only this time instead of using the serial monitor to send the commands, we will be using the Innovations ID line RFID reader. RFID, or Radio Frequency Identification, is basically a wireless barcode, and in this implementation works by a reader sending out a signal that powers a "tag", the ...
Read more

›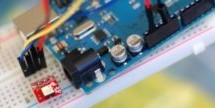 Once in a while something comes out that I think is going to be really awesome, but when you get it, it is just so so. Im sure you all know what I mean… But yeah… This is one of those. The RPI-1031 available from sparkfun is a pretty simple (heck, it is dead simple) sensor for sensing when it is tilted. And it does this really well. But it seriously only does that. If it is not tilted, it freaks out and rep ...
Read more

›
The TMP102 is a very simple, yet accurate, ambient temperature sensor which is capable of detecting .0625ºC changes between -25 and +85°C, with an accuracy of 0.5°C. And the real kicker… It does all of this while only consuming 10µA (10 millionths of an amp). The thing is quite tiny, so SparkFun has put it on a breakout board to make things easier. Naturally, you probably already ordered a few of these for ...
Read more

›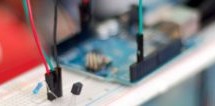 I know… you are probably thinking "Another Thermometer! How many do you need to cover?" – Well… All of them. But really, they all have something different to offer. For instance this guy, the DS18B20, has a unique serial-number sent with it's data, so if you needed to have 50 of these on one bus, you could and still know exactly where the reading came from. And… It's digital serial bus it uses to transmit t ...
Read more

›