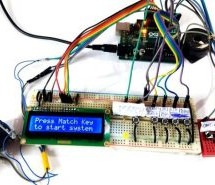 We all are quite familiar with Electronic Voting Machines, where your vote gets registered electronically and you don't need to use ballot paper to vote in election. Today security is a major concern and it also needs to be ensured that someone can't vote twice, so this problem can be solved by introducing Finger Print Based Voting, where a person can be authorized based on his finger Print. This will also ...
Read more

›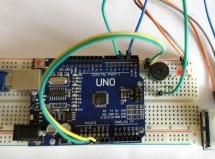 Detecting motions or movements has always been important in most projects. With the help of the PIR Sensor it has become very easy to detect human/animal movements. In this project we will learn how we can interface a PIR Sensor with a microcontroller like Arduino. We will interface an Arduino with PIR module and blink a LED and beep a Buzzer whenever a movement is detected. The following components will be ...
Read more

›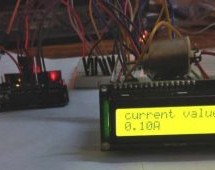 Ammeter is used to measure current flow through any load or device. Here in this Arduino Ammeter, we will explain about measuring of current by using ohm's law. It will be quite interesting as well as a good application of basic science that we studied in our school days. All of us are well known of ohm's law, It states that "the potential difference between two poles or terminals of an conductor is directl ...
Read more

›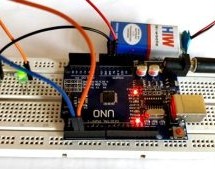 Sensors have always been a vital component in any Project. These are the ones which convert the real real-time environmental data into digital/variable data so that it can be processed by electronics. There are many different types of sensors available in the market and you can select one based on your requirements. In this project we will learn how to use a Hall sensor a.k.a Hall effect sensor with Arduino ...
Read more

›
Story This is a simple tutorial to create an EMF detector. You can use Arduino for this job, but is better use a microcontroller called Attiny85. It is possible program it throe the Arduino interface. What is a Magnetic Field [from Wikipedia] An electromagnetic field (also EMF or EM field) is a physical field produced by electrically charged objects. It affects the behavior of charged objects in the vicinit ...
Read more

›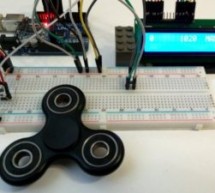 Hi everyone! This is my next project, Fidget Spinner RPM Counter or Arduino Tachometer with Hall-Effect Sensor. 1: Requirements Parts Required: Fidget Spinner neodyimium magnet Arduino Uno LED + resistor 220 Ohm Hall-Effect Sensor - a3144 resistor 10 k Wires Breadboard LCD 1602 2: Hall-Effect Sensor Using Hall-Effect Sensor we can measure the speed of rotation. I used Hall-Effect Sensor - a3144. RPM (Revolu ...
Read more

›
Story We (most of us) really like Arduino because it's possible to make cheap clones, lots of libraries, examples, forum support and community out there. Outside Arduino world, I like Cypress PSoC for some of its cool features like Graphical IDE, APIs, great features and understandable documentation. I have bunch of PSoC® 4 CY8CKIT-049 4xxx Prototyping Kits. The first half of this kit has CY7C65211 device, ...
Read more

›
I came pretty close to calling this one "Magnets, How do they work?" But I thought that might confuse more than it would amuse. All jokes aside, hall effect sensors are pretty cool, and also pretty simple to use, but there are a few types you may not know about and I figured it would be a good time to introduce them incase your next project was In need of sensing some magnetic forces. If you don't know, a h ...
Read more

›
In past tutorials, we have covered temperature, color, time, direction, but never distance or proximity. I think I strayed away from this because most of the lower cost proximity sensors are pretty drop-dead-simple to use and thought it might not be that useful. But the time has come, I'm writing about some distance/proximity sensors. While using them is technically simple, I have 3 pretty different sensors ...
Read more

›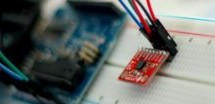 Before we begin, just note, that while this all works, I believe the output is scaled wrong. The noise floor is very high. But from everything I have found it looks like this is how it is. We have covered, accelerometers, GPSs, compasses… But no gyros. Why? Not sure, but I figured today I would put an end to that, so I grabbed a L3G4200D 3-axis gyro from sparkfun. The L3G4200D is a 3-axis angular rate senso ...
Read more

›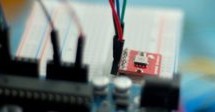 Light, location, temperature… What's next? Well, how about Barometric pressure? You know.. that thing that determines so much of our weather. Well the BMP085 Barometric Pressure sensor, available at SparkFun is a great little sensor capable of sensing such small changes in barometric pressure it can be used as a pretty precise altimeter as well. And, because no Barometric pressure sensor would be complete w ...
Read more

›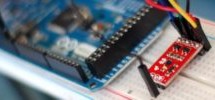 A year ago we had an article called Sensing color with the ADJD-S371. Well the ADJD-S371 is long gone, and its replacement is the ADJD-S311 (breakout board available from sparkfun). It is basically the same all around, so without shame, I will be copying a lot of that article, because… Why reinvent the wheel? A few things you should know about the ADJD-S311 before we dive in too deep: I have never been able ...
Read more

›