Bare bones: The ATtiny85 on its Own The ATtiny is a small, inexpensive chip that can replace the Arduino in a project you have prototyped. This helps make the project smaller and more permanent, as well as freeing up the Arduino for more fun! The chip comes in a few different types – ones with more flash memory, lower power, and so forth. The ATtiny is great if you want to program a bunch of chips in a row, ...
Read more

›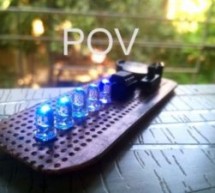 Persistence of vision is an optical illusion, it works on a simple phenomenon how our day to day television works. MY first pov was six months before with arduino uno and with motor. However it is best to have a small and portable device that can be carried anywhere and image can be seen without any external motors or fan. This small portable pov version uses attiny 85 ic, smaller variant of arduino uno tha ...
Read more

›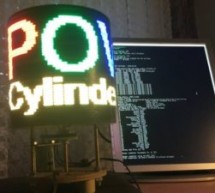 Introduction This is my first Arduino project. My work was inspired by several maker projects that created Persistence of Vision Displays [2,3,4]. Persistence of vision (POV) refers to the optical illusion whereby multiple discrete images blend into a single image in the human mind and believed to be the explanation for motion perception in cinema and animated films [1]. The projects [2,3,4] implement POV g ...
Read more

›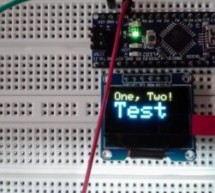 I like cheap electronics for playing. Cheap is good for budget conscious hobbyists and China is delivering lots of toys for playing - one being the inexpensive "mono" OLED displays.  The single-color displays often come in a dual-color implementation where the top row of pixels are one color and the remaining majority of the lower pixels are another color.  These dual-color units allow the title information ...
Read more

›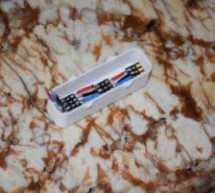 Stand out from the crowd with this unabashedly ostentatious excuse for a wallet. It's got plenty of space, RGB lights, and you can even put your name on it for added vanity. Interested? Keep reading! In the files section of this build you can find two things: a Fusion archive and some STL files. If you're just interested in printing a blank wallet without any text on it then download the STL files. Load the ...
Read more

›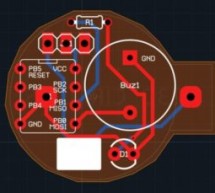 Small enough to slip in a mint tin, yet loud enough to be heard across a house at only a few dollars per unit. A nice combination for a pretty good prank! Let's dive in! Step One: The Circuit You can purchase the printed circuit board from OSH Park using the link in the parts section of this build. You by no means need to use an ATtiny or my own printed circuit board. This circuit would take a grand total o ...
Read more

›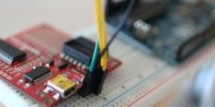 The following code and library are compatible with arduino software 1.0+ ONLY. You can download the newest version of the arduino software here. When you start to talk about biometrics in electronics, heart-rate is usually the first thing to come up. And why not? I think it is often the thing we are most aware of changing when we get excited, nervous, are being active, or very calm. There are several ways o ...
Read more

›
The objective of this post is to explain how to fade a LED with the ESP32, using the LED PWM functionalities. Introduction The objective of this post is to explain how to fade a LED with the ESP32, using the LED PWM functionalities of the microcontroller. I will be using DFRobot's FireBeetle ESP32 board to perform the tests. Since the board as a built in LED, no external hardware will be needed. Note that a ...
Read more

›
One of the first things anyone does when they start working with the Arduino is to connect it to a potentiometer and control the brightness of and LED or move a servo. Well, a rotary encoder may look like a potentiometer, but other than also having a knob, it is basically the complete opposite. A rotary encoder is a device that you can rotate infinitely. Simple ones like this one I got from sparkfun have no ...
Read more

›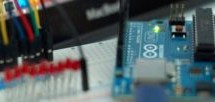 This is something I use all the time, so I figured I would share it with you. Controlling an Arduino over serial can be extremely simple if you let it, and extremely useful if you know how to use it. Many languages such as Processing and ActionScript 3 (with a proxy) have ways to communicate over serial, and typically you see people using this so they can display the output of an Arduino, or use firmata to ...
Read more

›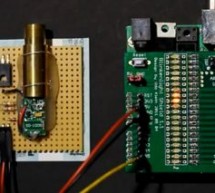 [highlight bgcolor="ffbb00"]I have collected 2 methods to create laser range finder, one is very simple but for hobbiest the first one using arduino clock but it comes with errors. Its just to conceptulize how we can create range finder. The second one with the The 7558 and 7555 Series Rangefinder/Processor professional one. It uses already built kits we only have to use these to developer arduino based ran ...
Read more

›
This is arduino based collision detection warning system. This kind of system is fastest growing safety feature in automotive industries. Such system enables vehicles to identify the chances of collision and give visual and audio warning to driver. So that driver can take necessary action to avoid collision. This project idea is based on arduino controller and the whole system will give you very good unders ...
Read more

›