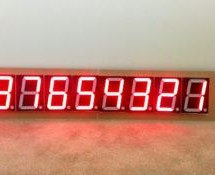 Seven segment LED displays are known to be resource and power hungry. But because they are visually so charming and readable from a far viewing distance and at a much wider viewing angle as compared to any other electronic displays, they are still hugely popular. The required number of I/O pins to drive the LED segments can be reduced significantly by using an additional dedicated hardware. For example, the ...
Read more

›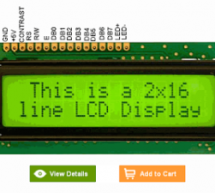 In this tutorial we'll be looking at how to connect interface parallel LCD to an Arduino. We are using 16 char x 2 Line LCD known as 16x2 LCD, you can usually identify this display by the 16-pin interface. You only need to solder 10 of the 16 wires to use the LCD, but this will only enable you to use the 4-bit interface. 4-Bit interface helps us to reduce required IO lines, there are various displays availa ...
Read more

›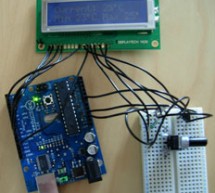 As a simple first Arduino experiment I interfaced a two line LCD (a Displaytech 162B) and an LM35DZ to make a simple Min/Max thermometer. Step 1 - Interfacing the Temperature Sensor This is really very simple. The LM35DZ has three pins, +5V, ground and a variable voltage output to indicate the temperature. I plugged it into breadboard and wired the output straight to the Arduino's analogue input 0. To test ...
Read more

›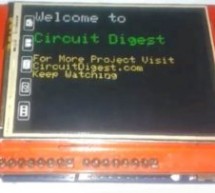 Today, we are going to Interface 2.4 inch TFT LCD Shield with Arduino. By using this color TFT LCD shield we can show characters, strings, blocks, images etc on the color TFT LCD. And we can use this TFT Shield in many applications like:  Security System, Home Automation, Games etc. Interfacing TFT LCD with Arduino is very easy. We only need to have an Arduino Board & a 2.4 inch TFT Shield in hardware p ...
Read more

›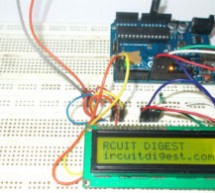 To establish a good communication between human world and machine world, display units play an important role. And so they are an important part of embedded systems. Display units - big or small, work on the same basic principle. Besides complex display units like graphic displays and 3D dispays, one must know working with simple displays like 16x1 and 16x2 units. The 16x1 display unit will have 16 characte ...
Read more

›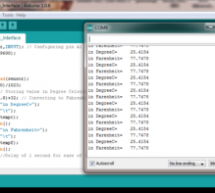 In this article, we are presenting a tutorial on how to interface LM35 and Arduino along with its program. Once we successfully interface arduino and lm35, we will go on to build a temperature display using arduino and a 16×2 LCD module which constantly monitors temperature around the measurement field/range of LM35 and displays the same on LCD module. So lets get to building the project! LM35 is an analog, ...
Read more

›
Welcome to my FIRST instructable, i will show you how to connect a 16x2 lcd display to an arduino, follow these simple step by step instructions and you will have it done in no time :) Tools Needed : Soldering Iron Wire Strippers Pliers Soldering Iron Flux ( Liquid Or Solid ) Soldering Iron Cleaner Tape Dispenser ( Makes Life So Much Easier ) Small Side Cutters Permanent Marker Pen Step 2: Solder Hea ...
Read more

›
This project is very interesting because it shows the sequence of all letters of our English alphabet. That is, the project generates capital letters from the A to the Z based on Arduino code and showed by an alphanumeric display.  I'm using a common cathode alphanumeric display and an Arduino Uno in order to constructing this project.   Use the following link so that watch a video of the project working: h ...
Read more

›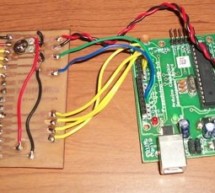 Here is a Simple Temperature Display Circuit using LCD (Liquid Crystal Display). For Heat Sensor we have used IC LM35 (Precision Centigrade Temperature Sensors) whose Output voltage is linearly proportional to the Celsius (Centigrade) temperature. Output of LM35 IC is 10mv/degree centigrade for eg if temperature is 35 degree, then the output of sensor will be 350mv or 0.35V For working with LCD it is necess ...
Read more

›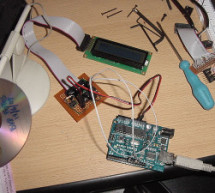 The original idea was to create a library that simplify the use of IC 74HC595 between Arduino and other hardware. In this Instructable I will share this to you using as example the control of a 16x2 LCD. The example will show on the LCD the seconds that has passed since Arduino was restarted. I hope it will be useful to you. Step 1: Place the Library under Arduino Folder I've named the library "ShiftOut". I ...
Read more

›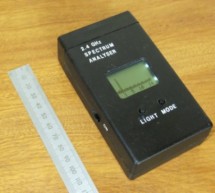 This article describes a simple spectrum analyser for the 2.4 to 2.5 GHz Wi-Fi band. It's based on the Cypress CYWM6935 Wireless Radio Module. Although the manufacturer doesn't recommend it for new commercial projects, it is still widely available from eBay suppliers and Farnell here in the UK. The module has 1 MHz channel spacing which is a bit 'coarse' for a full-blown spectrum analyser but it's good enou ...
Read more

›
I spent the better part of the day on Saturday doing some more basic research into connecting an Arduino and LCD for this ongoing project. For the most part, it's pretty basic and following the wiring diagrams and tutorials online is fine. I ran into a problem with getting text on two lines, which I'll detail below. Next on the to do list is to order a different LCD, maybe a 4×20 display and maybe something ...
Read more

›