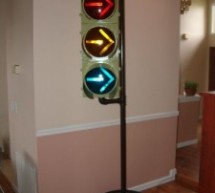 I had a traffic light that I was refinishing.  The only thing left to do was to build the controller for the light's signal patterns.  To give it a twist I incorporated a remote control.  This was also the perfect opportunity for me to try out an Arduino.  I wanted to use the Arduino becuase it was easy to use on both MAC and Windows. Step 1: Define the Project To start an electronics design project first d ...
Read more

›
Build a simple Arduino powered Traffic Light with us! This instructable is meant to walk you through almost every step, but there are a few assumptions. Read over the intro and the first step to make sure you are fully prepared! This is the breadboard version, a more realistic traffic light will be generated soon. Please leave comments - tell us if things are confusing! Other Helpful Things: - Good lighting ...
Read more

›
After working with the arduino and not knowing what the heck I'm doing I made Another simple traffic light. I looked around the web to find one that looks about normal and came across none. They seemed too fast. So, I found and modded some code to make this work. The coding is pretty simple. Step 1: The Parts 1 - Arduino (Obvious) 1 - Breadboard 6 - 270 ohm resistors 2 - Red LED 2 - Yellow LED 2 - Green LED ...
Read more

›