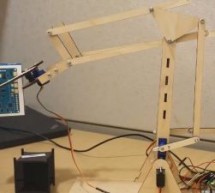 Controlling a robotic arm to pick up and drop objects is difficult enough, without IoT it would be near impossible to do this remotely. Things used in this project Hardware components Arduino MKR1000 × 1 Software apps and online services MATLAB Arduino IDE Hand tools and fabrication machines Laser cutter (generic) Story Introduction I really wanted to try was designing a robotic arm completely from scratch. ...
Read more

›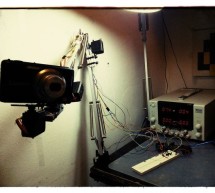 This project answers to a need I had: a third hand that holds a camera while I perform a test and takes photos/videos (useful when you're stuck at the lab late at night, and suddenly need a photographer). The downside to a robotic arm was obvious - It needs to be programmed, and it is the last thing you want to do when you need to make a video. So I made it motion capturing device as well... Motion capturin ...
Read more

›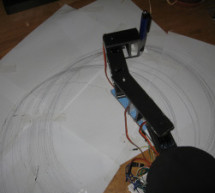 I have constructed a basic Arduino robot arm using 3 servos that cost me £15 in total plus a couple of hours in time to build and it's very simple that I think anyone can replicate and build this. I already had the Arduino Duemilanove ATMEGA328, some foamboard, tools and glue. The robot arm has 3 joints and moves in the X and Y dimensions – not the Z (although I will build this in subsequent versions). I've ...
Read more

›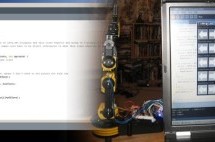 So the arm is wired into Arduino as per the previous post, Arduino: Modifying a Robot Arm and hopefully this has worked. In this next part I alter the Arduino sketch slightly and write the first Processing sketch to test control of the arm – video at the bottom. To control the robot arm we'll be sending a byte value over the serial port and then reading that in the Arduino code. Depending upon the value sen ...
Read more

›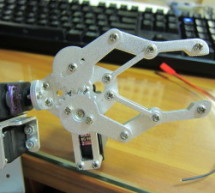 I made use of Smart Tank Chassis in the past 4 projects and I wanna do something very different. After searching in google and consider different stuffs for a couple of days, I found the Robot Arm Set. It looks awesome! It provides servos, servo wheels and extension wires so that I can save more time to focus on my project. I can connect it to Arduino and make use of different stuffs together for many combi ...
Read more

›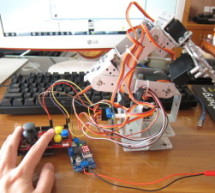 Although it is great controlling the robot arm with computer or mobile phone, I think using joystick is also cool, so I've bought a joystick shield and make a new project. This joystick shield is compatible with Arduino. It also support Nokia 5110 LCD module, nRF24L01 wireless module and Bluetooth module. It should be fun and convenient for various projects. : ) Step 1: Parts Joystick Shield Robot Arm Set 1 ...
Read more

›