The purpose of this final project was to create a small mobile robot and control it via a wireless controller. To accomplish our goal, we decided to use the Arduino Uno microcontroller as the base for both the controller and robot. For the wireless functionality we used the Xbee module. [gallery size="medium" ids="31105,31106,31107"] The robot chassis, motors and wheels were provided by Professor Arner from ...
Read more

›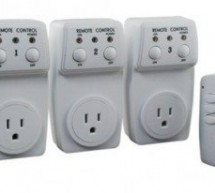 Update: check out the RFToy — an easy-to-use standalone gadget to control remote power sockets. Also, support for remote power sockets have been added to OpenSprinkler firmware 2.1.1. For a while I've been looking for a way to switch household power line (110V) devices. One of the simplest options is to use a relay that is connected to the power line. This is easy in concept but quite dangerous to work with ...
Read more

›
Web-enable your interactive sensors over desktop, smartphone and tablet devices. This tutorial describes in detail how to use the free SensorMonkey service to remotely control a pan and tilt webcam attached to an Arduino using nothing more than a simple webpage. The webpage can be viewed on any desktop, smartphone or tablet device with a compatible web-browser. I use the jQuery UI library to provide interac ...
Read more

›