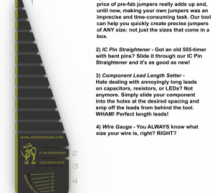 OUR MISSION: Our mission is to bring electronics curriculum to at-risk, Bay-Area middle and high school students who have little to no access to electronics or tech curriculum. OUR PLAN: We have designed a multi-tool that, with our curriculum, will inspire students and ease the minds of teachers and educators. The simple tool allows for previously unseen efficiency in the learning and building process. We p ...
Read more

›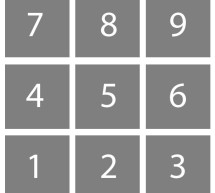 The physical interface will consist of a 3×3 grid of push buttons that will correspond to a 3×3 grid of images in the Processing program.  Instead of a creating a 2D array of variables to correspond to the buttons' postions in the grid, each location in the grid will be assigned a number.  Each push button will represent the corresponding number in the image grid.  For the purposes of prototyping, a 5-butto ...
Read more

›
RBBB Proto Shield description: Allows you to mount a Really Bare Bones Board, AKA RBBB, onto a prototyping shield, and add regular shields to it. All the pins are brought out into easy to access places, and it includes two onboard LEDs and a switch, already connected to ground. RBBB Proto Shield specification: RBBB Proto Shield pinout: For more detail: RBBB Proto Shield ...
Read more

›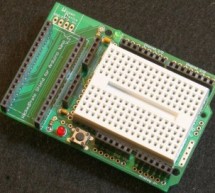 Nano Prototyping Shield description: Adds prototyping space and the ability to connect regular shields to the Arduino Nano. Nano Prototyping Shield specification: Nano Prototyping Shield pinout: Note: No I/O pins are used by the shield directly: all are available for user projects. For more detail: Nano Prototyping Shield ...
Read more

›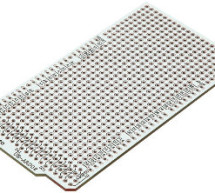 Universal Shield Mega description: Prototyping shield for the Arduino Mega, available in either black or white. Universal Shield Mega specification: Universal Shield Mega pinout: Note: No pins used on the shield itself: all are broken out for use in projects. For more detail: Universal Shield Mega ...
Read more

›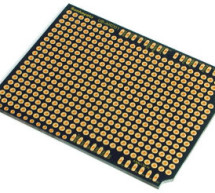 Universal Shield description: Prototyping shield available in either black or white. Universal Shield specification: Universal Shield pinout: Note: No pins used on the shield itself: all are broken out for use in projects. For more detail: Universal Shield ...
Read more

›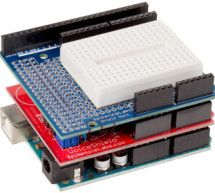 Shield Dock description: The Shield Dock is a versatile prototyping shield that can be used in several different ways: 1. With a traditionally shaped Arduino, as a prototyping shield. 2. As a pin break-out for your other shields to a breadboard, or built into a permanent project. 3. Docked with a Sippino to give it compatibility with regular shields. Shield Dock specification: Bottom silk screening (so that ...
Read more

›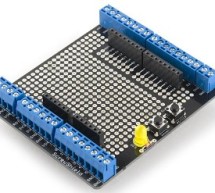 ScrewShield v1.5 description: The ScrewShield extends all pins of the Arduino out to 3.5mm pitch screw terminals. It also has a lot of the utility provided by a regular prototyping shield, ScrewShield v1.5 specification: 1x ScrewShield PCB 1x 5mm Yellow LED 1x 330Ω Resistor 2x 6-pin Stackable Headers 2x 8-pin Stackable Headers 2x Momentary Push Buttons 6x 2-pin 3.5mm Screw Terminals 8x 3-pin 3.5mm Screw Ter ...
Read more

›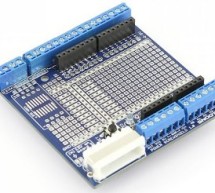 Power ScrewShield description: A prototyping screw shield for Arduino with 12V on board through ATX Power supply connector and an SMD solder zone. Power ScrewShield specification: Power ScrewShield pinout: Note: All pins are free and available for user on top of the shield. Arduino LED and reset switch are on top of the board. For more detail: Power ScrewShield ...
Read more

›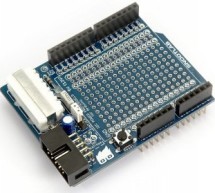 I2C Power Protoshield description: Designed for easy prototyping. I2C Power Protoshield specification: Soldering prototyping area I2C bus with pull-up resistors footprint Strengthened 3.3V and 5V on board and for Arduino through ATX PC power supply connector ATX PC power supply 12V on board with protection through a secured soldered bridge Power LED and reset switch on top 2Oz copper thickness to improve s ...
Read more

›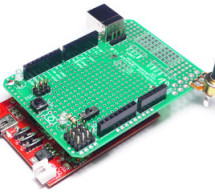 ProtoShield Remixed v1.0 description: Build your own Arduino shield using the compact and flexible Proto Shield kit. Solder together a limitless range of circuits and reuse it in all your Arduino projects. A standard 0.1" prototyping grid accepts commonly used through-hole parts and chips. You could also find a range of basic components are included to help you get started with your custom shield. ProtoShie ...
Read more

›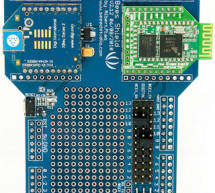 Bees Shield description: Holds 2 xBee or compatible modules, has a 3.3V regulator, small prototyping area and reset buttons for both the Arduino and one for each xBee footprint. Switch to change the connection of the xBee socket to the serial pins to "cross over" to allow the xBee to be programmed via the FTDI from the host computer. Activity LEDs for both xBee sockets. Bees Shield specification: Dual Bee t ...
Read more

›