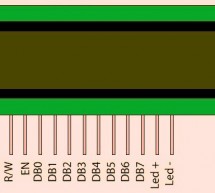 16×2 character LCD display is a very basic LCD module which is commonly used in electronic projects. 16×2 means it can display 2 rows of 16 characters (columns). Its other variants such as 16×1, 16×4 etc are also available. These LCDs are usually made using HD44870 compatible controllers. In this tutorial we will see how to interface a 16×2 Character LCD display with Arduino Uno development board. Arduino p ...
Read more

›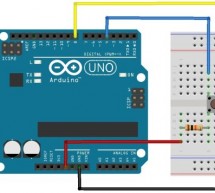 In this tutorial you will learn how to read the status of a digital pin of Arduino. I hope that you already go through our first tutorial, Getting Started with Arduino Uno – LED Blinking. In this example, a push button switch and an LED is connected to Arduino Uno. When we press the switch, LED will glow for 3 seconds. A pin is configured as Input Pin to connect switch and another pin is configured as Outpu ...
Read more

›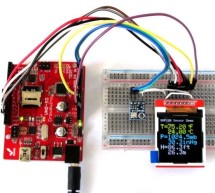 The BMP180 is a new generation digital barometric pressure and temperature sensor from Bosch Sensortec. In this tutorial, we will briefly review this device and describe how to interface it with an Arduino Uno board for measuring the surrounding temperature and pressure. We will also discuss about retrieving the sensor altitude from its pressure readings. Experiment setup Bosch Sensortag's BMP180 is an ultr ...
Read more

›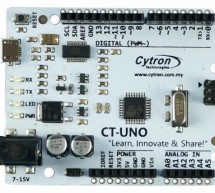 Yes, this is Cytron version of Arduino UNO, we called it CT-UNO!!! Since 3 years ago, we started using Arduino and today we use a lot of Arduinos, particularly Arduino UNO. For tutorial, shield development, test jig, internal projects and many more. We're keep looking for the simplest, most stable version. We love the FTDI (USB to UART chip) on Arduino Duemilanove, and like the program loading of optiboot o ...
Read more

›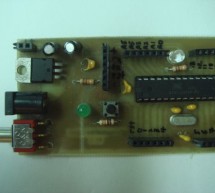 I often use Arduino to test out my project prototype before complete it. Sometimes, I wanted to test more than one project at the same time. I would need more Arduino, but the original Arduino is over my budget for prototyping purpose. Therefore, I decided to make my own Arduino. Some of the benefits of making your Arduino (at least for me) are it is cheap, easy, learn to design PCB and electronics at the s ...
Read more

›