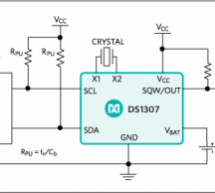 Hello every one , welcome back .  In this new arduino tutorial series I'm gonna show you how to control every thing in your home on time basis . After doing this project you will be able to control your home appiliences like TV , Radio,Fan, and other thing on time basis . Let's say you want to switch on TV exactly on 8 'O clock morning  and fan on 12 PM and so on ,, This is on going series and will be updat ...
Read more

›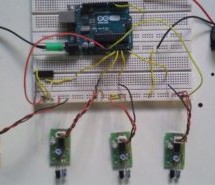 Keyless piano using Arduino is sort of sequel to the DIY fun piano i have published in this website. In this project i have eliminated the need of buttons involved to play the piano. Here i have used IR in place of buttons. Let's get into the construction and building part of this project. Read More:  Keyless piano using Arduino uno ...
Read more

›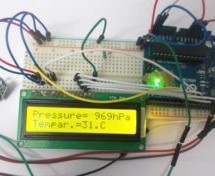 In this tutorial we are going to design a Barometric Pressure Measuring System using BMP180 and ARDUINO. First of all for interfacing BMP180 to ARDUINO, we need to download a library specifically designed for BMP180. This library is available at: https://github.com/adafruit/Adafruit-BMP085-Library  After attaching that library, we can call special functions which will ease working with BMP180 sensor. Compon ...
Read more

›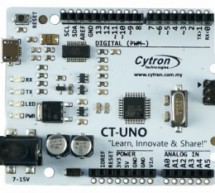 The CT-UNO combines the simplicity of the UNO's Optiboot bootloader (which load program faster), the stability of the FTDI and the R3 shield compatibility of the latest Arduino UNO R3. Besides, we know many are using Android phone which comes with USB micro-B cable (power bank also require micro-B to charge), therefore, to lower down the cost needed for customer to get started, we populate the USB micro-B s ...
Read more

›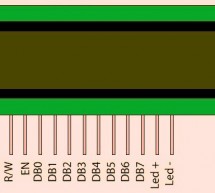 16×2 character LCD display is a very basic LCD module which is commonly used in electronic projects. 16×2 means it can display 2 rows of 16 characters (columns). Its other variants such as 16×1, 16×4 etc are also available. These LCDs are usually made using HD44870 compatible controllers. In this tutorial we will see how to interface a 16×2 Character LCD display with Arduino Uno development board. Arduino p ...
Read more

›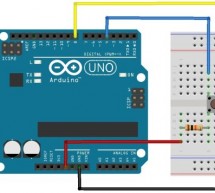 In this tutorial you will learn how to read the status of a digital pin of Arduino. I hope that you already go through our first tutorial, Getting Started with Arduino Uno – LED Blinking. In this example, a push button switch and an LED is connected to Arduino Uno. When we press the switch, LED will glow for 3 seconds. A pin is configured as Input Pin to connect switch and another pin is configured as Outpu ...
Read more

›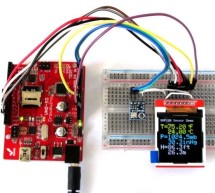 The BMP180 is a new generation digital barometric pressure and temperature sensor from Bosch Sensortec. In this tutorial, we will briefly review this device and describe how to interface it with an Arduino Uno board for measuring the surrounding temperature and pressure. We will also discuss about retrieving the sensor altitude from its pressure readings. Experiment setup Bosch Sensortag's BMP180 is an ultr ...
Read more

›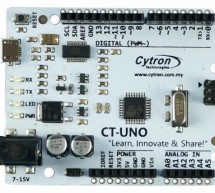 Yes, this is Cytron version of Arduino UNO, we called it CT-UNO!!! Since 3 years ago, we started using Arduino and today we use a lot of Arduinos, particularly Arduino UNO. For tutorial, shield development, test jig, internal projects and many more. We're keep looking for the simplest, most stable version. We love the FTDI (USB to UART chip) on Arduino Duemilanove, and like the program loading of optiboot o ...
Read more

›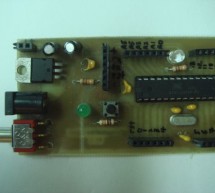 I often use Arduino to test out my project prototype before complete it. Sometimes, I wanted to test more than one project at the same time. I would need more Arduino, but the original Arduino is over my budget for prototyping purpose. Therefore, I decided to make my own Arduino. Some of the benefits of making your Arduino (at least for me) are it is cheap, easy, learn to design PCB and electronics at the s ...
Read more

›