This project allows you to control a MeArm Robot with your smartphone, as if you had many potentiometers in your hands.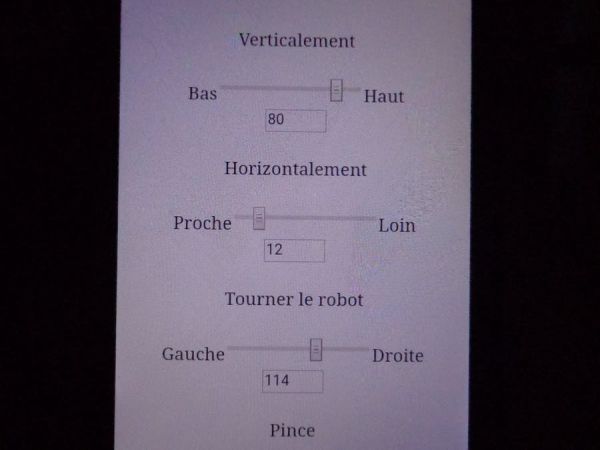 Things used in this project
Hardware components

×
1
×
1
×
1
×
1
Story
At first, I wanted to train myself to the wifi network thanks to Arduino … to quickly put myself in mind to control a robot.
In the set of projects I've found that already allow to do it, it is asked to appeal to the apps, the shields, or to click on links in web pages ….
I wanted to create something more functional, which allows to easily control the motors on the robot, to the nearest step.
in addition, not wanting to overload the small mkr1000 card in code or wiring, I decided to split the code into 2 parts: a master part (mkr1000) receiving the instructions from the web page, and a slave part (arduino Uno) controlling the motors and the LCD display. This allows you to display text, as well as to display the requested motor and angle commands as a relay.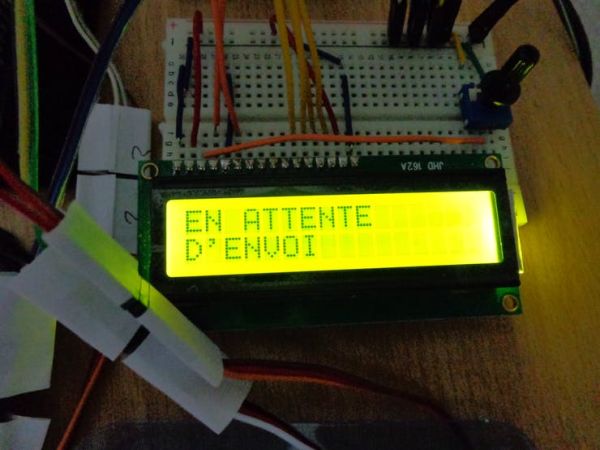 The communication between the 2 cards uses the I2C protocol, since I could not find a way to use RT / TX.
Finally, the LED located on the original mkr1000 card will be used to indicate whether or not a wifi client is connected.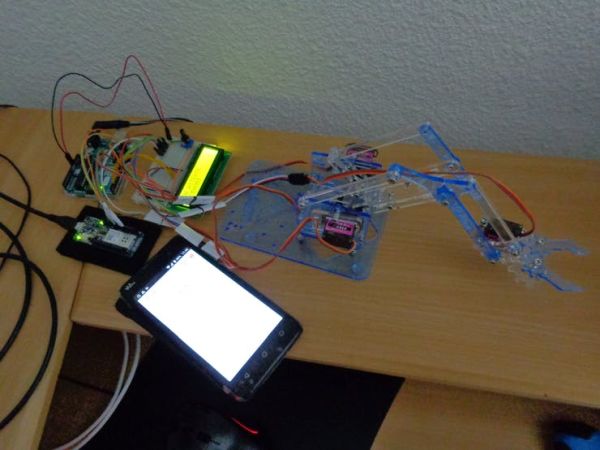 You will notice that the Serial link with the MKR1000 module must be started live on a PC so that the whole assembly can work properly. Moreover, once the wifi client disconnected, it is better to restart the module mkr1000, otherwise the web page will not be displayed in case of loss of it? I have not found the reason yet.
The motion ranges of the motors can be changed in the Inputs Range of the HTML code.
All of these 2 codes can be used in larger projects using the same technologies.
Code
Master Code (MKR1000)
Arduino
/*




  WiFi Web Server Contrôle de robot meArm, affichage LCD et led







  created 18 Mars 2018




  par Fabrice bonne




  


 */







#include

 

<SPI.h>




#include

 

<WiFi101.h>




#include

 

<Wire.h>




// size of buffer used to capture HTTP requests




#define REQ_BUF_SZ   90




// size of buffer that stores the incoming string




#define TXT_BUF_SZ   50







char

 

ssid

[]

 

=

 

"****"

;

        

// your network SSID (name)




char

 

HTTP_req

[

REQ_BUF_SZ

]

 

=

 

{

0

};

 

// buffered HTTP request stored as null terminated string




char

 

req_index

 

=

 

0

;

              

// index into HTTP_req buffer




char

 

txt_buf

[

TXT_BUF_SZ

]

 

=

 

{

0

};

  

// buffer to save text to







int

 

led

 

=

  

LED_BUILTIN

;




int

 

status

 

=

 

WL_IDLE_STATUS

;




WiFiServer

 

server

(

80

);







void

 

setup

()

 

{


  

//Initialize serial and wait for port to open:


  

Wire

.

begin

();

 

// Rejoindre le bus I2C (Pas besoin d adresse pour le maitre)


  

Serial

.

begin

(

9600

);


  

while

 

(

!

Serial

)

 

{


    

;

 

// wait for serial port to connect. Needed for native USB port only


  

}







  

Serial

.

println

(

"Access Point Web Server"

);







  

pinMode

(

led

,

 

OUTPUT

);

      

// set the LED pin mode


  

digitalWrite

(

led

,

 

LOW

);


  

// print the network name (SSID);


  

Serial

.

print

(

"Creating access point named: "

);


  

Serial

.

println

(

ssid

);







  

// Create open network. Change this line if you want to create an WEP network:


  

status

 

=

 

WiFi

.

beginAP

(

ssid

);


  

if

 

(

status

 

!=

 

WL_AP_LISTENING

)

 

{


    

Serial

.

println

(

"Creating access point failed"

);


    

// don't continue


    

while

 

(

true

);


  

}







  

// wait 10 seconds for connection:


  

delay

(

10000

);







  

// start the web server on port 80


  

server

.

begin

();







  

// you're connected now, so print out the status


  

printWiFiStatus

();




}










void

 

loop

()

 

{


  

// compare the previous status to the current status


  

if

 

(

status

 

!=

 

WiFi

.

status

())

 

{


    

// it has changed update the variable


    

status

 

=

 

WiFi

.

status

();







    

if

 

(

status

 

==

 

WL_AP_CONNECTED

)

 

{


      

byte

 

remoteMac

[

6

];







      

// a device has connected to the AP


      

Serial

.

print

(

"Device connected to AP, MAC address: "

);


      

WiFi

.

APClientMacAddress

(

remoteMac

);


      

Serial

.

print

(

remoteMac

[

5

],

 

HEX

);


      

Serial

.

print

(

":"

);


      

Serial

.

print

(

remoteMac

[

4

],

 

HEX

);


      

Serial

.

print

(

":"

);


      

Serial

.

print

(

remoteMac

[

3

],

 

HEX

);


      

Serial

.

print

(

":"

);


      

Serial

.

print

(

remoteMac

[

2

],

 

HEX

);


      

Serial

.

print

(

":"

);


      

Serial

.

print

(

remoteMac

[

1

],

 

HEX

);


      

Serial

.

print

(

":"

);


      

Serial

.

println

(

remoteMac

[

0

],

 

HEX

);


      

digitalWrite

(

led

,

 

HIGH

);


    

}

 

else

 

{


      

// a device has disconnected from the AP, and we are back in listening mode


      

Serial

.

println

(

"Device disconnected from AP"

);


      

digitalWrite

(

led

,

 

LOW

);


    

}


  

}




  


  

WiFiClient

 

client

 

=

 

server

.

available

();

   

// listen for incoming clients







  

if

 

(

client

)

 

{

                             

// if you get a client,


    

Serial

.

println

(

"new client"

);

           

// print a message out the serial port


      

boolean

 

currentLineIsBlank

 

=

 

true

;


        

while

 

(

client

.

connected

())

 

{


            

if

 

(

client

.

available

())

 

{

   

// client data available to read


                

char

 

c

 

=

 

client

.

read

();

 

// read 1 byte (character) from client


                

// limit the size of the stored received HTTP request


                

// buffer first part of HTTP request in HTTP_req array (string)


                

// leave last element in array as 0 to null terminate string (REQ_BUF_SZ - 1)


                

if

 

(

req_index

 

<

 

(

REQ_BUF_SZ

 

-

 

1

))

 

{


                    

HTTP_req

[

req_index

]

 

=

 

c

;

          

// save HTTP request character


                    

req_index

++

;


                

}


                

// last line of client request is blank and ends with \n


                

// respond to client only after last line received


                

if

 

(

c

 

==

 

'\n'

 

&&

 

currentLineIsBlank

)

 

{


                    

// send a standard http response header


                    

client

.

println

(

"HTTP/1.1 200 OK"

);


                    

// remainder of header follows below, depending on if


                    

// web page or XML page is requested


                    

// Ajax request - send XML file


                    

if

 

(

StrContains

(

HTTP_req

,

 

"ajax_inputs"

))

 

{


                        

// send rest of HTTP header


                        

client

.

println

(

"Content-Type: text/xml"

);


                        

client

.

println

(

"Connection: keep-alive"

);


                        

client

.

println

();







                        

// print the received text to the Serial Monitor window


                        

// if received with the incoming HTTP GET string


                        

if

 

(

GetText

(

txt_buf

,

 

TXT_BUF_SZ

))

 

{


                          

Serial

.

println

(

"

\r\n

Received Text:"

);


                          

Serial

.

println

(

txt_buf

);


                          

Wire

.

beginTransmission

(

4

);


                          

Wire

.

write

(

txt_buf

);


                          

Wire

.

endTransmission

();


                        

}


                    

}


                    

else

 

{

  

// web page request


                        

// send rest of HTTP header


                        

client

.

println

(

"Content-Type: text/html"

);


                        

client

.

println

(

"Connection: keep-alive"

);


                        

client

.

println

();


                        

// send web page


                        

client

.

println

(

"<!DOCTYPE html>"

);


                        

client

.

println

(

"<head>"

);


                        

client

.

println

(

"<title>Control meArm</title>"

);


                        

client

.

println

(

"<meta name='viewport' content='width=device-width, initial-scale=1.0'>"

);


                        

client

.

println

(

"<script type='text/javascript'>"

);




                        


                        

//--fonctions javascript


                        

//fonction texte


                        

client

.

println

(

"function SendText(){"

);


                        

client

.

println

(

"nocache = 

\"

&nocache=

\"

 + Math.random() * 1000000;"

);


                        

client

.

println

(

"var request = new XMLHttpRequest();"

);


                        

client

.

println

(

"strText = 

\"

&txt=

\"

 + document.getElementById('txt_form').form_text.value + 

\"

&end=end

\"

;"

);


                        

client

.

println

(

"request.open(

\"

GET

\"

, 

\"

ajax_inputs

\"

 + strText + nocache, true);"

);


                        

client

.

println

(

"request.send(null);"

);


                        

client

.

println

(

"}"

);







                        

//fonction verticale


                        

client

.

println

(

"function Verticale(){"

);


                        

client

.

println

(

"nocache = 

\"

&nocache=

\"

 + Math.random() * 1000000;"

);


                        

client

.

println

(

"var request = new XMLHttpRequest();"

);


                        

client

.

println

(

"strText = 

\"

&txt=

\"

 + 

\"

Vertical=

\"

 + document.getElementById('pos_v').posiv_range.value + 

\"

&end=end

\"

;"

);


                        

client

.

println

(

"positiv = document.getElementById('pos_v').posiv_range.value;"

);


                        

client

.

println

(

"document.getElementById('reportv').value=positiv;"

);


                        

client

.

println

(

"request.open(

\"

GET

\"

, 

\"

ajax_inputs

\"

 + strText + nocache, true);"

);


                        

client

.

println

(

"request.send(null);"

);


                        

client

.

println

(

"}"

);




                       


                        

//fonction horizontale


                        

client

.

println

(

"function Horizontale(){"

);


                        

client

.

println

(

"nocache = 

\"

&nocache=

\"

 + Math.random() * 1000000;"

);


                        

client

.

println

(

"var request = new XMLHttpRequest();"

);


                        

client

.

println

(

"strText = 

\"

&txt=

\"

 + 

\"

Horizontal=

\"

 + document.getElementById('pos_h').posih_range.value + 

\"

&end=end

\"

;"

);


                        

client

.

println

(

"positih = document.getElementById('pos_h').posih_range.value;"

);


                        

client

.

println

(

"document.getElementById('reporth').value=positih;"

);


                        

client

.

println

(

"request.open(

\"

GET

\"

, 

\"

ajax_inputs

\"

 + strText + nocache, true);"

);


                        

client

.

println

(

"request.send(null);"

);


                        

client

.

println

(

"}"

);




                        


                        

//fonction angulaire


                        

client

.

println

(

"function Angulaire(){"

);


                        

client

.

println

(

"nocache = 

\"

&nocache=

\"

 + Math.random() * 1000000;"

);


                        

client

.

println

(

"var request = new XMLHttpRequest();"

);


                        

client

.

println

(

"strText = 

\"

&txt=

\"

 + 

\"

Angle=

\"

 + document.getElementById('pos_a').posia_range.value + 

\"

&end=end

\"

;"

);


                        

client

.

println

(

"positia = document.getElementById('pos_a').posia_range.value;"

);


                        

client

.

println

(

"document.getElementById('reporta').value=positia;"

);


                        

client

.

println

(

"request.open(

\"

GET

\"

, 

\"

ajax_inputs

\"

 + strText + nocache, true);"

);


                        

client

.

println

(

"request.send(null);"

);


                        

client

.

println

(

"}"

);




                        


                        

//fonction pince


                        

client

.

println

(

"function Pince(){"

);


                        

client

.

println

(

"nocache = 

\"

&nocache=

\"

 + Math.random() * 1000000;"

);


                        

client

.

println

(

"var request = new XMLHttpRequest();"

);


                        

client

.

println

(

"strText = 

\"

&txt=

\"

 + 

\"

Ouverture=

\"

 + document.getElementById('pos_p').posip_range.value + 

\"

&end=end

\"

;"

);


                        

client

.

println

(

"positip = document.getElementById('pos_p').posip_range.value;"

);


                        

client

.

println

(

"document.getElementById('reportp').value=positip;"

);


                        

client

.

println

(

"request.open(

\"

GET

\"

, 

\"

ajax_inputs

\"

 + strText + nocache, true);"

);


                        

client

.

println

(

"request.send(null);"

);


                        

client

.

println

(

"}"

);


                        

client

.

println

(

"</script>"

);


                        

client

.

println

(

"</head>"

);


                        

client

.

println

(

"<div>"

);







                        

//--Input texte et Input Range


                        

//Envoi de texte


                        

client

.

println

(

"<form id='txt_form' name='frmText'>"

);


                        

client

.

println

(

"<center><textarea name='form_text' rows='2' cols='16'></textarea></center>"

);


                        

client

.

println

(

"</form>"

);


                        

client

.

println

(

"<center><input type=submit value='Send Text' onclick=SendText() /></center></div>"

);


                        

client

.

println

(

"<div>"

);


                        

client

.

println

(

"<center>Bouger le robot</center><BR><BR>"

);




                        


                        

//Verticalement


                        

client

.

println

(

"<form id='pos_v' name='posText'>"

);


                        

client

.

println

(

"<center>Verticalement</center><BR>"

);


                        

client

.

println

(

"<center>Bas<input type=range name='posiv_range' min='20' max='90' value='45' step='1' onchange=Verticale() />Haut</center>"

);


                        

client

.

println

(

"</form>"

);


                        

client

.

println

(

"<center><input type=text id='reportv' size='3'/></center><BR>"

);




                        


                        

//Horizontalement


                        

client

.

println

(

"<form id='pos_h' name='posText'>"

);


                        

client

.

println

(

"<center>Horizontalement</center><BR>"

);


                        

client

.

println

(

"<center>Proche<input type=range name='posih_range' min='0' max='80' value='45' step='1' onchange=Horizontale() />Loin</center>"

);


                        

client

.

println

(

"</form>"

);


                        

client

.

println

(

"<center><input type=text id='reporth' size='3'/></center><BR>"

);




                        


                        

//Angulaire


                        

client

.

println

(

"<form id='pos_a' name='posText'>"

);


                        

client

.

println

(

"<center>Tourner le robot</center><BR>"

);


                        

client

.

println

(

"<center>Gauche<input type=range name='posia_range' min='0' max='180' value='90' step='1' onchange=Angulaire() />Droite</center>"

);


                        

client

.

println

(

"</form>"

);


                        

client

.

println

(

"<center><input type=text id='reporta' size='3'/></center><BR>"

);




                        


                        

//Pince


                        

client

.

println

(

"<form id='pos_p' name='posText'>"

);


                        

client

.

println

(

"<center>Pince</center><BR>"

);


                        

client

.

println

(

"<center>Ouvert<input type=range name='posip_range' min='0' max='90' value='45' step='1' onchange=Pince() />Fermee</center>"

);


                        

client

.

println

(

"</form>"

);


                        

client

.

println

(

"<center><input type=text id='reportp' size='3'/></center><BR>"

);




                        


                        

client

.

println

(

"</div>"

);


                        

client

.

println

(

"</body>"

);


                        

client

.

println

(

"</html>"

);


                       

}


                    

// reset buffer index and all buffer elements to 0


                    

req_index

 

=

 

0

;


                    

StrClear

(

HTTP_req

,

 

REQ_BUF_SZ

);


                    

break

;


                

}


                

// every line of text received from the client ends with \r\n


                

if

 

(

c

 

==

 

'\n'

)

 

{


                    

// last character on line of received text


                    

// starting new line with next character read


                    

currentLineIsBlank

 

=

 

true

;


                

}

 
                

else

 

if

 

(

c

 

!=

 

'\r'

)

 

{


                    

// a text character was received from client


                    

currentLineIsBlank

 

=

 

false

;


                

}


            

}

 

// end if (client.available())


        

}

 

// end while (client.connected())


        

delay

(

1

);

      

// give the web browser time to receive the data


        

client

.

stop

();

 

// close the connection


    

}

 

// end if (client)




}







// extract text from the incoming HTTP GET data string




// returns true only if text was received




// the string must start with "&txt=" and end with "&end"




// if the string is too long for the HTTP_req buffer and




// "&end" is cut off, then the function returns false




boolean

 

GetText

(

char

 

*

txt

,

 

int

 

len

)




{


  

boolean

 

got_text

 

=

 

false

;

    

// text received flag


  

char

 

*

str_begin

;

             

// pointer to start of text


  

char

 

*

str_end

;

               

// pointer to end of text


  

int

 

str_len

 

=

 

0

;


  

int

 

txt_index

 

=

 

0

;




  


  

// get pointer to the beginning of the text


  

str_begin

 

=

 

strstr

(

HTTP_req

,

 

"&txt="

);


  

if

 

(

str_begin

 

!=

 

NULL

)

 

{


    

str_begin

 

=

 

strstr

(

str_begin

,

 

"="

);

  

// skip to the =


    

str_begin

 

+=

 

1

;

                      

// skip over the =


    

str_end

 

=

 

strstr

(

str_begin

,

 

"&end"

);


    

if

 

(

str_end

 

!=

 

NULL

)

 

{


      

str_end

[

0

]

 

=

 

0

;

  

// terminate the string


      

str_len

 

=

 

strlen

(

str_begin

);







      

// copy the string to the txt buffer and replace %20 with space ' '


      

for

 

(

int

 

i

 

=

 

0

;

 

i

 

<

 

str_len

;

 

i

++

)

 

{


        

if

 

(

str_begin

[

i

]

 

!=

 

'%'

)

 

{


          

if

 

(

str_begin

[

i

]

 

==

 

0

)

 

{


            

// end of string


            

break

;


          

}


          

else

 

{


            

txt

[

txt_index

++

]

 

=

 

str_begin

[

i

];


            

if

 

(

txt_index

 

>=

 

(

len

 

-

 

1

))

 

{


              

// keep the output string within bounds


              

break

;


            

}


          

}


        

}


        

else

 

{


          

// replace %20 with a space


          

if

 

((

str_begin

[

i

 

+

 

1

]

 

==

 

'2'

)

 

&&

 

(

str_begin

[

i

 

+

 

2

]

 

==

 

'0'

))

 

{


            

txt

[

txt_index

++

]

 

=

 

' '

;


            

i

 

+=

 

2

;


            

if

 

(

txt_index

 

>=

 

(

len

 

-

 

1

))

 

{


              

// keep the output string within bounds


              

break

;


            

}


          

}


        

}


      

}


      

// terminate the string


      

txt

[

txt_index

]

 

=

 

0

;


      

got_text

 

=

 

true

;


    

}


  

}







  

return

 

got_text

;




}







// sets every element of str to 0 (clears array)




void

 

StrClear

(

char

 

*

str

,

 

char

 

length

)




{


    

for

 

(

int

 

i

 

=

 

0

;

 

i

 

<

 

length

;

 

i

++

)

 

{


        

str

[

i

]

 

=

 

0

;


    

}




}







// searches for the string sfind in the string str




// returns 1 if string found




// returns 0 if string not found




char

 

StrContains

(

char

 

*

str

,

 

char

 

*

sfind

)




{


    

char

 

found

 

=

 

0

;


    

char

 

index

 

=

 

0

;


    

char

 

len

;







    

len

 

=

 

strlen

(

str

);




    


    

if

 

(

strlen

(

sfind

)

 

>

 

len

)

 

{


        

return

 

0

;


    

}


    

while

 

(

index

 

<

 

len

)

 

{


        

if

 

(

str

[

index

]

 

==

 

sfind

[

found

])

 

{


            

found

++

;


            

if

 

(

strlen

(

sfind

)

 

==

 

found

)

 

{


                

return

 

1

;


            

}


        

}


        

else

 

{


            

found

 

=

 

0

;


        

}


        

index

++

;


    

}







    

return

 

0

;




}













void

 

printWiFiStatus

()

 

{


  

// print the SSID of the network you're attached to:


  

Serial

.

print

(

"SSID: "

);


  

Serial

.

println

(

WiFi

.

SSID

());







  

// print your WiFi shield's IP address:


  

IPAddress

 

ip

 

=

 

WiFi

.

localIP

();


  

Serial

.

print

(

"IP Address: "

);


  

Serial

.

println

(

ip

);







  

// print the received signal strength:


  

long

 

rssi

 

=

 

WiFi

.

RSSI

();


  

Serial

.

print

(

"signal strength (RSSI):"

);


  

Serial

.

print

(

rssi

);


  

Serial

.

println

(

" dBm"

);


  

// print where to go in a browser:


  

Serial

.

print

(

"To see this page in action, open a browser to http://"

);


  

Serial

.

println

(

ip

);







}
Slave Code (Arduino UNO)
Arduino
/*




  WiFi Web Server Contrôle de moteur, affichage LCD et led (Slave)







  created 18 Mars 2018




  par Fabrice bonne




  


 */







#include

 

<Servo.h>




#include

 

<LiquidCrystal.h>




#include

 

<Wire.h> // Librairie pour la communication I2C










LiquidCrystal

 

lcd

(

7

,

6

,

5

,

4

,

3

,

2

);

          

//lcd en bornes 2 à 7




Servo

 

MVertical

;




Servo

 

MHorizontal

;




Servo

 

MAngle

;




Servo

 

MPince

;







void

 

setup

()

 

{




Wire

.

begin

(

4

);

 

// Rejoindre le bus à l'adresse #4




Wire

.

onReceive

(

receiveEvent

);

 

// Preparer une fonction spécifique a la reception de donnee




Serial

.

begin

(

9600

);




lcd

.

begin

(

16

,

 

2

);

                 

//démarrage du module LCD




lcd

.

clear

();




lcd

.

setCursor

(

0

,

0

);







MVertical

.

attach

(

10

);




MHorizontal

.

attach

(

8

);




MAngle

.

attach

(

9

);




MPince

.

attach

(

11

);







MVertical

.

write

(

45

);




MHorizontal

.

write

(

45

);




MAngle

.

write

(

90

);




MPince

.

write

(

45

);







lcd

.

clear

();




lcd

.

setCursor

(

0

,

0

);




lcd

.

print

(

"EN ATTENTE"

);




lcd

.

setCursor

(

0

,

1

);




lcd

.

print

(

"D'ENVOI"

);




}







void

 

loop

()




{


  

delay

(

500

);




}







// Fonction qui s execute si quelque chose est present sur l interface




void

 

receiveEvent

(

int

 

howMany

)




{




String

 

data

 

=

 

""

;




String

 

aff1

 

=

 

""

;




String

 

aff2

 

=

 

""

;




String

 

recherche

 

=

 

""

;




int

 

dl

;




bool

 

Mot

 

=

 

false

;







while

 

(

Wire

.

available

())

 

{

     

//lecture des ordres envoyés


    

data

 

+=

 

(

char

)

Wire

.

read

();




}


    

Serial

.

println

(

data

);


    

recherche

 

=

 

"Vertical="

;

  

//Recherche des ordres moteurs


    

if

 

(

data

.

indexOf

(

recherche

)

!=-

1

){


      

aff1

 

=

 

"Vertical="

;


      

aff2

 

=

 

data

.

substring

(

9

,

12

);


      

Serial

.

print

(

"Nouvelle valeur V="

);


      

Serial

.

println

(

aff2

);


      

MVertical

.

write

(

aff2

.

toInt

());


      

Mot

 

=

 

true

 

;


    

}


    

recherche

 

=

 

"Horizontal="

;


    

if

 

(

data

.

indexOf

(

recherche

)

!=-

1

){


      

aff1

 

=

 

"Horizontal="

;


      

aff2

 

=

 

data

.

substring

(

11

,

14

);


      

Serial

.

print

(

"Nouvelle valeur H="

);


      

Serial

.

println

(

aff2

);


      

MHorizontal

.

write

(

aff2

.

toInt

());


      

Mot

 

=

 

true

 

;


    

}


    

recherche

 

=

 

"Angle="

;


    

if

 

(

data

.

indexOf

(

recherche

)

!=-

1

){


      

aff1

 

=

 

"Angle="

;


      

aff2

 

=

 

data

.

substring

(

6

,

9

);


      

Serial

.

print

(

"Nouvelle valeur A="

);


      

Serial

.

println

(

aff2

);


      

MAngle

.

write

(

aff2

.

toInt

());


      

Mot

 

=

 

true

 

;


    

}


    

recherche

 

=

 

"Ouverture="

;


    

if

 

(

data

.

indexOf

(

recherche

)

!=-

1

){


      

aff1

 

=

 

"Ouverture="

;


      

aff2

 

=

 

data

.

substring

(

10

,

13

);


      

Serial

.

print

(

"Nouvelle valeur O="

);


      

Serial

.

println

(

aff2

);


      

MPince

.

write

(

aff2

.

toInt

());


      

Mot

 

=

 

true

 

;


    

}


    

if

 

(

Mot

 

==

 

false

)

 

{

  

//Si c'est un texte, découpage et affichage


    

dl

 

=

 

data

.

length

();


    

Serial

.

print

(

"longueur :"

);


    

Serial

.

println

(

dl

);


    

if

 

(

dl

 

>

 

16

)

 

{


      

aff1

 

=

 

data

.

substring

(

0

,

 

16

);


      

aff2

 

=

 

data

.

substring

(

16

,

 

dl

);


      

Serial

.

print

(

"découpage :"

);


      

Serial

.

println

(

aff1

);


      

Serial

.

println

(

aff2

);


     

}


    

else

 

{


      

aff1

 

=

 

data

;


      

Serial

.

println

(

"découpage non requis"

);


      

}


    

}


    

Serial

.

println

();


    

lcd

.

clear

();

       

//Affichage des infos moteur et texte en Relay


    

lcd

.

setCursor

(

0

,

0

);


    

lcd

.

print

(

aff1

);


    

lcd

.

setCursor

(

0

,

1

);


    

lcd

.

print

(

aff2

);




}



Source : Control MeArm Robot With MKR1000 And Your Smartphone