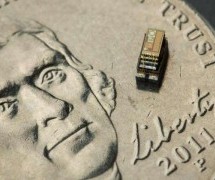 Michigan Micro Mote (M3) is the world's smallest computer. How small? It's about the size of a grain of rice. A University of Michigan's March report can tell you that the team behind the computer have come up with a fully autonomous system that can act as a smart sensing system. "To be 'complete,' a computer system must have an input of data, the ability to process that data - meaning process and store it, ...
Read more

›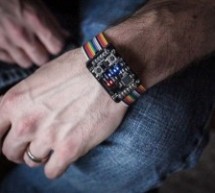 I've been spending a decent bit of my free time lately on my binary watch project.  I have a full writeup that I added to the projects section (which goes into more detail about the hardware and software used, and contains information about my github and storefront), but I figured I'd also do a post on the production flow I've been using, since I think that's kind of cool (thus reaffirming that I am an embe ...
Read more

›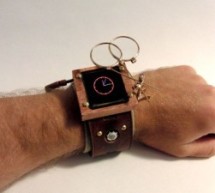 Update: New version out that works with Arduino 1.0 and higher! The Arduino Watch provides augmented sensing of temperature and range, 16-bit color drawing program, Breakout game, and also tells the time in your choice of digital, binary, or analog.  Additional sensors, devices, and programs are easy to add as any standard Arduino. The source code can be downloaded from the google code page, code.google.com ...
Read more

›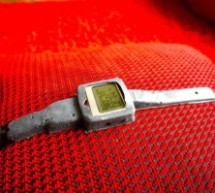 My goal for this project is to make a watch with selectable dials, stopwatch and millidays. This idea started with an Aprils fools prank about metric-time. (http://www.youtube.com/watch?v=K35xG1buyFA) First I wanted to make a metric clock but soon this idea evolved from a metric watch into an open course watch. I knew that it would be hard (or impossible) to make the watch small enough to really wear, but I ...
Read more

›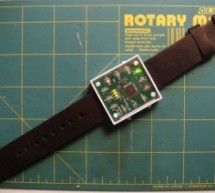 This instructable will show you how to make your own arduino based watch that tells time using a matrix of LEDs. This is my first instructable, so if something is unclear leave me a comment or send a message! I was inspired by all the cool LED watches that I saw on this website: http://www.tokyoflash.com/en/watches/1/ They have a lot of different designs that let you tell the time in very unique ways. So, I ...
Read more

›
 glossary A B C D E F G H I J K L M N O P Q R S T U V W X Y Z A ACCELEROMETER: tutorial on using the Memsic 2125 accelerometer with Arduino/Freeduino ACCELEROMETER: another post on using the Memsic 2125 Rad*o Sha*k variant accelerometer with Arduino/Freeduino ACCELEROMETER: article on using the LIS3LV02DQ 3-axis accelerometer with Arduino/Freeduino ACCELEROMETER: an excellent article on using the ADXL330 wi ...
Read more

›