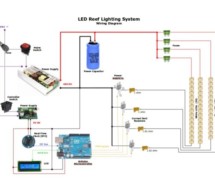 I've been slowly working on this project for the past month or so. I finally have some time to share and post-up what I'm working on. I know there are commercial products available, but then what's the fun in that! What I want is a Fully Automated LED Primary Lighting System which can control separate white and blue high-powered LED modules on my 45gal bow-front tank. What I mean by fully automatic is that ...
Read more

›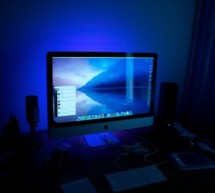 A few weeks ago, it came to my attention that IKEA do a set of colour-changeable LED strips. I've been looking for a decent way of providing some lighting behind my computer to reduce eye-strain for a long time, and these seemed perfect: I was very pleased with them, but no self-respecting nerd would stop here. Especially one who's seen Philips' Ambilight technology in action! Over a series of blog posts, I ...
Read more

›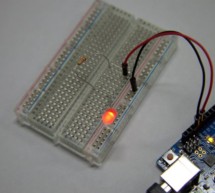 Description In this tutorial you will set up and turn on a single LED. Note that this code can actually be executed with just the Arduino and no other components as in Figure 5. If you notice, next to pin 13 is a tiny LED on the board. If you execute the code below, you should see that LED turn on. Note: In the photos/video you will see me use a 1.2k&#8486 resistor. I did this to back off the brightness ...
Read more

›
This simple tri-colour LED flasher circuit is great for beginners. The three pin tri-colour LED is controller by an Arduino Uno and changed between three colours. This video shows the Arduino running a sketch that controls the tri-colour LED. Circuit Diagram for the Arduino Tri-colour LED Controller The circuit is very simple, using only three components. The tri-colour LED is a three pin common cathode typ ...
Read more

›
This example shows the simplest thing you can do with an Arduino to see physical output: it blinks an LED. Hardware Required Arduino Board LED Resistor, anything between 220 ohm to 1K ohm Circuit To build the circuit, connect one end of the resistor to Arduino pin 13. Connect the long leg of the LED (the positive leg, called the anode) to the other end of the resistor. Connect the short leg of the LED (the ...
Read more

›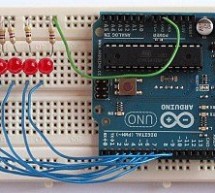 In this tutorial, eight LEDs are interfaced to the Arduino Uno board. This is not complicated – it is just like interfacing a single LED to the Arduino as done in tutorial 3, but eight times over. A program is then loaded to the Arduino that will turn the eight LEDs into a "Knight rider" display. The following video shows what you will achieve: Prerequisites You will need to have completed tutorial 3 and it ...
Read more

›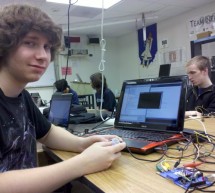 Navigation LCD_driver.c LCD_driver.h LCD_driver.h.out ball12d.php bojia.c bojia.c.out chenb.php doyler.php ellwangerk.php foo.txt frickd.php gamblec.php hurleyg.php keattsd.php littletonj.php panuskip.php parsonstc.php schrodere.php Here is keattsd Bluetooth SNES Controller Supplies I used the following supplies for my mini-term project: Arduino Uno microcontroller RN-42 bluetooth module USB A to B cable On ...
Read more

›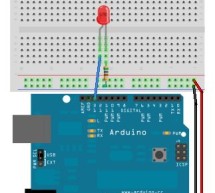 Topics: Overview Hardware A Basic Schematic Diagram Resistors Reading Resistor Values Putting it Together Trying it out! More on Resistors and LEDs Software Comments Variables Procedures References Project 1.Overview As mentioned earlier, Arduino consists of two major parts: the hardware (the Arduino board) and the Software (the IDE). The advantage of using the Arduino is that we can build a circuit and the ...
Read more

›
If you're a fan of the Harry Potter series then we also bet you were pretty taken with Hogwarts headmaster Dumbledore's pensive—the magical object that could not only store memories, but actually let people fall into and re-experience the events. This week's Instructables How-To from aspiring Tel Aviv-based hacker and inventor, Zvizvi, shows you how to make a box that stores audible memories, though the imm ...
Read more

›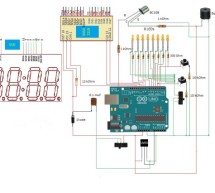 This example shows technique for calibrating sensor input and shows the sensor outputs by controlling LEDs and SSD, also shows how to monitor the state of a switch. Hardware Required 8 LEDS 2 push button switches 2 sliding switches 4-SSD with MAX7221/7219 LM35 Speaker Circuit In this circuit according to the above diagram 8 LEDs were connected to the Arduino digital pins 2 to 9. Pin 2 is the LSB and pin 9 i ...
Read more

›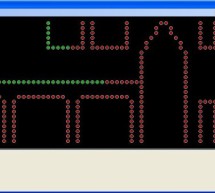 Overview This project builds a Christmas lights controller for the GE Color Effects lights allowing programmed control of up to 8 sets of Christmas lights. Furthermore, it provides a function specific language for programming patterns for these lights and an emulation environment for testing the programs requiring the lights to be built or hung. Pre-reading Arduino - If you have never heard of an Arduino, t ...
Read more

›
This is a simple guide on how to make a distance detector using an Arduino, a HC-SRO4 Ultrasonic Sensor, a Buzzer, and some LED's.  The ultimate goal of this tutorial is to use the buzzer and LED's to display how far the object is from the ultrasonic sensor. Step 1: Materials Needed The Materials needed for this project are:(1x) Arduino Uno (1x) Breadboard (1x) HC-SRO4 Ultrasonic Sensor (1x) Buzzer (2x) Gre ...
Read more

›