Technologic Systems announced their latest Single Board Computer, the TS-7180, has entered in to their engineering sampling program (see below for details). The TS-7180 is developed for any industrial application, but is especially suited for industrial control automation and remote monitoring management applications such as unmanned control room, industrial automation, automatic asset management and asset tracking.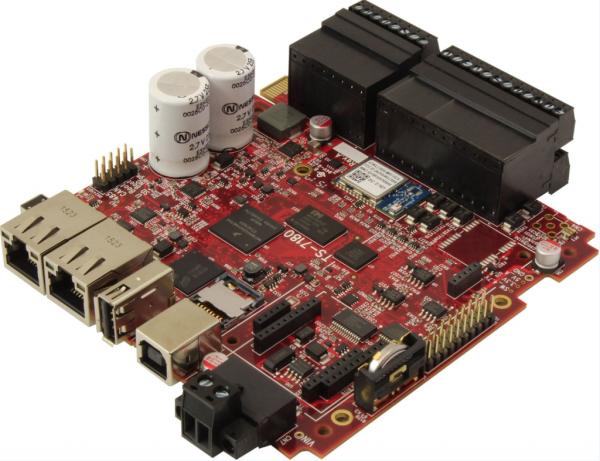 Powered By I.MX6 UltraLite Processor
The TS-7180 features the NXP i.MX 6 UltraLite processor. The i.MX 6UltraLite is a high performance, ultra efficient processor family featuring Freescale's advanced implementation of the single ARM Cortex®-A7 core. The NXP i.MX 6UL processors offer scalable performance and multimedia support, along with low power consumption.
The TS-7180 comes standard with 512MB of RAM, with configurations in the family that go up to 1 GB of RAM. For on board data storage there is 4GB eMMC MLC flash  that is configurable as 2GB pSLC mode for additional system integrity.   A microSD socket is available for additional storage, or removable media requirements
Onboard Integrity
For added system integrity the TS-7180 comes standard with Cypress 16kbit  FRAM (FM25L16B). FRAM is a nonvolatile memory employing an advanced ferroelectric process that  reads and writes like a RAM, and retains data like EEPROMs. It provides reliable data retention while eliminating the complexities, overhead, and system level reliability problems caused by EEPROM and other nonvolatile memories. Unlike serial EEPROMs, the FM25L16B performs write operations at bus speed. No write delays are incurred. Data is written to the memory array immediately after each byte has been transferred to the device.  Also, the TS-7180 ships with TS-SILO which will provide up to 30 seconds of reserve power in the event of a power failure. This precious extra time gives the board time to gracefully power down and ensures file system integrity in the onboard Flash or SD Card.
Read more: TECHNOLOGIC SYSTEMS NEWEST SINGLE BOARD COMPUTER, THE TS-7180, ENTERS IN TO ENGINEERING SAMPLING