1GSa/sec sampling and 24Mpts memory depth make this economical 2-channel scope stand out from the crowd.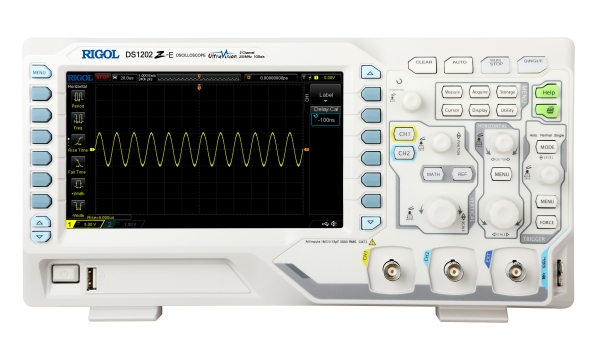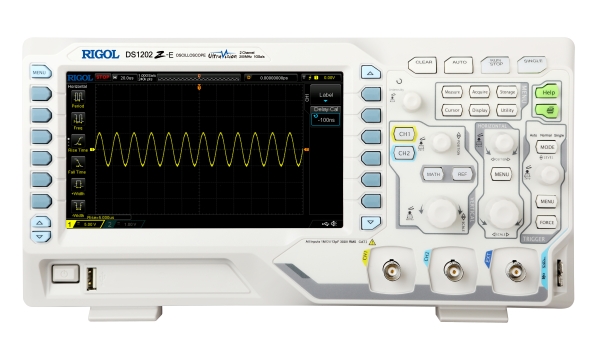 Saelig Company, Inc. has introduced the Rigol Technologies DS1202Z-E 200MHz Two-channel Oscilloscope, an important expansion of their oscilloscope portfolio. The DS1202Z-E comes standard with 24Mpts of waveform memory, a 60,000 frame-segmented record mode, standard serial decode and triggering capability, high resolution FFT, 15 trigger types and 37 integrated measurements. These features make the DS1202Z-E a powerful, capable, and affordable debug and analysis tool for design engineers.   With 200MHz Bandwidth and a 1.75 nanosecond risetime, the DS1202Z-E provides the performance needed to visualize signal artifacts on higher speed signals.
The DS1000Z family of digital oscilloscopes has long been a favorite of educators, entrepreneurs, hobbyists, and embedded engineers.  Its combination of performance, capabilities, quality and price made the DS1000Z family the world's most popular oscilloscope.  The new DS1202Z-E builds on that legacy by delivering a powerful 200MHz version for just $369.
Specifications:
Analog channel bandwidth: 200 MHz
2 analog channels
Real-time sample rate up to 1 GSa/s
Memory depth up to 24 Mpts
Up to 30,000 wfms/s waveform capture rate
Up to 60,000 frames hardware real-time waveform recording and playback functions
Innovative "UltraVision" technology
Various trigger and bus decoding functions
Low noise floor, vertical scale range: 1 mV/div to 10 V/div
Various interfaces: USB Host&Device, LAN (LXI), AUX
Compact size, light weight, easy to use
7 inch WVGA (800×480) TFT LCD, intensity graded color display
DS1000Z-E series is a high-performance and economic digital oscilloscope designed for the designing, debugging and educational requirements of the mainstream digital oscilloscope market.  Made by Rigol Technologies Inc., a leading manufacturer of precision electronic instrumentation for test and measurement, the DS1202Z-E 200MHz Two-channel Oscilloscope is available now from Saelig Company, Inc., their USA technical distributor.
Read more: NEW 200MHZ DS1202Z-E TO RIGOL'S POPULAR DS1000Z SERIES OSCILLOSCOPES