The Sound Module-II or the SOMO-II is a small and efficient audio module from 4D Systems that is able to play .mp3 or .wma audio files in the convenience of accessing it within a microSD card or a USB Flash drive (by using external components).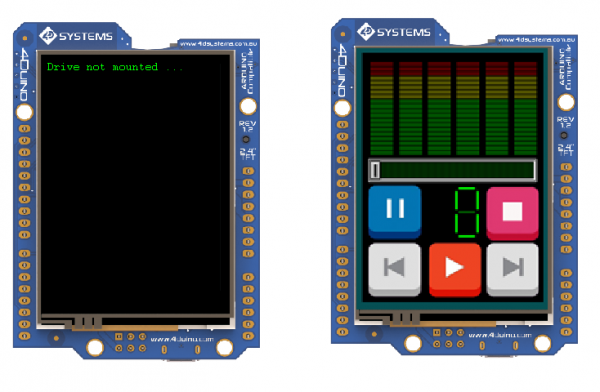 The aim of this project is to showcase the basic functions of the SOMO-II Audio Module such as the Play, Pause/Stop, Next, Previous and the Volume controls. The equalizer widget was used for aesthetic purposes. Users can observe the codes are specific byte commands to each function.
Users can easily integrate the SOMO-II audio module to their existing projects and improve its functionality.
How it works
Components
1 4DUino Module
1 SOMO-II Module
Jumper wires
1 bread board
1 4ohm 3 watt Speaker
Implementation
Step 1: Build
Build the circuit as shown in the following diagram and schematic.
Step 2: Program
Workshop 4 – 4Duino Extended Graphics environment is used to program this project. (The same could be implemented in the latest Arduino IDE)
This project requires the Arduino IDE to be installed as Workshop calls the Arduino IDE for compiling the Arduino sketches. The Arduino IDE however is not required to be opened or modified to program the 4Duino.
Open this file using Workshop 4.
Note: You can download the code here.
Step3: Comms Port
Connect the 4Duino to the PC using µUSB cable.
Then navigate to the Comms tab and select the Comms port to which the 4Duino connected.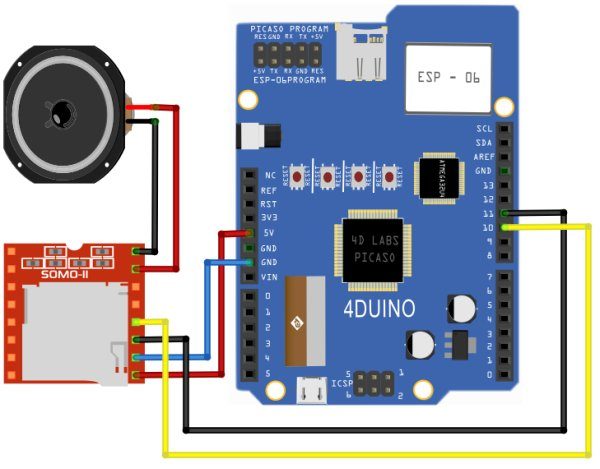 Step4: Compile and Upload
Finally, go back to "Home" tab and now click on the "Comp'nLoad" button.
The Workshop 4 IDE will prompt you to insert a µSD card to the PC in order to save the widget images. Insert µSD card, select the appropriate drive and press button "OK".
Read more: MP3 Player using 4Duino and SOMO-II