American microcontroller manufacturer company Microchip has unveiled an open source, mainline Linux ready "SAMA5D27 SOM" module. This module is based on a SiP implementation of its Cortex-A5-based SAMA5D27 SoC with 128MB RAM. The 40 x 38mm module is also compatible with a SOM1-EK1 dev board.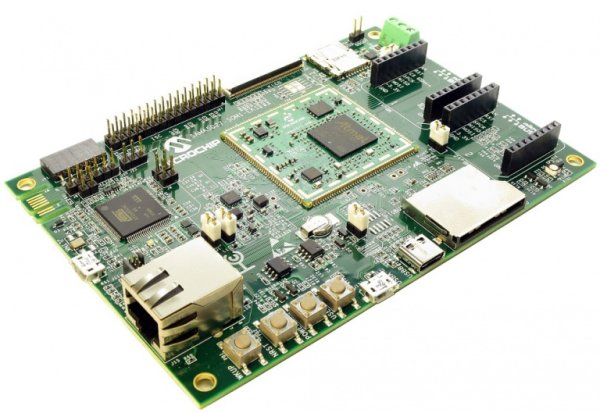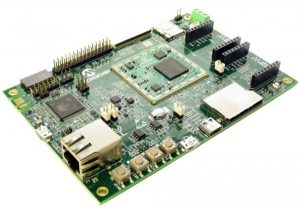 SAMA5D27 SOM1
The SAMA5D27 SOM is Microchip's first computer-on-module based on a Linux-ready application processor, and the first SiP-based module built around a SAMA5 SoC. It is mainly designed for rugged IoT applications and the module can be soldered onto a baseboard for versatile ease of use. It offers long-term availability and supports industrial grade -40 to 85°C temperature range.
The SAMA5D27 SOM1 combines the RAM-ready SAMA5D27C-D1G SiP with 64Mb of non-volatile QSPI boot flash and a 10/100 Ethernet PHY.  The module also integrates a 2Kb EEPROM with pre-programmed MAC address. The SOM is further equipped with a PMIC and a 3.3V power supply. Typical power consumption ranges from 120mA to 160mA. There's also a 60mA idle mode and an ultra-low 30mA mode.
This module has 128 GPIO pins including 2x USB 2.0 host, one USB device, and 2x SD/MMC interfaces with eMMC 4.51 support. There is also support for 10x UART, 7x SPI, 2x CAN, camera and audio interfaces, and much more.
Like the Xplained boards, the module is open source, from the mainline Linux support to the posting of open schematics, design, Gerber, and BoM files for both the SOM and the optional SOM1-EK1 development board.
SAMA5D2 SiP
The newly launched SAMA5D2 SiP is built around the Microchip SAMA5D2. The FreeRTOS-focused 128MB version uses a lower-end SAM5D22 model limited to 16-bit DDR2 RAM while the Linux-ready 512MB and 1GB versions use the higher end SAMA5D27 and SAMA5D28, respectively, with 16/32-bit DDR. All the models are renowned for offering CAN support, and because the SAMA5D28 also adds security features, it's the only one that is pre-certified for PCI Security.
The SAMA5D has fewer I/O pins and slower performance (166-500MHz) compared to the earlier, 600MHz SAMA5D4, but the power consumption is significantly lower. The SAMA5D2 SoC can run at less than 150mW in active mode at 500MHz with all peripherals activated, and at less than 0.5mW in low power mode with SRAM and registers retention.
Read more: Microchip's New Open Source SAMA5D27 SOM Module Runs Mainline Linux