IoT Based Electricity Energy Meter using ESP12 and Arduino
We all know about Electricity energy meters which are installed in everyone's house or offices to measure the electricity consumption. At last of every month, many of us get worried about the high electricity bill and we have to look at the energy meter once in a while. But what if we can monitor our electricity uses from anywhere in the world and get an SMS/E-mail when your energy consumption reaches to a threshold value. Here we are building an IoT based Project of Energy Meter.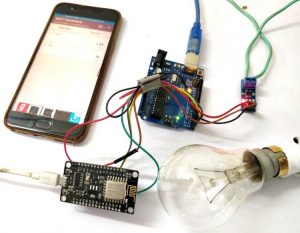 Previously we have built a Energy Meter circuit which sends you SMS about the bill using GSM module. In this project we make a Smart Electricity Energy meter using Arduino and ESP8266 Wi-Fi module which can not only sends you a SMS/Email of your electricity Bill but also you can monitor the energy uses anytime and from anywhere in the world. Here we have used a Current Sensor ACS712 to measure the energy consumption, we will discuss about it shortly.
We will take help of IFTTT platform to link our Wi-Fi to SMS/E-mail notifications. We will also use MQTT Dashboard Android App to monitor our Energy uses. So Lets Get started….
Materials Required:
Arduino Uno
ESP12/NodeMCU
ACS712-30Amp Current sensor
Any AC Appliance
Male-Female Wires
Working of ACS712 Current Sensor:
Before we start building the project it is very important for us to understand the working of the ACS712 Current sensor as it is the key component of the project. Measuring current especially AC current is always a tough task due to the noise coupled with it improper isolation problem etc. But, with the help of this ACS712 module which was engineered by Allegro thing have become a lot easier.
This module works on the principle of Hall-effect, which was discovered by Dr. Edwin Hall. According his principle, when a current carrying conductor is placed into a magnetic field, a voltage is generated across its edges perpendicular to the directions of both the current and the magnetic field. Let us not get too deep into the concept but, simply put we use a hall sensor to measure the magnetic field around a current carrying conductor. This measurement will be in terms of millivolts which we called as the hall-voltage. This measured hall-voltage is proportional to the current that was flowing through the conductor.
The major advantage of using ACS712 Current Sensor is that is can measure both AC and DC current and it also provides isolation between the Load (AC/DC load) and Measuring Unit (Microcontroller part). As shown in the picture we have three pins on the module which are Vcc, Vout and Ground respectively.
Read more: IoT Based Electricity Energy Meter using ESP12 and Arduino
This Post / Project can also be found using search terms:
iot based energy meter using arduino
Project Ratings:
Related posts