For a number of years, my colleague Andrew has had an old IBM mainframe CPU kept in storage, waiting to be transformed into something new. Hailing from a long-lost era of computing (the system in which this module was used was the 4381, first announced in 1983) – this is a far cry from what we might think of as a CPU today. It weighs approximately 20-30kg, and measures around 700mm x 650mm x 130mm!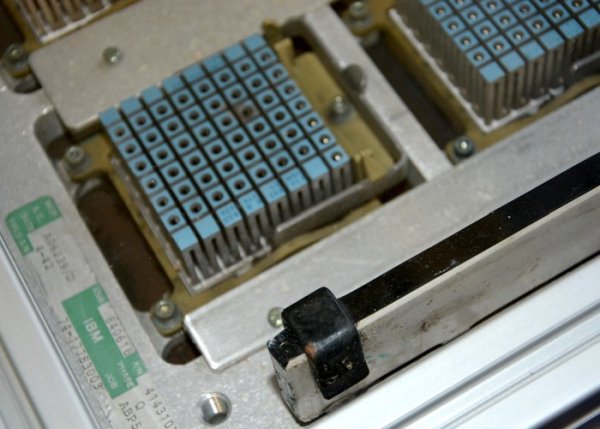 With such size and mass, we decided that this CPU would make a great basis for a coffee table, with a glass top showing off the pleasant, intricate details of the hardware. In this post we will use DesignSpark Mechanical (herein referred to as DSM) – a free to use, powerful CAD software from RS – to design the table, before going on to build the table.
Planning the build
From the start, I planned to use Rexroth aluminium extrusion for the frame of the coffee table. Available in a variety of sizes, it is used for all sorts of projects, from desktop 3D printers and CNC mills, to partition walls and display stands.
Sitting down with a pad of paper and pen, I sketched out a few rough ideas for the structure of the frame. I find this a great way to start the conceptual phase before reaching for a computer.
Once I had a rough sketch on paper, I measured the CPU, with the intention of drawing a simplified 3D model of it, including any important features. For example, there are already threaded mounting holes on the body of the CPU, which I will make use of to affix it to the aluminium frame.
When it came to selecting the Rexroth profile, I settled upon the '30 Series' profile: 30mm x 30mm cross section with 8mm slots. According to the manufacturer, suitable applications for this size profile include 'medium-stress construction', partitions and shelves. I had also considered the smaller '20 Series' profile with 20 x 20mm section, but in the end felt that wouldn't be quite up to the job.
Besides, we wouldn't want to risk spilling our hot beverages should the smaller extrusion fail!
More sketching in DSM
One of the handy aspects of DSM is the ability to import models directly from the RS catalogue, saving time in modelling the parts from scratch. Navigating to the product page for the extrusion, I was able to download the 3D model and import it into my design, alongside the simplified CPU model.
Read More:   Designing and building a coffee table