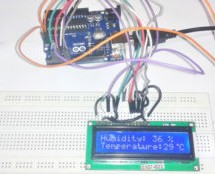 Humidity and temperature are common parameters to measure environmental conditions. In this Arduino based project we are going to measure ambient temperature and humidity and display it on a 16x2 LCD screen. A combined te mperature and himidity sensor DHT11 is used with Arduino uno to develop this Celsius scale thermometer and percentage scale humidity measurement project. In one of my previous project, I h ...
Read more

›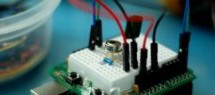 Being able to sense temperature is cool… But being able to read the temperature of an object without even touching it is simply awesome. The MLX90614 is a sensor that can do just that. By reading the infrared light coming off an object, this guy can sense between -95 and 720ºf (-70 to 382.2°C) with 17bit resolution. That's 128X more precise than the Arduino's ADC, and means this little guy can tell the diff ...
Read more

›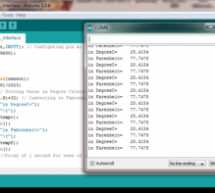 In this article, we are presenting a tutorial on how to interface LM35 and Arduino along with its program. Once we successfully interface arduino and lm35, we will go on to build a temperature display using arduino and a 16×2 LCD module which constantly monitors temperature around the measurement field/range of LM35 and displays the same on LCD module. So lets get to building the project! LM35 is an analog, ...
Read more

›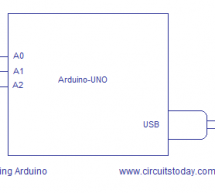 Simple temperature logger using arduino (°C & °F). This project is about a simple USB temperature logging system using arduino uno and the serial monitor function in the arduino IDE. The system monitors the temperature every 2 seconds and shows it on the arduino serial monitor. The temperature is shown in °Celsius  and °Fahrenheit. The system is interfaced to the PC through the USB port. LM35 is used as ...
Read more

›
Basic information The DS1631 is a low cost, I2C interface digital thermometer popular in the maker community. Capable of providing 12-bit temperature readings over a -55°C to +125°C range. I have need for a digital thermometer in many of my projects and thought it would be nice to do a simple validation against a standard thermocouple. I have also provided an Arduino Script for use with the Arduinos IDE. Th ...
Read more

›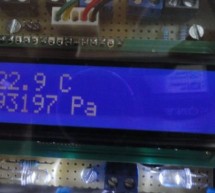 This Instructable shows you how to build a micro-controller based weather monitoring device. Built on the Arduino Uno board it can easily be extended and modified should you have additional sensors at hand. Main requirements: - Measure temperature (accuracy +/- 0,5 degree Kelvin) - Measure barometric air pressure (+/- 0,1 Pascal) - Display measured values on a LCD on demand by pressing a button Main compone ...
Read more

›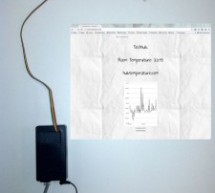 This is how to push high resolution real-time data from Arduino-based temperature sensor to your web page without any server-side coding. Arduino is a great device for collecting, storing and transferring data from various sensors but there are times you need to make your data accessible from any place over the internet, like I did for room temperature in my study. That's when this solution may come handy. ...
Read more

›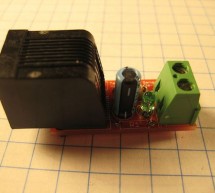 Overview This board allows you to use a thermistor to measure the temperature of something. It is designed to be used to measure things in the range of 100C - 300C, but with the proper calibration and resistors, it can be adapted to any temperature range you need (under 300C). If you need something that can measure temperatures above 300C, you should look into the Thermocouple Sensor. You'll need a solderin ...
Read more

›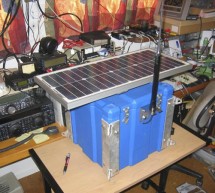 Block Diagram This diagram shows the basic components required for collecting temperature readings from seawater and transmitting the data to a base station where it can be collated into a database for analysis. To the left is a schematic of 10 temperature sensors, spaced 1 metre apart and immersed in seawater to a depth of 10 metres. This is connected to an Ardiuno Uno microprocessor which has been program ...
Read more

›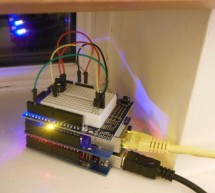 The last few weeks I was playing with Firebase mostly because I wanted to get familiar with this technology. So at some point I thought that it will be a great idea to connect Arduino with Firebase. Imagine that you have a simple temperature sensor that measures the boiler's water temperature every few minutes and you want to keep a history log of it in order to make some adjustments to thermostat. If you a ...
Read more

›
At University, Alexander Zenger and I decided to realise a weatherstation with an Arduino Microcontroller. We wanted to measure temperatur, pressure and humidity. It should be also possible to get every 5 min a value update on an external server. Our basic idea was to develope a weatherstation which is easy to use with different technologies (Smartphone, Internet, Microcontroller, …). It should also be poss ...
Read more

›
This project consists of two temperatures that are measured by the Arduino using two MCP9700 temperature sensors An Arduino Uno and Ethernet shield are set up as a web server that hosts a web page to display the two temperatures on two gauges. The web page is stored on a SD card that is plugged into the micro SD card socket on the Ethernet shield. A web browser is used to display the two temperature gauges ...
Read more

›