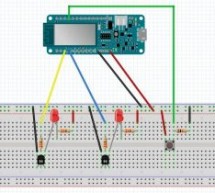 In the second project in my pick to light, I am using WIFI to pass the data between PC and Arduino. Things used in this project Hardware components Arduino MKR1000 × 1 LED (generic) × 2 Jumper wires (generic) × 1 SparkFun Pushbutton switch 12mm × 1 Resistor 10k ohm × 1 Resistor 330 ohm × 4 Breadboard (generic) × 1 USB-A to Micro-USB Cable × 1 General Purpose Transistor NPN × 1 Story This is the second proje ...
Read more

›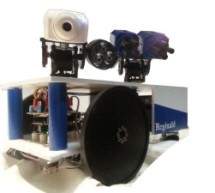 Reginald started from the simple, yet bold idea to control a bot from anywhere in the world with a live video feed. What I wasn't expecting was for Reginald to develop into an involved, feature rich project. With my work and money, I was able to complete a project exactly to my satisfaction and more. This tutorial chronicles the entire project: from top to bottom. Before I started my project, I had several ...
Read more

›
In this example, you will use your Ethernet Shield and your Arduino to send and receive text strings via the UDP protocol (Universal Datagram Packet). You'll need another device to send to and from. The Processing sketch included at the end of the code will send to and receive from your Arduino running this example. Circuit The Ethernet shield allows you to connect a WizNet Ethernet controller to the Arduin ...
Read more

›