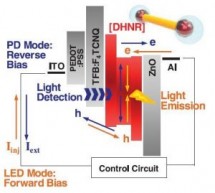 A team of researchers from the US and South Korea reported a unique type of NanoLEDs with unprecedented brightness levels, that excess 80,000 cd/m2, and also can operate both as light emitters and light detectors. These new LEDs are about 50nm long and 6nm in diameter. As described in the paper, they included quantum dots of two different types, one of which can enhance radiative re-combinations (useful for ...
Read more

›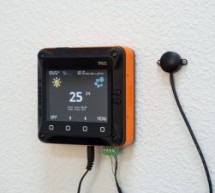 The app allows you to manage traditional air conditioners that are controlled through infrared remotes. Designed for the office environment, the app relies on the ambient brightness (measured by Tibbit #28) to determine whether the aircon should be running or not. In the office setting, no lights = no people = no need for the aircon to work. Air conditioning is a consumptive business while air conditioners ...
Read more

›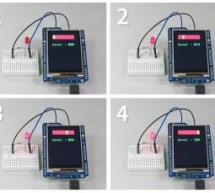 In this project, we will learn how to control the brightness of LED via an I/O port (with PWM output capability) and a touch display slider. The 4Duino resistive touch display is used as a means for a graphical interface to control the intensity of the LED. Since the 4Duino itself has an LED on pin D13 with PWM output capability, you may use the LED to conduct this project for convenience. A LED (light emit ...
Read more

›
Arduino Due is an ARM controller based board designed for electronic engineers and hobbyists. ARM architecture is very influential in modern electronics, we use them everywhere like our mobiles, iPods and computers etc.  If someone wants to design industrial systems it must on ARM controllers. ARM controllers are very important because of their agility. We have already covered the basics of Arduino Due in G ...
Read more

›
One of our technicians recently asked for help determining the value of an SMT inductor. It was unmarked, and was many turns of very fine wire on a ferrite core. The resistance measured 26Ω, which for some reason gave our ancient LCR bridge a conniption, and read 30mH along with a blinking error message. The tech rightfully felt that such a small inductor could not possibly be 30mH. I didn't have another br ...
Read more

›