Microchip Technology Inc., has announced the first in a series of modules for the LoRa technology low-data-rate wireless networking standard. The system is designed to allow Internet of Things (IoT) and Machine-to-Machine (M2M) wireless communication offering a range of more than 10 miles (suburban), a battery life of greater than 10 years, and the ability to connect millions of wireless sensor nodes to LoRa technology gateways. The 433/868 MHz RN2483 is a European R&TTE Directive Assessed Radio Module measuring 17.8 x 26.3 x 3 mm and with 14 GPIOs to provide connections and control for a large number of sensors and actuators.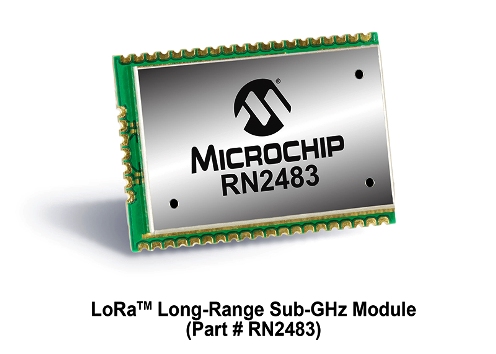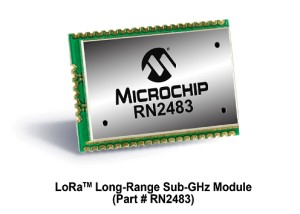 The RN2483 is also supplied with the LoRaWAN™ protocol stack, allowing connection with the LoRa Alliance infrastructure—including both privately managed local area networks (LANs) and telecom-operated public networks—to create Low Power Wide Area Networks (LPWANs) with nationwide coverage. This stack integration also enables the module to be used with any microcontroller with a UART interface. The RN2483 also uses Microchip's simple ASCII command interface for easy configuration and control.
The LoRa technology uses a spread-spectrum base modulation that is capable of demodulation with a 20 dB below noise level. This enables high sensitivity with robust network links, improves network efficiency and eliminates interference. The LoRaWAN protocol's star topology eliminates synchronization overhead and hops, compared to mesh networks, which reduces power consumption and enables multiple concurrent applications to run on the network. LoRa technology also has a much longer range than other wireless protocols, enabling the RN2483 to operate without repeaters. In comparison to 3G and 4G cellular networks, it is far more scalable and cost effective for embedded applications. The RN2483 uses AES-128 encryption for network security.
For More Details: Microchip LoRa Network Module