The gaming world experienced a bit of a resurgence in 2020 that is still seen in the present day. Even putting aside the effects from the pandemic, the affordability and accessibility has arguably never been better. Building a gaming PC can have its downsides, though, and a challenging issue to troubleshoot is input lag or input latency. This is something that's best measured with standalone hardware, and if this is an issue on your setup you may want to take a look at this latency meter.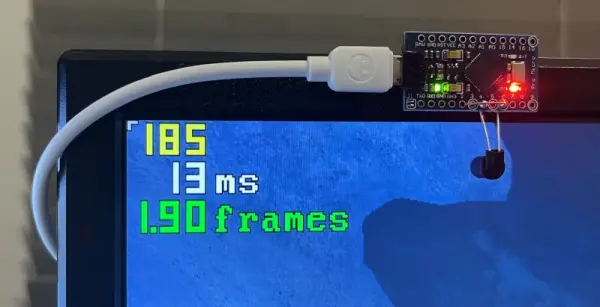 Unlike other measurement devices that use the time between a mouse button input and the monitor's display of a bullet or shooting event, this one looks at mouse movement and the change in the scene instead. This makes it much more versatile than other methods since it's independent of specific actions, and can be used in any game without any specific events needed to perform the measurement. A camera is placed on the monitor's top edge and the Arduino-based device sends mouse commands to the computer while measuring the time between those commands and the shift in the image on the monitor.
The project is open source, so with the right hardware it's possible to build one to troubleshoot latency issues or just to learn more about a particular hardware configuration's behavior. Arduinos and other microcontrollers have been doing all kinds of things by pretending to be human interface devices like this for a while now. One of our favorites of late was this effects pedal that replicates musical effects on mice and keyboards.
Source: LATENCY METER FOR ACCURATE GAMING