Kontron, a Germany based company has published its first product based on Intel's 8th Gen "Coffee Lake" processors. The COMe-bCL6 joins other "Coffee Lake" based COM Express Basic Type 6 modules including the Congatec Conga-TS370 and Seco COMe-C08-BT6, which were announced early this month.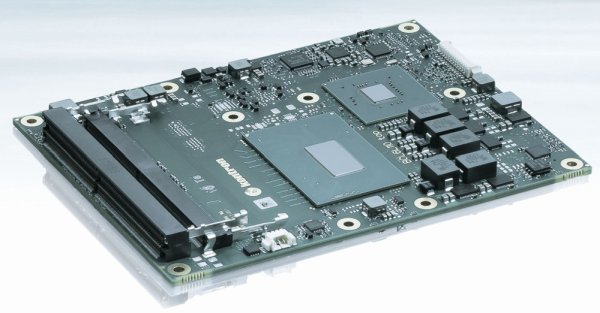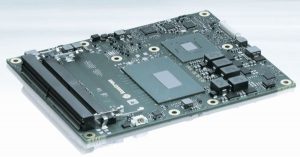 The COMe-bCL6 feature set is very related to all these products, with Coffee Lake enabled features like additional PCIe interfaces, support for three simultaneous 4K displays, and multiple USB 3.1 ports with up to 10Gbps transfer speed. The new COMe-bCL6 of dimension 125 x 95mm stands out with its options. The user can double the number of DDR4 memory slots to up to 64GB instead of the standard maximum of 32GB. Other special options include an onboard 1TB NVMe SSD, and the COMe-bCL6 supports Intel Octane memory.
The COMe-bCL6 provides optional –40°C to 85°C support in addition to the standard 0 to 60°C, and it also offers an extended -25°C to 75°C option. Another special R E2S version is available that includes the -40°C to 85°C support, as well as ECC memory and "integrated rapid shutdown".
The COMe-bCL6 runs Linux, Windows 10, or VxWorks on the following Coffee Lake H- and M-series chips:
Intel Core i7-8850H(6x 12-thread 14nm Coffee Lake cores @ 2.6GHz/4.3GHz)

9MB Cache, 45W TDP (35W cTDP)
Intel HD Graphics 630
QM370 chipset

Intel Core i5-8400H(4x 8-thread 14nm Coffee Lake cores @ 2.5GHz/4.2GHz)

8MB Cache, 45W TDP (35W cTDP)
Intel HD Graphics 630
QM370 chipset

3. Intel Xeon E-2176M, 8850H (6x 12-thread 14nm Coffee Lake cores @ 2.7GHz/4.4GHz)

9MB Cache, 45W TDP (35W cTDP)
Intel HD Graphics P630
CM246 chipset
Read more: Kontron's Latest COM Express Features Intel's 8th Gen Coffee Lake Processors