Crabbie Arduino development board hits Kickstarter
The small development team at Bits4Bots have created a new Arduino compatible development board aptly named the Crabbie thanks to its unique crab inspired shape. Watch the demonstration video below to learn more about the hybrid sensor shield specifically created to introduce children into electronics and programming.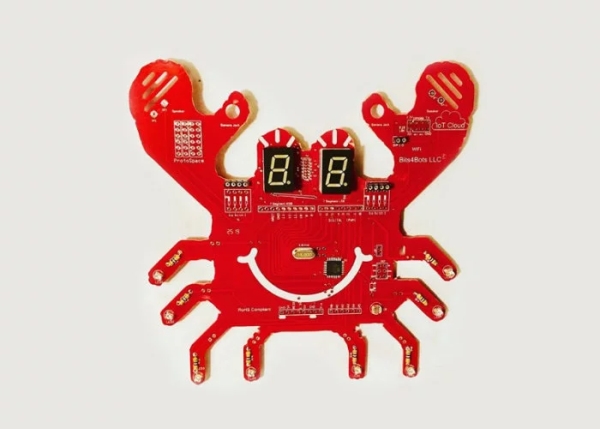 The board is equipped with 2 x 8 watt speakers, 8 x 3mm leds, ISCP header, JST-1 battery connector, 2 x 7 segment displays, 2 x dip switches, 1 x IR sensor, 1 x hall effect magnet sensor, 6×6 prototype space, and a header for ESP8622 wifi connection. The development board is now available via Kickstarter with early bird pledges available from $25 and worldwide shipping expected to take place before the end of the year.
"Introducing Crabbie. My 1st Development Board Arduino Uno compatible, will work with other programming microcontrollers. This cool crab shaped hybrid/shield development board was designed with kids K-5th grade in mind. The board features a programmable TQFP Atmega328P that can be used when shielded with the Arduino Uno or used as a standalone. Did we mention it is open sourced! Upgrading to Atmega32U4 for direct USB connection."
Source: Crabbie Arduino development board hits Kickstarter
Project Ratings:
Related posts
Leave a Comment