Linaro announces 96Boards System-on-Module (SOM) Specification and Rockchip powered compute SOM design.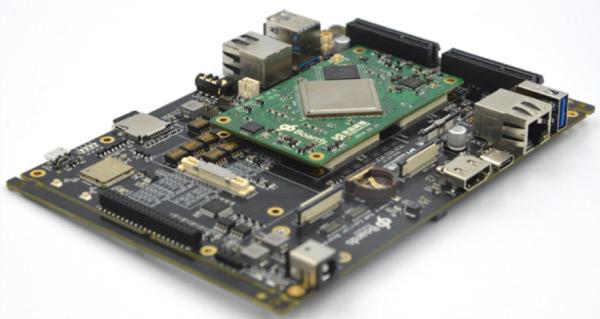 At the first day of Linaro Connect Bangkok 2019, 96Boards SoM specifications have been announced, together with the introduction of Rockchip RK3399Pro powered TB-96AI and Rockchip RK1808 based TB-96AIoT, which are the first 96Boards compliant SoMs, along with 96Boards SoM Carrier Board.
96Boards System-On-Module Specifications
Two form factors are defined as SOM-CA and SOM-CB with a maximum of four 100 pin Connectors. The X1 connector is mandatory on all SOMs. The defined interfaces are shown in the table below.
List Of Signals Associated To Each Connectors:
X1 – SoM managements, 1x UART, 2x I2C, 1x SD, 2x SPI, 1x CAN, 1x multiplexed DSI/eDP/LVDS, 2x USB 2.0 OTG/Host, 1x USB 2.0/3.0 host
X2 – 1x I2S, 1x multiplexed I2S/PCIe, 6x multiplexed GPIO/analog audio, 1x multiplexed MIPI CSI/DSI/Audio, 1x Ethernet, 1x PCIe 4x, 1x USB 2.0 OTG/Host, 1x USB 2.0/3.0 device, 1x smartcard/muxed with PCIe, 1x SATA
X3 – 7x GPIO, 4x MIPI CSI inc. 1x multiplexed with MIPI DSI, 1x MIPI DSI multiplexed with MIPI CSI,  1x Ethernet, 1x HDMI
X4 – 2x UART, 2x I2C, 1x I2S mux with SATA, 7x GPIO mux with ADC/SPI, 1x SD. 2x SPI, 2x CAN (1x mux), 1x PCIe x4, 1x USB 2.0 OTG/Host, 1x USB 2.0/3.0 host, 1x SATA mux with I2S
That's plenty of multiplexed signals which at first sight open the door for potential incompatibilities between modules.
The 96boards Wireless specification defines wireless modules with 802.15.4, BLE, WiFi, LoRa, NB-IoT, LTE-M, and future wireless standards. Again two form factors are specified with SOM-WA and SOM-WB and 20-pin are defined with GPIO, PWM, UART, SD, SPI, I2C, ADC, USB, SWD, and VDD/ground.
Read more: 96BOARDS LAUNCHED B-96AI & TB-96AIOT – THEIR FIRST SYSTEMS-ON-MODULE (SOM)