This Instructable documents how to create a simple heart rate monitor using Photoplethysmography with an IR phototransistor via transmissive absorption using the Arduino to process the pulsatile data and display live results via a TFT screen. To use the source code and create the necessary circuitry you will need a reasonable grasp of electronics, knowledge of the Arduino, a DMM and some patience. The desig ...
Read more

›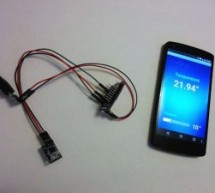 This project will help you create a temperature monitor using an ESP8266 SoC and a temperature sensor (DS18B20) with next capabilities: Measure Temperature Send an email if temperature goes under a threshold Monitor temperature and set threshold from a mobile App To complete this project you will have to create three things Hardware - Basically you have to hook up the temperature sensor to the ESP8266 board ...
Read more

›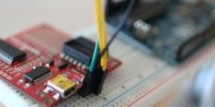 The following code and library are compatible with arduino software 1.0+ ONLY. You can download the newest version of the arduino software here. When you start to talk about biometrics in electronics, heart-rate is usually the first thing to come up. And why not? I think it is often the thing we are most aware of changing when we get excited, nervous, are being active, or very calm. There are several ways o ...
Read more

›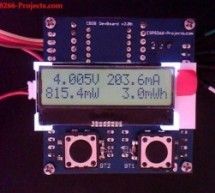 One of the main problem in battery powered projects is to choose/use the proper battery size/model/type. As market is flooded now with a lot of low quality batteries claiming thousands of mAh ( Ultrafire fakes stories is just an example) the only way to proper check them is to run a set of tests. A simple basic tester that will be able to monitor over the entire battery lifetime at least few parameters like ...
Read more

›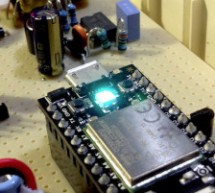 This is a magic box which will let you monitor the power consumption of your house from anywhere on the Internet! It measures both true power (Watts) and apparent (VA) power, it keeps a running total of electricity units used, and measures mains frequency as a bonus. The project uses a Particle Core(*) module - a little board with an ARM microprocessor and a Wi-Fi interface - to do all the hard work. To bui ...
Read more

›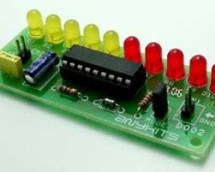 0-10V_Monitor_PIC This project is a 0-10V Voltage Monitor. Description 0-10V Volt monitor project has been designed around LM3914 IC, It is an easy and less expensive project which instantly visualizes voltage level. The project is based on the popular LM3194 IC from Texas instruments. Handy 0-10V DC Voltmeter can be used as a voltage tester. The LM3914 senses the voltage level at the input pin and drives t ...
Read more

›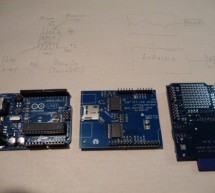 Introduction: Like many out there, I enjoy a good exercise session, whether it be indoors or outdoors. As part of that I purchased a Polar branded heart rate monitor, which came with a "Wearlink" chest strap and RS300Xsd receiver watch. The watch is able to do quite a bit of analysis on its own, in terms of recording heart rate averages, target zones and the like, but without the additional FlowLink device ...
Read more

›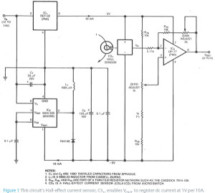 The Fig 1 circuit uses a Hall-effect sensor, consisting of an IC that resides in a small gap in a flux-collector toroid, to measure dc current in the range of 0 to 40A. You wrap the current-carrying wire through the toroid; the Hall voltage VH is then linearly proportional to the current (I). The current drain from VB is less than 30 mA. o monitor an automobile alternator's output current, for example, conn ...
Read more

›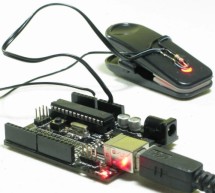 Movies look cool with those EKG (electrocardiogram), the one that beeps and detects heart activities. A few months ago, we had to shoot a hospital scene for our school project. We needed an EKG instrument. To keep the movie authentic, we didn't want to fake the readings so we made the next best thing, a pulse monitor. Since my dad is a doctor he gave me some advice to design the pulse monitor. Let me clarif ...
Read more

›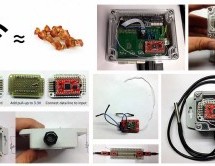 Introduction What every new system design has in common these days is wireless. Like bacon, it just makes everything better. Put a sensor wherever, read it from somewhere else. Put the power and control where you need it. For the CuPID/Pi, it is no different. We want to put our remote sense and control modules out into the wild and read and aggregate them as it makes sense. Our basic system layout is as bel ...
Read more

›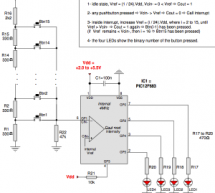 Several previously published Design Ideas and appnotes [1-4] show how to use many pushbuttons with a minimum number of inputs. They require an RC circuit where the timing can be measured to identify which pushbutton has been pressed, or an ADC input, with resistors forming a divider for each pushbutton pressed. The following Design Idea shows another simple way to use up to 15 pushbuttons with only one I/O. ...
Read more

›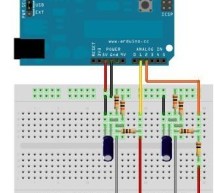 This guide details how to build a simple electricity energy monitor on that can be used to measure how much electrical energy you use in your home. It measures voltage with an AC to AC power adapter and current with a clip on CT sensor, making the setup quite safe as no high voltage work is needed. The energy monitor can calculate real power, apparent power, power factor, rms voltage, rms current. All the c ...
Read more

›