The technology company TQ presents the new embedded module TQMLX2160A based on the LX2160A CPU from NXP. The 64-bit QorIQ® Layerscape® processor family is particularly suitable for high-speed data communication. The first prototypes will be available from mid-June.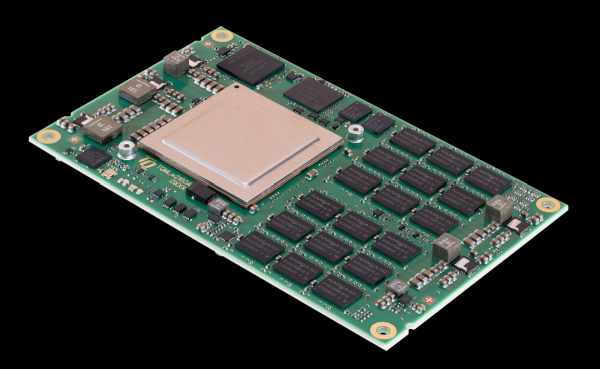 The TQMLX2160A relies on the NXP processor family Arm® Layerscape LX2160A. Depending on the required functionality, there is a choice of three CPU variants with either 8, 12 or 16 Cortex-A72. The pin-compatible CPUs (LX2160AA, LX2120 and LX2080A) with a clock rate of up to 2.2 GHz differ only in the number of cores.
For fast data communication, the compact dimensions of 126 x 78 mm integrate two interfaces for up to 100 Gigabit Ethernet. All 560 signal pins are available. In addition to 24x SerDes lanes with up to 25 GHz, which can be used as Ethernet, SATA and PCIe, the module has the following additional interfaces: up to 2x Gigabit Ethernet, 2x USB 3.0 2x CAN FD, up to 6x I²C, and 3x SPI.
The design is equipped with a DDR4 SDRAM memory with up to 64 GB with ECC support and up to 64 GB eMMC. The soldered RAM memory withstands even harsh environmental conditions. In addition, a QSPI NOR flash with up to 512 MB is used.
On the corresponding mainboard, users can use two 10 Gigabit Ethernet interfaces as well as one 100 Gigabit interface in addition to up to ten Gigabit interfaces. USB 3.0, CAN FD, SATA and PCIe interfaces are also available.
Read more: TQ-EMBEDDED PRESENTS NEW HIGH-SPEED MODULE WITH NXP'S LX2160A