The technology company TQ is expanding its product portfolio with a new platform based on the 64-bit Cortex®-A72 QorIQ® Layerscape® processor family LS1028A from NXP. The MBLS1028A-IND is particularly suitable for robust and industrial applications in the field of high-speed data communication and offers TSN support in combination with powerful graphics.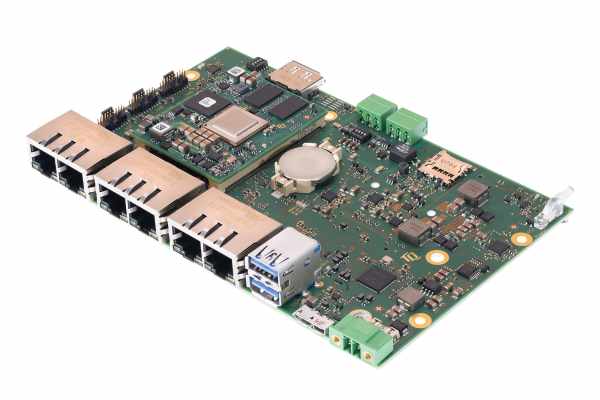 The core of the platform, which is available both as a mainboard and as a complete device, is the TQMLS1028A module. For the TQMLS1028A, TQ relies on the NXP processor family Arm® Layerscape LS1028A. Based on this CPU, four different pin-compatible CPU variants are available depending on the required functionality. Alternatively to the two single-core variants (LS1017A and LS1018A), the dual-core variants (LS1027A and LS1028A) are available. The CPUs LS1017A and LS1027A have deactivated graphic functions. The integrated graphics of the LS1018A and LS1028A support displays up to 4K resolution with a powerful GPU. Combined with a clock rate of up to 1.3 GHz, the TQMLS1028A provides a comprehensive and scalable platform with low power dissipation.
Four Gigabit Ethernet interfaces are available on the mainboard with compact dimensions of 160 x 100 mm for fast data communication, which are implemented via a TSN-capable Ethernet switch. Additionally, users can rely on two independent interfaces for Gigabit Ethernet.
In addition to the Ethernet interfaces, the user has an M.2 SATA for connecting an SSD and a Mini PCIe slot with SIM card for expansion for wireless solutions such as LoRaWan, Sigfox, WiFi and mobile communication. In addition, two USB 3.0 interfaces and two galvanically isolated CAN interfaces are available. The embedded DisplayPort allows the connection of a monitor for a screen resolution of up to 4K.
Read more: NEW TQ PLATFORM BASED ON LAYERSCAPE DUAL CORTEX-A72 TECHNOLOGY