NXP has just released its new PMPB40SNA, a 60 V, 40 mΩ N-channel automotive MOSFET in a compact 2 x 2 mm DFN2020MD-6 (SOT1220) package. The DFN2020MD-6 is an industry first, featuring 100% wettable and therefore solderable flanks (side pads). This makes soldering and inspection much easier and is aligned with the automotive optical solder inspection requirements! It is the perfect space-saving solution, about a factor 7 smaller compared to SO-8 and at the same time, delivers robust automotive qualified high performance.
PMPB40SNA is one of 80 recently released MOSFETs in leadless 2 x 2 mm single, dual and 1 x 0.6 mm single DFN packages. The portfolio contains P- and N-Channel types from 12 to 60 V with very low RDSON values, automotive qualified and ESD protected types. Learn more and order your samples today!
Features and benefits
60 V, 40 mΩ single N-channel Trench MOSFET
Small and leadless ultra thin SMD plastic package DFN2020MD-6: 2 x 2 x 0.65 mm
Exposed drain pad for excellent thermal conduction leading to a power dissipation of 1.5 W
Tin-plated, 100% "wettable flanks" for optical solder inspection
AEC-Q101 qualified
Key applications
Relay driver
High-speed line driver
Low-side load switch
Switching circuits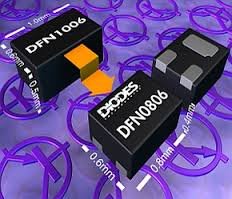 NXP Semiconductors has introduced its first medium power transistors in a 2-mm x 2-mm 3-pin leadless DFN package.
Targetted at general-purpose power-sensitive applications in mobile, automotive, industrial and household appliances, the DFN2020-3 (SOT1061) packaging can save up to 80% more space on the PCB compared to conventional SOT89 packages, while maintaining high electrical performance of up to 2A, according to the supplier.
These miniature devices are designed for energy efficiency and low heat dissipation. When mounted on a 4-layer PCB, the thermal performance is designed to match that of  larger SMD packages and allows Ptot levels of up to 1.1 W in a tiny footprint.
"With our latest miniaturized medium power transistor, we continue to drive the market in compact components and in high performance low VCEsat transistors," said Joachim Stange, product manager, NXP Semiconductors.
All NXP medium power transistors are automotive-qualified according to AEC-Q101.
"In charging circuits of mobile devices and automotive electronics requiring smaller ICs, designers can now choose a medium power solution and not have to trade off PCB space for functionality. Simple applications such as interior car lighting which require only 1-2W can be powered by an ultra-compact medium power solution," said Stange.
The medium power transistors have a VCEO ranging from 20V to 80V.
For more read: NXP shrinks power transistor design for mobiles