Introducing its latest-generation Bluetooth Low Energy (BLE) System-on-Chip, ST Microelectronics hghlights low power, small size, and high performance to enable widespread deployment of energy-conscious, space-constrained applications with BLE connectivity. The device provides state-of-the-art security and is Bluetooth 5.0-certified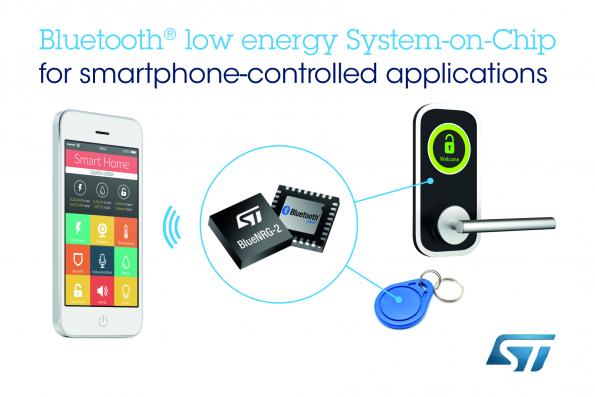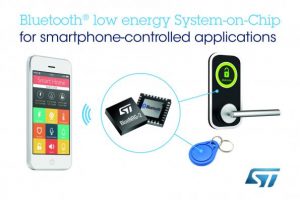 ST uses an ARM Cortex-M0 core to provide low-power, extremely efficient, 32-bit processing performance for BlueNRG-2. Other integrated features include cryptographic processing, power management, clock management, and up to 256 kB of Flash memory giving extra flexibility to handle code and data storage. Multiple power-saving modes, including standby mode drawing just 0.5 µA, help meet functional requirements with a minimal power budget. The integrated BLE radio with +8 dBm RF output power maximizes communication range and saves overall energy consumption by avoiding data errors and retries. The device is specified for operation up to 105°C, allowing use in a wide range of scenarios including automotive environments.
Developers using BlueNRG-2 can also take advantage of seamless interconnection with the ST MEMS sensor portfolio, which includes accelerometers, gyroscopes, magnetometers, Inertial Measurement Units (IMU), pressure sensors, and other environmental sensors. An integrated 2-channel, 10-bit analogue-to-digital converter (ADC) provides a convenient interface for analogue front-end transducers, and a Pulse Digital Modulation (PDM) interface simplifies connecting a digital MEMS microphone for natural-speech voice-controlled applications. The increased memory size and the high-efficiency core architecture allows running ST Open.MEMS libraries with low impact on the overall power consumption. The sensors and libraries, together, enable developers to implement advanced capabilities such as gesture recognition and activity tracking.