Many of you may have seen the Adafruit PCB ruler (also used by the awesome Voltera).
The design was actually adapted from my own design back in University!
To improve on the original idea, I have created a reference business card.
Here is a computer render of the design: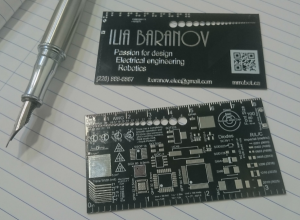 I wanted to show every common component I could think of, and how they relate. Often when zoomed all the way into a digital design, you can lose track of what 5 mils really means. It is TINY!
Here is what it looks like in real life:
The PCBs were made by Dirt Cheap PCB and overall look pretty good. The silkscreen can be a bit fuzzy or misaligned, but at ~2$ per card, this is great! The slight annoyance is that they plated the AWG holes, even though this was not specified.
Another tip: You can see the maker's code on the front of the card (white text below the braille). Manufacturers will often put this on the "back" side of your design (bottom layer) so for next time, I will swap the layers to place the mark on the less pretty back.
Feel free to fork the project on the Circuit Maker main site (free login needed)
For More Details: Making a PCB Business Card