Note: this post about an electronics project has been sitting as a draft since 2011 so some of its content might appear outdated. Regardless, I've been using the device since then so I figured I should commit it to posterity.
To my computer, its simply a USB keyboard, nothing less, but to me its a remote I can use on any platform with no line of sight. I decided to name it the keyMote. Sounds a bit odd to my ears but its a fitting name.
Here is how it works. There are two parts to this system, the remote, which is battery powered, and the base, which is hooked up to a computer. The remote is a simple keypad (In the case of the prototype, its a numeric keypad, but really, it could be any interface) with a transmitter hooked up to it. The base, the other end, is a receiver with USB Human interface device functionality, in other words, a vanilla USB keyboard. When a button is pressed, the remote sends the identifier of that button to the base which then looks up in a table the keystrokes this identifier is mapped to and sends those to the computer via USB. What button is mapped to what keystroke is entirely configurable using a serial terminal interface (shell) to the base. It can be anything, Ctrl-C, Alt-Shift-F, PageUp, etc. Getting it to interface with your program is then simply a matter of configuring keyboard shortcuts.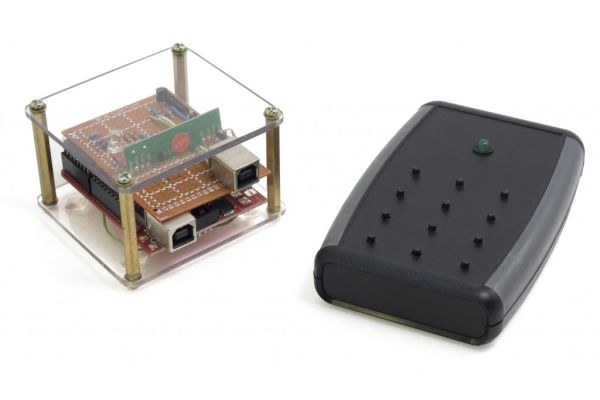 The use case
Here is the actual use case that spawned the idea. I was doing some plumbing work in my kitchen with the computer playing songs in the background. It then hit one in the playlist that I especially hate (but keep for nostalgia), but I was in no position to change it as it would have implied bending out of underneath my sink, walking to my computer and then hitting Ctrl + Shift + Right to skip to the next tune. I use Linux and at that time, the media buttons on my keyboard were not operational, I knew very few remotes would work on my platform and finally, I had no line of sight with the computer, so infrared was out of the question. Agreed, a wireless keyboard would have done the trick, but those tend to be limited in range, and well, they are still keyboards, so you have to do the key combinations yourself and are somewhat cumbersome to lug around. So I thought: Why not get something that will emulate my hands typing the keyboard shortcuts?
I looked around for possible off-the-shelf solutions, but none of them were well supported under Linux; basically they all required drivers and were proprietary and as we all know, anything with a driver is dependent on company support an will get dumped sooner of later. The keyboard idea was starting to get some traction. It was the obvious medium to go with, the USB human interface device standard has been around for a decade or so and will likely stick for a few more but more importantly, it is understood by most OSes. Failing to come across anything that would suit my purpose, I set out to develop one from scratch and after a bit of work (or a lot, depending where you come from), I had what I wanted: a simple, rugged self-contained system with no drivers attached, plenty of battery life and a way to make it type whatever I want. Currently, its mapped to my MP3 player, sound controls, Video player controls and some programming IDE functions. It could very well launch applications, toggle the visibility of certain windows (via the window manager), start scripts; it can do anything a keyboard can do.
The system
The main hardware components are an arduino, a wireless receiver and transmitter pair and another microcontroller hooked up to a battery in the remote. I started off with trying out wireless communication on the arduino IDE but soon converted to C/C++ for the added flexibility once I was past figuring out the libraries.
Base
The base software is mainly an interface between two libraries, VirtualWire and V-USB along with a shell to configure the mapping between remote key codes and key strokes. VirtualWire is a library that makes exchanging bits (a lot harder than the datasheet implies, what you send on TX is quite what you get on RX) between vanilla wireless interfaces very straightforward. V-USB is a marvelous implementation of the USB protocol on the AVR using nothing but bit-banging. It's quite limited in capacity but it's extremely lean and makes USB accessible for anyone with the patience to understand the protocol. While the actual serial shell is a fair chunk of code, it is needed only for configuration, so this project is mainly composed of glue code and basic electronics. The arduino's USB connector is used for serial shell functionality, where using commands it is possible to consult statistics about the system, get debugging data, but more importantly map key Ids to key strokes. The other USB connector is the actual keyboard.
For more detail: keyMote: a simple wireless remote for computers